The final margin stated that it was a 50-point win for the Port Adelaide Power over the Gold Coast Suns, but it felt more like 150.
It was a tale of one team laden with professional footballers against another team of amateurs out for a Saturday run. That's how it felt as Port muscled and hustled for the loose ball, tackled hard, ran defensively and basically taught Gold Coast what it takes to compete at this level.
It's a lesson they've been taught before, and judging from the look on Stuart Dew's face whilst watching his insipid and uninspired team of "future stars" jog around at three-quarter pace, it is a lesson they will have to learn again and again.
Port were dominant. Too good in the air, too good on the deck, and too good both with and without the footy. Their skills were precise, their defence immaculate, and their midfielders were a cut above.
I'll be naming names in this review – no sugar-coating. You'll hear in the AFL media, writers or broadcasters speak about the efforts of a club without singling out players. Nup, there were Suns players out there today who half-arsed it, and they should be held to account. On the flip side, there were Port Adelaide players who were head and shoulders above their opponents, and plenty… actually, the vast majority of this review will go on them. They deserve it.
Here's The Mongrel's good, bad and ugly
THE GOOD
WINES DINES OUT
This was a big learning experience for Matt Rowell. What do you think he took out of it?
1 – Ollie Wines is a remorseless, possession-machine. He gets to the right spots, is clean with his hands, and refuses to allow anyone to push past him when contested for the footy.
2 – You cannot sag off him at all. If you are charged with matching him up at a stoppage, then you must, absolutely MUST keep touch with him. Finding your own footy is fine, and as long as you do something good with it, that's great, but if you do not effectively clear the area with your disposal, you can guaran-damn-tee Wines will be part of the chain of possession that goes the other way.
3 – He is now fitter than ever – Years in the system mean that Wines is battle-hardened. He is not going to go quietly into the night late in a game. If you cannot do the work to keep up with him, he is going to put you to the sword.
And that's what happened in this one.
Wines collected a monstrous 43 disposals as he crashed, bashed and dashed his way around Metricon Stadium. As others slowed, he picked up the pace, and with 15 touches in the last quarter, notched a clear career-high for disposals.
There was a time a couple of years ago that the jury was out on Wines. Was he the player that was going to bridge the gap and lead this team in between the Boak era and the incoming influx of A-Grade talent in Rozee, Butters and Duursma? There were the rumours about wanting out, the water skiing accident and a season in 2020 where he was beset by injury.
But he has answered emphatically in 2021. Re-signing long-term with Port, he has taken his game to the level the Power hoped he would when they saw the oak tree in the acorn all those years ago. He would be close to Brownlow favourite right now and (spoiler alert) claims top place in our Mongrel votes with this performance.
If there were any doubters left, Wines has well and truly swayed them with his electrifying 2021 season, and as we start to look to finals, the way he is playing, perhaps the decision to award him the captaincy wasn;t the wrong one – just a little premature.
THE DEFENSIVE BEAST
What an outing for Aliir Aliir – were the Suns attempting to kick the footy to him? It sure as hell seemed that way!
Aliir was into everything, notching a wonderful Defensive Double-double before three-quarter time, with ten intercepts and 11 spoils before the final break.
In the last quarter, the Suns finally found someone that looked as though he cared about making Aliir accountable and swung Jack Bowes forward, meaning that for the first time in the game, Aliir had to pay attention.
He finished with 20 touches, 12 intercepts, 12 one-percenters and seven rebound fifties to dominate across defensive fifty in perhaps his most complete game to date.
He had incredible covering support from both Tom Jonas (nine intercepts, seven one-percenters) and Trent McKenzie (six intercepts, five spoils) that rendered Ben King ineffective for all but fleeting moments of opportunism.
Port's back six has the makings of the best in the league. The addition of Aliir has added the contest-killing size they seemed to be lacking at times in 2020, and has allowed the other defenders more freedom to concentrate on their direct opponent.
Is he the recruit of the year?
Far out.. there are a few contenders. Jeremy Cameron makes a great case, as does Tom Hickey in Sydney, but there is no credibility to the conversation unless the name of Aliir Aliir is part of it.
THE SUNS WHO GIVE A SHIT
Believe it or not, there were a few that need to be commended for their efforts.
Wil Powell is a gun, and irrespective of the score, plays the half back sweeper/interceptor role as well as anyone in the game. He reminds me a bit of Tom Stewart at Geelong in the way he makes the ball his focus and enters the clash with the mindset of winning the footy, not just splitting the contest. He finished with 12 intercepts for the game.
Hugh Greenwood may have been stifled somewhat in terms of his offensive output, but his clashes with Trav Boak and Willem Drew were wonderful. Greenwood nailed 14 tackles for the game, which keeps him as the number one tackler in the AFL this season.
Touk Miller never, ever gives up. He is a workhorse and should be the Suns' best and fairest leader at this stage of the year. He did waste the footy a bit, particularly early, missing targets by hand a little too often, but his defensive work was outstanding all game. He finished with 31 touches, nine tackles and seven clearances as the best Sun on the park.
Caleb Graham was handed the unenviable task of curtailing Charlie Dixon… and he did a good job of it.
This was the type of game that Dixon could have had a party, but Graham and his buddy, Charlie Ballard both did everything within their power to give big Charlie no room. Between them, they finished with 13 intercepts and 17 one-percenters.
Things would have been a lot worse without those two.
MOTLOP MAGIC
I kind of expected Steven Motlop to have a good game in this one.
He was playing against a team that seem to give the mid-sized forwards plenty of room. The Suns like their defenders to play to position, and be ready to intercept, so the likes of Wil Powell and Jack Bowes often find themselves having to sag off to get in the way of the most direct route to goals.
And when you're playing on Motlop, you just cannot do that!
He was allowed off the chain way too often, as he worked up through the middle to collect the footy, and then ran hard back inside 50 to present as an option. He finished with 26 touches and two goals as he continually lost his man in the traffic, and was one of the more thankful beneficiaries of Charlie Dixon drawing the heat all day long.
What I do want to see from Motlop is a performance like this against a quality defensive team. So far in 2021, he has topped 20 disposal on four occasions – all against teams outside the top eight. It's one thing to beat up on Gold Coast, but ti is another to flex your muscles against a team with the arsenal to fire back.
We know what Motlop is capable of. We saw it in this game.
Now, we just need to see a performance like this against top-flight opposition.
THOSE WHO DON'T GET THEIR OWN SECTION
If I handed out a section for each player from Port who played well, I'd get writer's cramp… or tonsillitis, or chlamydia or something!
Connor Rozee looked back to his zippy best. You can see a difference in him right now to a month ago. Just looks sharp around packs and his hands are clean again.
Dan Houston looked in complete control at all times in this game. Perhaps the lack of pressure from the Gold Coast forwards afforded him a little too much time, but if they're going to do that, he will take it!
Karl Amon is one I expect to once again feature heavily in our Wingman of the Year rankings (released Mondays). Another really solid outing from him.
And nice to see DBJ hitting his straps and starting the run for Port in this one. Though he has been serviceable, he hasn't been great this year. Maybe the back half of the year sees him find 2020 form and offer Port the run and carry from half back that tore games open last year?
THE BAD
THE GRAY CLOUD
This game was a silver lining for the Power. Things went to plan from right around the middle of the first quarter, and they kept going that way.
Except for the injury cloud that hovered over Robbie Gray.
In the second quarter, in a really innocuous incident, Gray came up sore from a contest, left the arena to get checked and was subsequently subbed out of the game with a medial ligament strain.
It was a damn shame for the Power superstar, who started the game brilliantly, and looked very zippy around the fall of the ball. His spin on the collect in the second quarter was vintage Gray, and you could kind of feel that there may be a moment or two in this game that Gray could make his own.
But those injury gods do not discriminate, and when Hamish Hartlett was subbed into the game, Robbie's afternoon, and his 250th game, were over.
Fingers crossed for Gray that this is a very short-term injury. The Power, possessing one of the most impressive small forward line-ups in the game, have seen Fantasia, Rozee, Butters and now Gray all miss time this season. Rozee is just now finding form, but the team with an all-star foursome of smalls is now down to one, and I really want to see what havoc this team can wreak when they have all of them up and about.
THE UGLY
NAMING NAMES
As promised, here we go.
Watching this Suns team, I felt for their supporters. I know they don't have a heap, but they recently broke their membership record and that is a significant milestone for the club. My question is simple – how?
How did they manage to get people to part with their hard-earned dollars to be part of this?
You have players out there who go through the motions and look as though nothing fazes them. Hell, maybe it doesn't, but at least have the courtesy to look like you give a shit.
LACHIE WELLER – This club gave up Andrew Brayshaw for you. You know, the kid at Fremantle who works his arse off despite not playing on the best team in the league? That guy. You know what Brayshaw does that Weller does not do? He runs both ways.
Weller looks great on the odd occasion he has the ball in his hand, but for a player who really wanted to come home to the Gold Coast to play footy, he is playing more like a guy who really just wants to get the footy over and done with so he can go home. Is he the epitome of the Gold Coast lifestyle? Plenty of sizzle and bugger all steak? At 25, he should be at his peak right now – 15 touches hanging around half back before sitting out the last quarter with an injury… maybe a week or so off would be the best thing for him, because playing hard footy doesn't seem to be.
JACK LUKOSIUS – Oh yes, he is a wonderful kick. Oh yes, he bites off the tough kicks and makes them… wait on – he hasn't been making those kicks recently. As a matter of fact, in this game he basically made none of the kicks, leaned back on every one of them and wasted the footy, over and over again.
What is this guy? What can he be? Where can he play?
Well, the answer to the last one is "anywhere" but can he do it well? He is not a defender – people bag out Jake Lloyd at Sydney for not being a great defender and accumulating the footy – he is so far ahead of Lukosius in a similar role that it's not funny. If I were coaching against the Suns, I would kick continually to Luko's man simply because Lukosius looks as though he hates competing for the footy!
Forget disposal efficiency – it is a misleading stat. I saw Lukosius, the renowned football maestro with the ball in hand, shank four kicks whilst under no direct pressure. Four times, he either grubbed it along the ground, or completely missed the mark. This is the bloke that the club is pinning its hopes on to be… something. Far out – they have no idea how to use him because as "unique" as he may be, his shortcomings when it comes to winning the footy and stopping his direct opponent are pronounced.
A performance like this should warrant a week in the seconds, but he is a high draft pick – mustn't upset them, huh?
BRANDON ELLIS –  I like Ellis – I really do, but his efforts in this one were probably the very reason Richmond looked him up and down and thought it was probably okay if he picked up a gig elsewhere. He looked tentative and unsure, and this is a guy brought into the side to instil a winning culture?
THE BIG PICKS – Rowell looked slow. Really slow, as in labouring to get around. Must be nowhere near right, as he was a far cry from the player that captured the imagination of the footy world last season. He played like a bloke with ten games under his belt… which I suppose is where the expectations should be for him.
We should all probably be a little apologetic for thinking he was Chris Judd in orange.
His running mate, Noah Anderson, got plenty of the footy, which is a great sign. He also butchered it to the point he made Lukosius look poised. I'd be looking to move him back to the wing and buy him some space to move. Having him in the guts when he is struggling to get clean possession may do his confidence some damage.
So, there are five names who were pretty bloody ordinary in this one for a variety of reasons. They had a heap of mates, but these are the name you know – I could have thrown Ben King in there as well, but how can you expect him to do anything with the hacky shitful kicks coming into his area? These are the types of games where he'd look at other teams and think "I could play well for them".
And that is exactly what the Suns do not need happening.
SOME QUESTIONS
HAS STUART DEW LOST THESE BLOKES?
Seriously, is their apathetic response after half time a clear indication that whatever he is saying is not resonating with them?
They worked hard in the first quarter. They seemed switched on for a while, but after the man break, they came out meaning to breathe fire and seemed to choke on the kindling. Maybe they're not responding to Dew's voice and his vision anymore. Maybe they are, but when your actions indicate you're not, questions are going to be asked.
HOW UNDERRATED IS WILLEM DREW?
Incredibly!
A genuine two-way midfielder is pretty difficult to find, and one that does it without fanfare is rarer still. Our own Brett Hodgson made the claim that Touk Miller is the best two-way midfielder in the game.
It's a pretty fair take, but Willem Drew cannot be too far away.
Drew does all the hard stuff and never hesitates to put his head over the footy. He had ten clearance in this one to lead all players, and added seven tackles to his numbers as well. At 22, he is not the star that Rozee is, or Butters will be when he gets back, but he is doing some pretty heavy lifting for the Power.
And if you don't like that, you can suck on a Willem Drew (It's the cigar brand I made up for him. He should definitely market it!)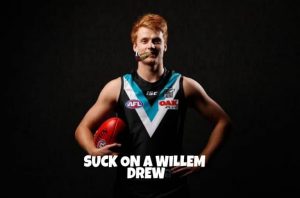 OTHER BITS
This was the best outing I've seen from Miles Bergman, who has been brought along slowly (and intelligently) by Port. He looked quite composed in this one, racking up 23 touches and only botching the last disposal to fall from 100% efficiency down to 96%.
A nice easing back into things for Scott Lycett, with Peter Ladhams doing plenty of the ruck duties to help out. With 33 touches and 36 hit outs between them, they really worked Zac Smith over. Not sure Smith gets another deal next season.
Port welcome the Swans to Adelaide Oval next week in a game of significant importance. I covered it in our members article below.
Meanwhile, the Suns get to travel down to Tassie to take on the Kangaroos. After watching today, I reckon North will actually go into that game as favourites.
All in all, Port did what they had to do, got great contributions from their stars and a few lesser lights, and will continue to push for top four. The Suns… well, they have to start worrying about how to convince lazy players to give effort, and how to convince effort players to show composure. It is a massive ask for Stewy Dew.