When I rolled out of bed this morning, looked out the window and saw nothing but rain for hours on end, I thought we'd lost every chance of having a highly entertaining game of footy between the Cats and Dogs at Kardinia Park.
Not that I went to bed at Kardinia Park, mind you… Melbourne is not too far removed from Geelong. I figured the weather would have been similar.
Anyway, I could not have been more wrong about the game.
The Western Bulldogs and Geelong provided an excellent, hard-fought contest that went down to the last kick of the game to decide a winner. And what a kick it was!
Leading by a point, the Dogs just needed to hold on. A desperate Zaine Cordy, with pressure on him inside defensive fifty, hacked the footy out, only for Isaac Smith, playing one of his best games for the Cats, to lower his eyes, spot Gary Rohan and deliver it safely into his outstretched hands.
The rest, as they say, is history.
The game had the stars on display – Macrae, Bont and Libba did their thing, whilst Selwood, Stewart and Menegola were on-song for the Cats. IN the end, it was Geelong at home, too good by just four points, but you get the feeling this will not be the only time these teams tangle this season.
A finals rematch awaits.
Let's jump into The Mongrel's Good, Bad and Ugly.
THE GOOD
COMETH THE MOMENT…
What a season Gary Rohan is having. He was the subject of a recent members-only article I wrote, talking about how much he has benefited from the arrival of Jeremy Cameron and what he brings to this three-headed monster in the Geelong forward line in terms of pressure.
I kind of wish I waited til now to write it, but oh well…
Rohan's game was a serviceable one. Yep, that's actually a compliment, believe it or not. Given the vast number of poor games he has had over the journey, it appears as though Rohan is having more serviceable games this season than he is the other sort.
I can just hear Cats fans sighing "… about time" as they think about Rohan's poor 2020 finals series.
It's true – that is a difficult stigma to shake. We see it on our socials all the time – he cannot do it finals. He can't get a kick when it matters.
Make no mistake, he got a big kick in this game, and it damn well mattered. In a moment where others may have faltered, and with a shot at goal under the kind of immense pressure that would spook a lesser man, Rohan went back, went through his routine and slotted the goal to hand the Cats the win. His game was serviceable – his actions after the siren sounded were heroic!
His shot at goal, off the boot, looked to be going right, but with a lovely draw on it… unlike a few of my most recent tee shots, it came back nicely to sail through and push the Cats past the Dogs. It was a wonderful moment for Rohan, who has really attracted a lot of negativity over the last 12 months, but the way he and his team are playing, it is hard not to see this playing group in a positive light.
The moment arrived and Gary Rohan stepped up in this game. That might be enough to keep people quiet…
… until September, at least.
THE COURAGE OF THE CAPTAIN
Without Joel Selwood, Geelong do not win this game.
It's as simple as that.
No longer is he the bloke racking up 30+ on a near-weekly basis. No longer is he the number one man in the Geelong midfield, but I'll tell you what – when one of his lieutenants goes down injured, he steps up his game and does everything he can to drag his Cats over the line.
Mitch Duncan was the player calling it a night way too early in this one, but the old bloke in the hoops once again elevated his standard of play to go from support act to headliner, collecting 29 touches, ten clearances and laying six tackles. It was vintage, hard-nosed work from Selwood, capped off by one, desperate, lunging action that set the wheels in motion for the Cats to kick the winner.
With under a minute to go, on Geelong's half back flank, it was the lunging Selwood, battling for possession but unable to grasp it, that made the choice to throw himself forward and simply tap the ball to a teammate.
With no thought of what could be coming the other way, he dived after the footy, got a knock on it and Patrick Dangerfield sent the Cats forward. It was the type of little act Selwood has been performing for years, but instead of lauding him for his courage and in this case, his intelligence, people are fixated on the way he collects free kicks… or maybe that he could have possibly, you know… stepped on someone in this game. Ooops!
Look, when it comes to Selwood, he could step on me and I wouldn't be offended. I'd be hurt… maybe even a little excited… Seriously, though, I think the world of him as a player and I am definitely not a Geelong supporter. Earlier this week I had him ranked second for the season in terms of captains and their output, with only Bontempelli ranked above him. Watching these to go at it in this game was an absolute privilege, and if you swapped them from one-two in those rankings, I am not entirely sure it'd be wrong.
ON TWO WINGS AND A PRAYER
There are so many little things in a game that contribute to a win, but for a moment, humour me.
If Isaac Smith and Sam Menegola were the main wingmen for the Cats, who were the outside runners for the Dogs?
There were three, actually, who shared time on the wing – Bailey Smith, Roarke Smith and after halftime, Lachie Hunter. And the domination of the Isaac Smith/Menegola combination was a huge reason the Cats were able to snatch the lead back on several occasions from the Dogs – the wingmen in the red, white and blue were just a level below their hooped counterparts, and it showed.
Isaac Smith was an assassin in footy boots, collecting 30 touches, two direct goal assists and nine inside 50 deliveries. On the other side of the park, last year's Mongrel Punt Wingman of the Year, Menegola (not Menengola, BT… you're a professional, get it right FFS!) had 27 touches, six clearances and kicked two goals.
These blokes are players who know their position. They know when to run hard forward, when to drop back and help the defence, and when to dial up the pressure and use those wheels to burn off their opposition. For the most part, it looked as though the Cats had Bailey Smith and Roarke Smith on a leash, taking them wherever they wanted. They were in complete control and that was only arrested in the second half when Lachie Hunter was able to hold his own in the contest with these two.
Hunter ended up with ten touches in the third quarter, which made Isaac Smith have to start defending him, but if you're looking for a season that the Cats were able to hang in against a Dogs team that looked as though it was going to get away on a couple of occasions, look no further than the wingmen in this game – they were super important to the Cats' structure and the execution of their roles was absolutely first class.
SHUTTING DOWN THE RUN
The maturation of Bailey Dale in 2021 as a half back flank has given the Dogs huge drive from defence, but in this one, the Cats structure was so good that it completely robbed both him and his teammates of the option to switch the footy and open the game up.
Think about it – how many times did you see a Dogs player out in the on on the opposite half back flank, and the Dogs just could not switch the footy quickly enough to get it there. I noticed Dale out there, waving his arms around like he was trying to fly on a couple of occasions, but the Cats were just so well set up to prevent the switch, that the possessions Dale has been used to getting across half back just were not there.
Geelong had less trouble changing the direction of the footy, and seemed to be a lot more willing to run defensively to deny the Dogs the ability to switch. Sometimes it is the little things like this that make a difference. You could possibly make the argument that the Dogs played better footy in this one, but the Cats were more disciplined – I reckon it stacks up.
Dale was averaging 24 touches per game this season prior to tonight. He had 14 in this one. There was no forward tag – he largely played on Brad Close or Patrick Dangerfield when he went forward, but he just could not get the easy footy that has been his bread and butter this season.
The Cats just stopped him in his tracks, and when Dale stopped getting the footy, the run and carry fell to the rest of the defence, and that was like playing one man down.
THE BEST HALF BACK IN THE GAME
If you think there is a better one, I am all ears. Hit me with some names.
Stewart had another dominant game across half back, and despite having a horrid turnover in the first quarter, and a clumsy fall later in the game that saw Josh Bruce slot a Buddy-esque goal from the boundary, but on the whole, his marking presence in the defensive half was incredible.
And when he wasn't clunking one of his ten intercept marks amongst his 15 intercept possessions, he was killing contests with five big spoils.
I've said it before and I'll say it again – Tom Stewart is the player I wish James Sicily would be at Hawthorn. There is just no bullshit about him. He watches the footy in flight, attacks it hard, hardly ever loses his feet in the contest and provides great run… even if it looks like he runs like he has a stick up his butt.
Stewart has his name pencilled in for another AA selection this season – it'd be a brave man who opted not to have him in the team right now.
As a little give away, I was catching up on the Mongrel of the Year voting this afternoon, and it didn't shock me to see that Tom Stewart was leading all defenders in votes before this game, and believe me, he will be adding to that total from this one.
AND STILL…
Each week here at The Mongrel, our resident Mongrel Midfielder Champion defends against the best the opposition has to offer. The champ at the moment, and for the last seven weeks, is Jack Macrae.
To be the man, you have to beat the man, and though the Dogs lost, Macrae's prolific run at the top continues. He had a game-high 35 touches and six clearances, which was enough to hold off the challenges from Isaac Smith, Joel Selwood and Sam Menegola.
Our very own Slugger is cursing the third quarter from Macrae, where he picked up 14 touches, as it was looking as though Smith or Selwood was going to walk away with the title. Alas, the Cats won the war, but Macrae still managed to retain the midfielder championship belt, and notch his seventh defence in the process.
LIBBA
What is the value of Tim Liberatore to this Dogs team?
Bont is evidently the master key – he opens everything up, but Libba has been so consistent in 2021 that it is genuinely difficult not to love the way the bloke goes about it.
In and under again, extracting the footy to finish with a game-high 11 clearances, Liberatore is the engine room that starts the Bulldog pistons pumping. He had 20 contested touches and added eight tackles in another superb in-and-under performance.
MR FIX-IT
Can Chris Scott please play Mark Blicavs as a forward one day. I just want to see it.
It's like Geelong supporters are collecting a set of Mark Blicavs trading cards. I have Mark Blicavs on the wing, I have him in the centre, I have him in the ruck, at centre half back, as the loose defender, as full back… oh shit, I don't have him as a forward yet.
Better find that card!
He is one of the most versatile big men the game has seen, and with two Best and Fairest awards to his name already, he did himself no harm in the race for a third. Asked to perform multiple roles in this game, including matching up against Bont at centre bounces, Blicavs was able to add another string to his bow, picking up nine clearances as he both plucked the ball from the ruck, and won it at ground level.
Blicavs is such an asset to the Cats and is a competitive beast when confronted with a one-on-one at ground level. You'd just about back him to match anyone with strength and speed with the ball on the deck.
Sadly for him, he somehow managed to get a dirty big grass stain right in the middle of his shorts that made it look like he was incontinent. I'm not really sure how you manage to get a big divot all the way up in the crack, but Mark did it… maybe that's something else to go on his CV?
THE BAD
THE ACHILLES HEEL
That left boot of Marcus Bontempelli can tear a team apart. We saw him use it to devastating effect in the third quarter as he slightly feigned to go right, only to swing back on to his preferred foot to slot a big goal.
However, when it came time for the captain to settle his team and kick a set shot goal, the radar went haywire and Bont missed what would be considered a relatively easy attempt for an AFL player, let alone a superstar. And Bont is an absolute superstar.
He miss, three minutes into the last quarter, would not have won the Dogs the game – anything could have happened from that point, but in a contest where the lead kept swapping hands, establishing a couple of goal-lead at that point would have been very handy.
Of course, that is being really simplistic, and whilst Bont has had his issues kicking for goal, his overall game in this one was sensational. That said, even the most ardent Bont supporter would be hanging their head wondering why their captain is seemingly unable to get this aspect of his game correct?
Bont is at 53% accuracy in terms of his shots at goal in 2021, however, it is the shots like the one he missed in this one that genuinely hurt his team. It goes without saying that the positives he adds outnumber the negatives ten, or even twenty to one, but when that one negative is set shot goal kicking…
… man, it is just hard to get past.
EDIT – I should add that the shot at goal was the ONLY reason he was in this section. His game was wonderful, overall, and in hindsight, it is vastly unfair to list him in this section.
IF THEY BRING IN A NEW RULE ABOUT PHYSICAL CONTACT IN CONTESTED FOOTY SITUATIONS…
… then there were about a dozen instances in this game where players could very well have ended up suspended.
Now, wait on… they weren't doing anything wrong, but the potential to inflict a head knock, even an accidental one was present for the whole game in multiple instances.
You had Shaun Higgins, of all players, making a bee-line at Bailey Williams. The contact was minimal, but the possibility of severe injury from that kind of clash was huge.
You had Gary Rohan crashing into Caleb Daniel to win the footy – again, all legal and fine by me, but the potential for it to be nasty was there.
Joel Selwood threw himself at Hayden Crozier, which saw the Dogs defender come up limping, but given the way the Geelong captain attacks the body of an opponent, that had the potential to be a head-to-head clash.
And then there was Jed Bews collecting Aaron Naughton right before the half time siren. Even without the head clash, Naughton was ruled out for the game with a rib injury.
Now, we can either go down the route of wanting these kinds of actions banned, and watering down our sport to the point it looks like touch rugby, or we can accept that these clashes are a necessary, and thrilling part of a sport where winning a contested possession in the heat of battle is paramount to success.
Maybe some of you Geelong people like Steve Hocking. I know plenty of people hate the bloke – I don't particularly hate him, but man… he is making it really difficult to like him! With rumours that there will be rule changes to alter the way players attack the contest, one only has to look at this game to see how players attacking the contest in a ferocious manner ADDS to the overall spectacle. And how it would diminish the game if we took away the player's right to put physical pressure on in contested ball situations.
Hocking and his buddies at the risk mitigation department of the AFL (if there is one – I made it up) are attempting to accident-proof the AFL. Tonight, it was not required, but that is as much luck as it is skill. We play a game where the pressure comes at you from 360 degrees. There will be injuries, there will be head knocks, and there will be players knocked unconscious at some point.
You cannot legislate against accidents, and if we fast forward a year and load this game up in 2022, I wonder how many of the courageous acts we saw as part of the Cats v Dogs would be officiated out of the game before it even starts.
If you enjoyed the way the game was played in this one, your voice will be needed when the league tries to prevent players from contesting the ball aggressively. Imagine Joel Selwood, Tom Liberatore and Patrick Dangerfield without aggression?
Might as well buy ballet tickets…
THE UGLY
WHAT HAS HAPPENED TO BAILEY SMITH?
At the start of this season, many, including myself, were ready to throw Bailey Smith's name into the mix in regard to being the best player from the 2018 National Draft. If you need your memory jogged, that draft also contained Connor Rozee, Sam Walsh, Zak Butters and the King Brothers.
He started the season off well, averaging 30.5 touches and 1.5 goals across the first two games of the season. At that point, he was playing on the wing exclusively, and his two-way running was really giving his opponents fits.
But something has happened since then, and the Dogs would want to get it sorted pretty quickly if they are to have this young man fulfil his potential. On his form over the last two weeks, Smith has averaged 14.5 touches. However, of greatest concern was his lack of defensive accountability in this one.
Matched up against Isaac Smith for the majority of the first quarter, he allowed the former Hawk way too much leeway, and Isaac loved it. He ran off the young Dog to collect 11 touches and three inside 50 deliveries.
Playing wide of his man, Bailey Smith added just four touches to his name and was a non-factor.
From that point, he split his time between his first quarter opponent, Sam Menegola, and a host of Geelong players rotating through the wing. Smith finished with 14 touches and was rather inconsequential as a player – the exact thing you cannot be in a tight game.
In contrast, the two major outside runners for the Cats combined for 57 touches and two goals. This is largely on Bailey Smith – he did not pay anywhere near the respect either Isaac Smith or Sam Menegola command, as was evident when Menegola snuck forward on him in the last quarter, got distance between him and Smith, marked and goaled to give the Cats the lead. Smith had no touch on him and was looking more at drifting back to the goal square to help out when Joel Selwood pulled the kick.
You don't want to say things like this in regard to a young player, but we've been harsh on Connor Rozee at times this year based on what he is capable of delivering, so to not do the same with Smith would be hypocritical. He was a passenger in this one, and that is something I didn't think I'd be writing about him, given the way he played his footy in 2020. I do not think he has taken a step forward at all this season, and the Dogs will need him to if they're going to contend.
You cannot carry players in finals.
SOME QUESTIONS
WHAT DO THE DOGS TWEAK NEXT TIME THEY PLAY
They have to open up the ground a little. I know it is difficult on the narrow Kardinia Park, but man, playing down the line footy is exactly what Geelong want you to do. Surely Luke Beveridge knew this?
So, I guess it comes down to whether he was keeping a few cards close to his chest, or whether he just didn't pull the trigger because of… I don't know, covid or some shit…
I hate when people use that as an excuse, actually. "Oh, I couldn't deliver your stuff on time because of covid…"
WHO WAS THE BIGGER LOSS – NAUGHTON OR DUNCAN?
It was Naughton.
Duncan is an excellent player, but the Cats had the coverage for him. The Dogs had no coverage for Naughton. I was really enjoying his back-and-forth contest with Jack Henry before the injury.
DOES JED BEWS GET SCRUTINISED FOR NAUGHTON'S INJURY?
Geez, I bloody hope not – he didn't get him in the head, did he?
Just looked like a fair, body-to-body contest to me. Of course, given my rant, above… who knows where the AFL goes with this kind of contest.
WAS THAT ALEX KEATH'S BEST OUTING FOR THE DOGS?
Look, I don't really know, but given he has held Tom Hawkins to a goal, and more importantly, just one mark for the game, it'd have to be close. I know a few people who don't rate Keath – they think he plays forwards into good form.
Well, I'd like to hear them explain this performance. Really good outing for Keath, but geez… Jeremy Cameron blew by him in the last quarter, didn't he? Just a little slow off the mark, is Big Alex.
OTHER BITS
New mathematics formulas being used at Channel 7 these days?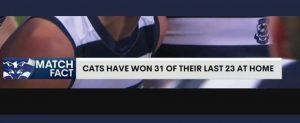 Not sure who made the bone-headed decision to allow just seven thousand people into the game… and then stick them all in the same area! You'd think that social distancing, and yadda yadda, they'd be able to deploy people around the ground, right? But that's expensive.
Okay, so why not a few thousand on the other side, and at each end? That way, they're still sectioned off into groups, therefore they're "covid safe", more people get to go to the footy, the club isn't stuck with catering contracts not being used and we get that wonderful addition to a game known as ATMOSPHERE!
But, what would I know? Anyway, great job to the loud few thousand who were permitted in.
I would have liked to see Mitch Hannan get a little more involved in this game. Not sure he was playing the game he should have been playing – putting a body on the dominant Tom Stewart to prevent him marking uncontested about a million times. He touched the footy ten times, yet I don't recall him doing anything memorable with it.
Pretty good outing for Josh Bruce. Had really good hands in a one-on-two contest early in the game, and three goals is a good evening's work for him.
I liked what I saw from Cody Weightman and Anthony Scott. Both looked lively up forward, with Weightman in particular, looking good in marking contests as well.
All this way into the review and I have neglected to mention Zach Tuohy. Poor, I know. His run down tackle on Bont was absolutely spectacular and epitomised the ferocity in which he attacked the contest. Such a versatile player, he is a nightmare matchup who would be a walk up start in any team's back six, or on a wing.
A better outing from Shaun Higgins in this one. Still nowhere near his best, and we will never see that form again, but did a couple of nice things, and given he is not in his customary role, that is a bit of a bonus. I wonder if he'll be "managed" again next week?
Speaking of next week, we get the Cats and Lions on Thursday night… wowza! Then we get the Dogs and the Eagles in a rematch from their early-season classic. Good time to be a footy fan. Roll on, Round 15.
Look, it's late, I've just hit 4K words and I am tired. I'm gonna call it a night and may add a little more in the morning. Maybe I'll dream something profound and shock the hell out of you.
Or maybe I won't.