It promised so much. It was the clash between the teams who hated each other most.
Unlike the manufactured rivalries, this was a contest between two teams that have developed an organic hatred for each other. And they were given Friday Night Footy to sort things out.
We wanted a fast-paced clash that emphasised the Dogs' brilliance and the resilience of the Giants. What we got was something completely different.
The Giants played a slow brand of footy, perhaps trying to compensate for some significant injury shortfalls. The Dogs bided their time.
At the last change, it was a three-point game.
Game on, right?
"Right," said the Dogs, and proceeded to put nine goals on the hapless Giants, blowing them out in the final 25 minutes of footy.
It was no the knock-down, drag-out affair we expected. This was the Dogs waiting for their chance to strike and the Giants holding on like hell, trying desperately not to allow the Dogs their opportunity.
The opportunity came in the last quarter, and the Western Bulldogs put their hated foes to the sword.
Here's The Mongrel's good, bad and ugly
THE GOOD
THE MONSTER ROLLS ON
The Dogs moved to 6-0 and once again, their midfield filled the stats sheet with copious amounts of numbers.
Best amongst them was the unstoppable Jack Macrae, who hit the forty disposals mark late in the last quarter after an entire evening of running to space and keeping just the right distance from the contest to be used as the release man.
In games like these, I am sure Leon Cameron would love to have someone like Matt de Boer at his disposal, but with a hamstring injury keeping him out for a while yet, the Dogs were able to run free, and Macrae relished the opportunity. 25 of his disposals were kicks as he racked up a whopping 864 metres gained. He had eight inside 50s and six clearances in what was a complete midfield game.
Then there was Adam Treloar. Moved to the wing in the last quarter to, basically, give others a turn in the middle, Treloar had a ball, with 35 touches, eight inside 50s and six tackles.
I feel like a Demtel salesman, here. But wait… there's more!
Josh Dunkley, despite dislocating his shoulder twice, had 29 touches and 15 score involvements, whilst the captain shook off the attention of Callan Ward to register 26 touches, seven clearances and six tackles.
Far out…  Libba kicked two and had 27 disposals and Lachie Hunter spent the first half-forward to finish with three goal assists and 19 touches.
How do you stop that? How do you slow it down? Who do you tag? Can you tag?
This kind of midfield dominance is ridiculous, and it will be interesting to see how it holds up against the Tiger pressure next week. If there was one criticism of the midfield in this game is that they were so comprehensively in control, yet led by just three points at three quarter time. When you have that much footy, you should be able to put your foot on the throat of your opponent, and the Dogs didn't do that until late.
NAUGHTON V TAYLOR
I loved this match-up. Two young stars of the game going head to head for most of the evening, both with periods where they took control, and plenty of highlights along the way.
People will remember Aaron Naughton's aerial work in this one. He flies at the footy without regard for those around him, or his own safety…
… or Tim English's safety, it turns out.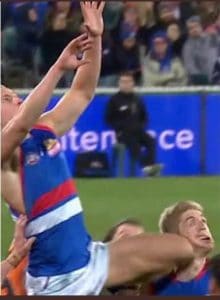 That was unfortunate, but if you're Luke Beveridge, you do not want to see Naughton scaling back his attack on the pack. Teams die for a player that can crash packs, and Naughton does it instinctively. A couple of his marks, he had no right to get near, but as the trees fell around him, Naughton was the one to emerge with the footy in his hand.
Taylor, on the other hand, despite two clear one-on-one losses to Naughton, was the Giants' best defender. He had a combined 18 spoils/intercepts as he held the defence together in a frantic ten minutes of the third quarter, the Dogs peppering the forward fifty and the Giants repelling time, and time again.
When you look at the game as a whole, Naughton's 2.3 and nine marks seem to make picking the winner simple, but with a mark and goal on the siren, the Dogs forward kind of inflated his return. I'd still give him the nod – it is always more difficult to mark as a forward than it is to spoil, but the contest was closer than any highlight package will have you believe.
THE BIG DEFENDER
The more I watch Alex Keath play, the more impressive he seems.
He was excellent in this one, his defensive positioning vital to the Dogs retaining the ascendancy through the first three quarters as the teams slugged it out in a 2019-style of game.
Keath was given the job on Harry Himmelberg, who was described during the week as a half forward flanker in a key forward's body, which is quite accurate when you look at the way he plays. Of course, GWS don't treat him like a flanker, and want him to attack the footy like a key forward, which played right into Keath's hands. His nine intercepts and three contested marks emphasise just how good he was opposed to the dangerous Giant.
Keath is very difficult to move off the spot. Strong through the hips, he is very difficult to move off the spot, and his follow up work, which at times may be considered his weakness, was on point in this game.
You wonder, with the dominance of the Bulldogs midfield, how a player like Keath would be faring in their best and fairest at this stage? B&F awards aren't like the typical media awards – they tend to recognise players that do the heavy lifting, and Keath has been doing plenty of that this season. I'd love to see him poll well and get some reward for the fantastic jobs he's been doing to date.
THE ONE MAN BAND
You kind of got the feeling it would take something special for the Giants to overhaul the Dogs in the last quarter. It was as though they were taking hits left right and centre and were just hanging on as we headed to the three quarter time huddle, but given the events of last week, there would have been some belief that maybe… just maybe, they could do it again.
But the Bulldogs are not Sydney, and the Giants of 2021 are not the Giants of 2019, either.
They are a one-man band in many respects, with a heavy reliance on Toby Greene to pull them out of the fire, currently. He was unable to do so in this game, despite some heroics earlier in the game to keep the Giants in touch.
With another four goals in this one, Greene took his season total to 18 for the year, and looks to be a certain starter in the All-Australian team at this rate. I'd hazard a guess that he will be the only Giant to make the squad of forty as it stands.
Over the past few seasons, Greene's body has let him down, missing weeks here and there with little niggles, but his instalment as vice-captain, and elevation to captain in the absence of Stephen Coniglio, have worked well for him, and he looks in as good a shape as I've seen. But for a couple of poorly-directed kicks in this game, that saw him out of position despite having made the space for the kick to be directed to, he could have finished with six. It would have been fitting for the only star in what was once a team full of them.
THE ASH MAN
A career-high for Lachie Ash in this one, as he took on the role of half-back sweeper and played it pretty well for the most part.
His hard run, particularly on a couple of switches of play, was really noticeable, to the point where only the fast cover downfield of the Bulldogs' mids and half-back line was able to shut down his attack.
Both he and Tom Green were players the Giants blooded in 2020. Both high draft picks, Ash retained his place in the team for most of 2020 and had 18 games under his belt. Much like Macrae, Ash picked up 28 of his 35 touches uncontested, as he made space to receive the footy as the release man.
On a night where the Giants would be feeling pretty glum about things, the performance of Ash would be something that would get a big tick from the coach.
DEPTH
Looking up and down the Dogs' list, they have a wealth of talent at their disposal.
I'm not sure how many of you tuned into the VFL game on Thursday night, there were a few names running around for the Dogs that would have been familiar. Pat Lipinski would be the type of player that'd walk into ten other teams and cement a place in the best 22 close to immediately. Mitch Hannan was recruited from the Dees and was thought to add a bit of pace to the Dogs – he has not been required at this stage. Mitch Wallis was out there after leading the Dogs in goals in 2020. Will Hayes and Cody Weightman both have senior experience, as do Riley Garcia, Rhylee West, Lewis Young, and Ben Cavarra.
Then there is this Ugle-Hagan kid… snagging the lazy five goals.
The Dogs have built a list that can cover for an injury or three. As we saw in this game, the Giants are struggling to do just that, but with good kids, excellent veterans and a group of interchangeable link men to come in and out of the team as required, the Dogs' bottom six on any given day look as good or better than their equivalent on any other team in the competition.
I'm not sure of any other team that would have Mitch Wallis in the seconds… these Dogs are travelling beautifully.
THE BAD
THE BOTTOM SIX
Yes, I get the Giants have some injury woes, and I also get that some of their kids will be fantastic over the next ten years – it seems we say that about them every year, doesn't it?
The thing is, they've been thrown into this side right now, and some of them don't appear to be up to the level. I don't like bashing the kids in these articles, but for the purpose of this point, it is important to explain what I mean, and in order to do that, I have to indicate exactly who I am talking about.
Connor Stone played on a wing for quite a bit of this game. At halftime, his stat sheet read as follows.
Zero kicks, zero handballs, one tackle.
In his defence, he was matched up primarily on Bailey Smith, and the Dogs' runner had just eight touches himself, but in terms of offence, Stone was cold… and that's the bottom line.
Xavier O'Halloran looked off the pace as well. Whilst he managed 15 touches, it was more the times he misread the footy or overran it that stood out. He ran at 53% efficiency as he adopted the Dwayne Russell "make it someone else's problem" mantra as his modus operandi in this one.
He completely lost sight of the footy in the air in the first quarter, leading to Jason Johanissen marking on the wing, the Dogs re-entering fifty and Hunter getting the goal to get his team started. He fluffed defensive fifty kicks, dropped uncontested marks.. he had a mare.
Speaking of mares.. with Naughton and Bruce taking marks at one end, Jake Riccardi couldn't get near it at the other. With four touches and a single mark for the game, he was far from the inside fifty presence he promised to be in 2020. Time to bring in Jesse Hogan.
I could go on and on – Tanner Bruhn found the going tough as the medical sub and returned five touches despite playing 80 minutes. Connor Idun thought nothing of selling his teammate into trouble, and even Bobby Hill, who did some really good things, only had the footy six times.
In contrast, the Dogs had one guy who looked as though he was still a little iffy coming back from injury – Laith Vandermeer, who will be better for the run. Their sub, single female laywer McNeil, finished with two goals to provide value to his team.
When you're forced to carry six kids who can't really contribute enough, it was a miracle the Giants were in it at three-quarter time.
THE FIRST THREE QUARTERS
I was pumped for this game – I love a contest with a bit of spite in it, and was hoping for a frenetic game with each team trying to put the other to the sword.
Sadly, that was not the case… until the last quarter, at least.
For the first three quarters of this game, what we saw was like a war of attrition, as the Giants simply refused to take a risk with the footy, and moved the ball so slowly, I swear a few snails bobbed up on the grass and went past some of the slower guys.
Whether it was an acknowledgment that Leon Cameron was well aware that he did not possess players with the foot skills to penetrate the Dogs' defence, or that he did not think the Giants had the legs to run out four quarters, the game was played at a painfully slow pace, with the Western Bulldogs easily rotating over to cover the slow switches of play from GWS.
Can you remember a gutsy 45 degree kick into the middle of the ground to open the game up?
I sure as hell can't.
It was down the line rubbish, from both teams for the record, in a game footy the AFL would be looking at and shaking their head. Sure the Dogs won, and I am positive that they'd be pleased with the way they finished, but with 12 goals combined through the first three quarters, it was hardly the spectacle a Friday Night Footy clash warrants.
To put it in perspective, the teams kicked a combined 12 goals in the last quarter, with the Dogs breaking the Giants and finally dropping the hammer on them.
THE UGLY
WHERE HAVE ALL THE STARS GONE?
Remember all the talk about the Giants being a team of champions but not a champion team?
It was not all that long ago that they were bubbling over with the sort of top-tier talent that would make any coach in the league envious. Let's look at 2019 as our indicator, shall we?
Having just lost Dylan Shiel 12 months after waving goodbye to Devon Smith, the Giants possessed a list of A-Graders unlike any other team. Jeremy Cameron, Stephen Coniglio, Lachie Whitfield, Josh Kelly, the emerging Tim Taranto, Nick Haynes, Zac Williams, Jacob Hopper, Harry Himmelberg, Phil Davis, Cal Ward… they were spoilt.
But now, where have these stars gone?
Some may look at this game and judge it completely on stats.
If you do this, you'll rate the game of Tim Taranto. Watch the game, people. The number of times he reached for the footy whilst his Bulldog opponents bodylined it will give you a very good indication that the shoulder injury that disrupted his 2020 season is still very much on his mind.
How about Josh Kelly? He was a "can't miss" prospect and had many predicting Brownlows in his future. Remember the big money offers that came his way? Those teams would be breathing a sigh of relief as he sleepwalks through games at the moment. Last week, he kicked the winner, but that wallpapered over a fair few cracks in his overall performance.
Davis is injured more often than not, Cameron is gone, Williams is gone, Coniglio and Whitfield are hurt… the team full of stars is suddenly, almost unbelievably, devoid of stars.
They do have Jacob Hopper working hard in the guts, and their kids are once again looking promising, but the "can't miss" prospects are suddenly missing as they mature as footballers, perhaps quite a way from being the players the Giants thought they'd be.
Taranto no longer sticks tackles. Kelly is no longer an assassin in footy boots, and now Nick Haynes is sidelined with a hamstring injury.
There is only one player looking as though he may realise his potential, and that is Jacob Hopper. And guess what? He's out of contract after this season.
There is only one thing this team can do to arrest the slide. They must cease becoming a team of champions, or a team that was once a team of champions, and legitimately become a champion team. It can be done, but it takes selflessness, complete and utter buy-in and sacrifice. As we have seen over the journey, it is much easier said, than done, but a champion team without champions is… nothing.
GWS have no choice.
SOME QUESTIONS
DO THE DOGS NEED TIM ENGLISH AGAINST THE TIGERS?
They didn't need him in this one, actually. I thought he was having a poor game before he got injured, with zero marks in the first half before waking up in the third quarter and realising what his job was.
Against Richmond, Stef Martin would be the preferred option against Toby Nankervis. Nank is like Scott Lycett – he is a ruck bully, and those blokes relish going up against the Dogs' lanky blonde. He'll sit out the week, and though the Dogs may miss his forward presence, it may open the door for Josh Schache to get a run. If Naughton, Bruce and Schache can shoulder the load, perhaps they get away with a week without English with too much damage being done.
Then again, they are playing Richmond… there'll be damage.
WHAT ABOUT JOSH DUNKLEY?
Does he keep playing with a strapped shoulder? How good is this medical tape they use? Is it some type of magic?!?! It may have to be to keep his shoulder in the socket.
Dunkley has been monstrous, and given the way he just seemed to have his dislocation popped back in, it makes you think he may have been dealing with this for quite a while. I think he plays with a taped-up limb, but against a battle-hardened team like Richmond, you wouldn't want to give them too many opportunities to try you out.
WHEN DOES THE GWS CAVALRY ARRIVE?
Not for a while, sadly.
They switch out Haynes for Whitfield next week, but Coniglio is eight weeks away, as is de Boer, and Davis has a month on the sidelines to go.
This unit is suffering, and the next little bit looks no easier in terms of injury. That said, they have the Crows and Bombers next, and would be thinking that they could get wins in both games.
OTHER BITS
Great to listen to the Channel Seven commentary team again in this one… makes you appreciate the Fox Footy call team. James Brayshaw struggled with the Caleb Daniel/Brent Daniels surname clash to the point he just started calling both "Daniels" at one stage. Remember peak Bruce McAvaney and Denis Cometti???
Really felt for Tanner Bruhn as he was dragged down without the footy inside 50 and there was no whistle. That was a rookie call from the umpire and it is something that is accepted in a game like basketball. It was compounded when a free kick was paid seconds later to the Dogs in which there seemed to be zero cause.
I thought the Dogs got a pretty good rub from the umps in this one. Not that the majority weren't there – it was 13-3 in their favour at one stage, but ended up 16-15… maybe someone had a bit of a word to the men in charge?
Taylor Duryea remains an underrated small defender. Not flashy, but very reliable.
The Dogs read the taps of Matt Flynn really well. I would love to know how many of Flynn's taps were to advantage. He had 22 hit outs – I'd say 2-3, maximum.
Bailey Dale is making a habit of big finishes to games, and opposition forwards should be very wary late in the contest. He snuck forward for two last quarter goals in this one after feasting on the Suns for 11 last quarter touches last week.
The Giants' refusal to kick to a contest was quite infuriating at times. In the last quarter – relatively early in the piece, too – Matt Flynn marked on the wing. It was a "get out of jail" mark that usually alleviates the pressure on a team. From there, the Giants went backwards, then inboard, then back out to Flynn who was unable to gather, and the result was a throw in at exactly the same damn spot the ball was marked 15 seconds earlier.
So, what is better? A chance of breaking even in a contest fifty metres to your advantage? Or a break-even right where you stand when you start with the footy? I know what I would prefer, but right then, the difference was just four points, and you could tell GWS had no intention of trying to win this game.
They were trying not to lose.
As soon as you start playing like that… game over.
And that may have to do me, lovely people. The Doggies go into their game with the Tigers brimming with confidence, whilst the Giants pack up and head to Adelaide in an attempt to get their season back on track… again.