There are many reasons the Gold Coast Suns were able to begin the turnaround they were hoping for in 2020.
Stuart Dew's appointment and growth as an AFL coach, combined with Mark Evans as CEO and the unwavering faith of outspoken club chairman, Tony Cochrane are three large factors in the Suns' transition from the easy-beats of the competition into one of the most exciting young teams in the game in just one season.
The excellent drafting over the last couple of seasons, and the subsequent contract extensions of talent like Matt Rowell, Izak Rankine, Ben King, Jack Lukosius and Noah Anderson gave the club a huge boost. The commitment of the young stars-in-the-making demonstrates that these young men of character were not simply doing their mandated tour of duty in Queensland before heading back to their home states.
Many insiders thought it was simply just a matter of time before Lukosius stated his intentions of heading back to South Australia, or Ben King hinted that he'd love to play with his brother at St Kilda.
Those insiders were dead wrong.
The pair both committed to the club for a further two years on their rookie deals, giving the Suns a very real chance to build something special with a young group full of enormous potential. Their commitment to the cause should not be lost when discussing the Suns' about-face.
But the retention of these young guns has a knock-on effect. Not only does it embolden the club to recruit quality mature-age players to bolster their ranks as the youngsters develop – it creates a competitive atmosphere around the team. Places are no longer handed out in the hopes a player will re-sign with the club if they're playing seniors. These best-22 spots must now be earned.
Brayden Fiorini was one I thought may have asked to be traded given his less than stellar 2020 effort. The 23-year-old went from leading the club in disposals per game in 2019, averaging 25.43 touches, to just 13 in his five 2021 games.
It was a dramatic fall from grace for Fiorini, who played all but one game the previous season, but the current Suns are not simply about guys being knocked down the order. There is a definite feel that Fiorini can work his way not just back into the team, but into a prominent role, as well. You just don't find the ball 25 touches per game by accident. The kid can flat out play. 2020 was his wake up call. Rather than put his tail between his legs and run back to Victoria, he has knuckled down, determined to win back his spot.
Another has had a fire lit under him is Will Brodie. Looking very likely to secure a midfield spot through the 2020 Marsh Series, Brodie managed just the single game in the home and away season. He has returned to pre-season in immaculate condition and, whilst he will be made to earn his place, he is giving himself every chance to succeed and become an integral part of the club on the rise.
The third factor in the turnaround of the Suns comes in the form of their mature age recruits.
Brandon Ellis became a Sun after two flags with the Tigers and whilst he was mainly deployed on the outside, giving the Suns a potentially spectacular wingman combination with Noah Anderson on the opposite side of the ground, he was a strong body that refused to be knocked off the contest easily. He brought a knowledge of what it took to be part of a successful club and imparted that to the young stars coming through. Whilst Dew and Cochrane laid the foundation, Ellis laid some solid stones atop it.
All that was needed now was the cement to bind things together.
And that came in the form of Hugh Greenwood.
One of the more interesting side stories to the 2020 season was the online exchange between Greenwood and Adelaide champion and current board member, Mark Ricciuto in the wake of the Crows' capitulation to the Suns in Round Three.
In an interview prior to the Gold Coast-Adelaide clash, Ricciuto made comment that Greenwood was old and slow. I am paraphrasing, but that was the gist of it in a nutshell. He mentioned that the club couldn't hold onto Greenwood due to his age (28) and that he would not be part of their next premiership team. He also made mention that the Crows were supposed to possess the slowest midfield in the game at that stage.
Whilst I am sure, as a professional, Greenwood was used to hearing criticism, it had to have stung coming from a director at your former club. He would later go on to call the statement "disappointing". It was a diplomatic statement… after the fact.
Greenwood and his Suns gave the Crows a nice old touch up and whilst Greenwood, himself, was subdued, totalling just 11 disposals, the win must have tasted sweet.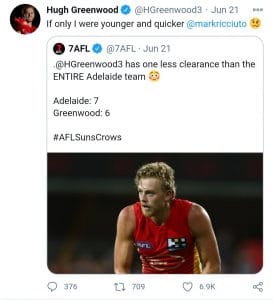 Almost as sweet as the delicious comeback he made when Roo chimed in again after the game.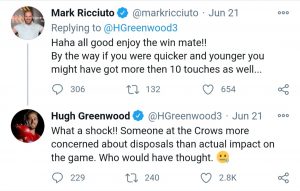 This was more than just a bit of friendly back-and-forth between a player and an official of the club that was happy to let him go. This was a matter of pride and Greenwood made a statement in that moment. Ricciuto was talking disposals – many of which may have been empty disposals in a 25 or 30 disposal game. Eight of Greenwood's 11 touches were clearances – touches that mattered. The new Sun also laid 13 tackles in that game, absolutely suffocating the Adelaide midfield.
Greenwood continued to make a statement throughout the remainder of the season for that matter; the Suns were no longer here to simply cultivate and nurture players for the big clubs to poach. They were putting together a team that will compete for finals in the very near future. And beyond that, possibly a flag!
What Greenwood added to this Suns team has not been given due respect. In 2019, the two things I noticed about the Suns as they piled up loss after loss were how badly they faded when the going got tough, and how players were able to wade through their tackles unimpeded at times.
They were two areas that were corrected when Greenwood and Ellis came on board. Whilst I am sure the reduced game time aided the team with the first issue, the second one was led by Greenwood; his take-no-prisoners style of tackling created havoc at stoppages with powerhouse players simply no longer able to brush aside a young Gold Coast player and burst from the centre.
When you got tackled by Greenwood, you stayed tackled!
He averaged 6.88 tackles per game in 2020 to lead the league, but it is only when you look a little deeper that you understand the impact.
In 2019, Jack Steele averaged an incredible 8.20. When we adjust Greenwood's tackling numbers to factor in 20% less game time, his projected average jumps to 8.38 tackles per game. Going by those numbers, in a season with regular length games, Greenwood would have sat behind just Matt Priddis (8.55 in 2016) and Dev Smith (8.45 in 2018) as the highest tackling average of all time in a season.
You'll often hear naysayers speak about those who tackle well, throwing out there that it's easy to rack up tackling numbers when you're second to the ball. I call BS on that – Greenwood was also ranked fifth in the league in clearances won and sixth overall in contested possessions.
Going into the 2020 season, I can remember looking at the list of recruits and who would have the biggest impact at their new clubs. I oscillated between Greenwood and Dougal Howard at St Kilda as to who would make the biggest difference. In the end, I backed the wrong horse – not that Howard was poor at all; Greenwood was just fantastic!
As we head toward the 2021 season, there is plenty to be excited about for Suns fans. Matt Rowell will be back, with another pre-season under his belt. Ben king will be that little bit stronger and that little bit more confident, and that club has once again added veterans to round out their list – Oleg Markov moves north from Richmond, whilst Greenwood's former teammate, Rory Atkins will offer some more outside run to spread the field.
The Suns are becoming that which the AFL envisioned ten years ago. They have the right nucleus with pieces in place that can turn this club into a winner. And right at the heart of that movement is Hugh Greenwood.
Some may chase stats. Some may look at how many times they've touched the footy. Others just want to make an impact.
And the impact of Greenwood at Gold Coast has been huge thus far. He may just be getting started.
As always, if you'd like to support us to grow and produce more of this great (?) content, you could become a member by clicking the image below. I'd really appreciate it.
Plus you help us grow. Come on… click the image below and help an old mongrel out.