They say that bad kicking is bad football, and often you'll find that the team that has more scoring opportunities but kicks way more behinds than goals is on the losing end of it.
Not on this night, however.
The Western Bulldogs, at long last, have finally claimed a win against a team that is sidled up in that top eight and most importantly, have kept their finals chances alive. It wasn't easy – not many of them do come as easy as that game against Essendon last year – but I've always been a firm believer that tough wins build strength and confidence in the team.
The stats will indicate that it should've been a smashing, but never mind that, we'll get to that as we process all the things this game had to offer as I tackle the big questions for the first time on the Mongrel.
DO THE EAGLES REGRET PULLING NIC NAT OUT?
This was the big story in the minutes leading to this game. Nic Naitanui would've been licking his chops at a vulnerable ruck situation that is going on at my Western Bulldogs. For those not sure what I mean, Luke Beveridge has neglected to play Tim English in his preferred position for elongated periods of the game recently, instead opting for Josh Dunkley and Jack Macrae in the ruck for large portions.
It's easy to say yes, but for me, it's a hard question to answer, because Naitanui's replacement, Tom Hickey had himself a decent game in the ruck. He was made to earn his touches because Tim English was playing a lot more minutes in the ruck in this one, and he also won a few clearances for his troubles. It's also hard because English had a couple of big moments in that last quarter when the game was up for grabs. Could Nic Nat have made an impact? Maybe, maybe not. But I'll leave it for you Eagles fans to ponder.
WHAT DO THE DOGS NEED TO DO INSIDE 50?
As a longtime suffering Bulldogs fan, it's been the big problem since the premiership. Converting inside 50 entries for not just scores, but goals. Because as good a win as this might be, the fact that the Dogs kicked one less goal than the Eagles and still managed to win is still a fraction concerning.
The stats won't lie; they controlled a lot of key areas in the game. The Dogs had 19 more contested possessions, nearly 50 more uncontested possessions, won the clearance count by four and the inside 50 count was 45-27 in favour of the Bulldogs. A count that lopsided should not result in a two-point win. Sides like Richmond, Geelong and Port Adelaide win games like this by over 10 goals.
Composure is required for the Bulldogs to take that next step because they've shown all season that they can match it with the best of them. It's trying to sustain it consistently and finding the balance of composure and the manic pressure they showed here. Oh, and goal kicking practice; get them to do tons of that this week please Bevo.
WHAT DO WE MAKE OF JOSH BRUCE'S GAME?
I have labelled Josh Bruce many a negative thing this year. Mercenary being the last term I used to describe him following his poor performance against the Cats. I say mercenary because for what we gave up and what the club signed him for, he's just not producing to the level he has shown in years gone by.
However, he did plenty of good things this week to put allay any negative thoughts about him. He attacked the footy both at ground level and – after misreading a couple early – up in the air. That resulted in him taking some very nice contested marks through the game and he looked like he wanted to play in comparison to past weeks where he looks as if he was rolling through the motions, sans that North Melbourne game of course.
The only thing that needs to be ticked off now is his finishing.
WAS THAT JACK DARLING'S WORST GAME THIS SEASON?
I've seen Jack Darling play in some howlers before. Notably some Grand Finals where he absolutely shits his shorts faster than the bloke I pranked at work years ago by slipping laxatives in his coffee – don't ask me how I did it, because I still thought that was a miracle. He probably has had other games where he's hardly sighted it, but it's the ones on the big stage that stand out, evidently.
In terms of kicking, he was flat-out woeful in this one. They either speared heavily to the left or the right, or onto the fingers of Ryan Gardner as that kick at three-quarter time evidenced. He also had that moment in the last quarter that he would've loved to have had back as well, sliding it off the side of his boot and giving it no chance to score (That was a horrible free kick by the way).
However, even the best of AFL players have their very, very off-days. Darling has been pretty good this season, and has been consistent, kicking bags of either two or three goals a game over nine of his last ten games.
SPEAKING OF GARDNER'S FINGERS, HOW IS RYAN GARDNER TRAVELLING?
Since I last covered the Bulldogs here on the Mongrel Punt, Ryan Gardner has far and away become the biggest whipping boy at the club. When I covered the Dogs' loss to Brisbane, he was directly responsible for at least three of Eric Hipwood's five goals. Every Bulldog supporter with a shed has come out since and have demanded his head on a platter like the olden days.
I have to give him the tip of the hat, because he has been a very solid contributor since then. He gets his body into the right spots and often brings the ball to ground for the likes of Jason Johannisen, Caleb Daniel and Bailey Williams to run, spread and generate the offence from half-back. As long as he keeps doing that and killing the contests, I'm sorry to the anti-Gardner fans, he's here to stay.
IS CALEB DANIEL IN ALL-AUSTRALIAN CONSIDERATION?
Oh little Caleb, you have a way with your feet. In the opening stages of this contest, where it looked as if the Eagles would have their way on the scoreboard, he as doing everything he could with those little legs of his to make things work from the defensive end. I'd have him amongst the best four or five Dogs in this one just for his continued efforts.
Of his 26 disposals, 19 of them were kicks and he was going at a modest 76 percent efficiency. He's been one of the rare pictures of consistency in Bulldog colours this year. Does he deserve to be All-Australian? He should at least be in the 40 – I dare say that being in that final 22 is a bit of a stretch.
IS JACK REDDEN UNDERRATED?
If you asked me on the street about Jack Redden, I'd tell you that he's always been a very hard worker, winning the contested footy. Never the flashiest, you rarely see him take a backwards step into a contest and that's what I admire about him. With the captain, Luke Shuey doing his hamstring(s) against Essendon the other night, there was a bit more of an impetus on the likes of Redden to make an impact in the middle.
I couldn't fault his efforts in this one. The Eagles were beaten in the congestion, but Redden was one player who can hold his head high – 20 disposals, seven clearances, three tackles and four inside 50s. It was more of the players like Tim Kelly not doing enough for what he's being paid to do and Andrew Gaff being kept under wraps by Toby McLean.
WHO STOOD UP IN THE FINAL TERM FOR THE BULLDOGS?
Tim English's two big grabs in the final five or so minutes were so telling, because the Eagles were pushing hard to retake the lead in what had been a very back and forth contest. Those grabs were indicative of a little return to form. We won't know for sure until next week, but he looked confident in going for those grabs.
Then came the ones who could actually kick straight in that last quarter. Roarke Smith isn't a superstar household name, although that hair-style might indicate otherwise (he looks a bit like The Witcher), but he stood up with that set shot to get the lead back.
Then there's the Bont. I have often been critical of his kicking for goal over the past few years, but from 55 metres out on a 45 degree angle, he went back, got the accuracy and just enough distance to kick what was ultimately the deciding goal. That score review was about as close as you could get in terms of being a line-ball decision and we'll get to that in a minute.
Josh Dunkley thrived in the middle – where he belongs, Jack Macrae had a big game and had his moments in the final term, Toby McLean got his hands on the footy a fair bit and Zaine Cordy came up with some strong moments in defence after allowing Jake Waterman to kick two easy ones out the back in the first quarter.
HOW ENTERTAINING WAS BRAD SHEPPARD V MITCH WALLIS?
The form on both made this a very salivating contest for the football nerds. I thought it was pretty good. Sheppard has made a name for himself in shutting out some of the game's dangerous forwards in recent years and Mitch Wallis' transformation into a reliable forward option has been well documented this season and what happened between the two didn't disappoint.
You'd give the points to the man from the winning team. Lots of credit to Sheppard, he won his fair share of contests against Wallis, but Wallis outsmarted him at quite a few key moments in the game and could've easily had kicked more than two goals. The fact he could've kicked three or four might sound flattering to Sheppard in the end, but I thought the Eagle played a fair game.
WHO WERE THE BEST FOR THE EAGLES?
A lot of the Eagles played as if they were fatigued, and that's fair enough. They have just played two games in the span of five days, as opposed to the Bulldogs who have played their first game in eight days.
Apart from Redden who I mentioned above, Dom Sheed tried hard and he came up with a big goal in that third term after the Dogs had pretty much butchered all their opportunities. I rubbished Liam Ryan in the Mongrel chat for doing not much after quarter time, but upon reflection now, I think he did a lot more than I gave him credit for. He was running further up the ground and trying to make things happen in the forward half and a couple of his kicks inside 50 were sublime.
And of the course, credit must go to the defence that was under siege for most of the evening. I was convinced Liam Duggan played a fine game across half-back. Tom Barrass intercepted at crucial stages of the contest, McGovern was doing okay before he hurt his thumb in the final term, but was susceptible to sloppy disposal and Tom Cole – I usually don't rate him, but he did plenty of nice things and was more desperate than plenty of his other teammates. His goal in the last quarter was cold-blooded.
WHEN WILL THE AFL GET SERIOUS ABOUT ITS SCORE REVIEW SYSTEM?
This season we have seen multiple games impacted late by the score review system having insufficient evidence to either confirm or overturn a goal umpire's decision.
In this game, it was the kick from Marcus Bontempelli from outside 50 that was touched by Jeremy McGovern on, or over the goal line. So, was it on the goal line? Over the goal line? Plenty of people on social media believe it was on the line, and have posted pics as evidence. From one angle it looks as though the ball has crossed the line. From another, it looks as though the back of the ball has not completely crossed the line.
Weare playing for sheep stations here. This isn't fun and games. These decisions, or non-decisions are costing teams games. And it is not the goal umpires fault, it is not the broadcaster's fault – this sits with the AFL.
We often hear about the billion-dollar business of the AFL, and yes we are currently in the midst of a money black hole due to covid, but why have they not invested money in their own product in order to get things correct? This grainy footage, slow frame rate so that you can miss quite a bit in-between frames, and the joke that is the rushed decision-making process is a blight on the game.
Whether you think it was a goal or a point, the problem here is the AFL not investing in the right technology to begin with. It was lazy and it will cost a team a final in the very near future unless steps are taken to rectify it.
Imagine the Grand Final being beamed around the world and that's the footage we show when there is a crucial review? We'd immediately be labelled bush-league and forgotten.
And rightly so.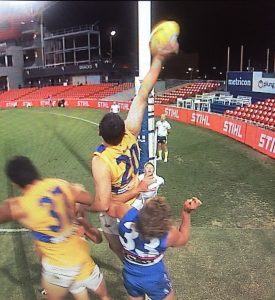 CAN BAILEY SMITH BE THE BEST PLAYER OUT OF THE 2018 DRAFT CROP?
Bulldog-Bias will have me talking him up as if I'm campaigning for him to be the new Premier of Victoria, however it's hard to argue against him having a case. Sam Walsh and Connor Rozee will still be fine players, but there are plenty that are discrediting what Bailey Smith is doing in a midfield brigade that is supremely talented.
What Smith has over others here is that he doesn't hesitate to take the game on every time he finds the ball and is very good both as an inside midfielder and out. Walsh is more outside and Rozee is better suited up forward. I'm going the early crow here, unless we're all in lockdown, let's come back in five years to find out where these young chaps are at.
On that promising note, I'll pull up stumps here. I could easily go on and on about this game, but it's better to stop here before this piece gets out of hand with excessive Bulldog content. They stay in the hunt for the Finals and with winnable games to come, they need all the percentage they can muster to be in there for that day in October.
The Eagles have a four-day break before they take on the Saints at the Gabba in a game that they must win to keep their top-four aspirations alive. Another loss and people will start to seriously question their ability to win outside of WA again. That is if they don't already after losing this one to a team who dominated for large portions, yet couldn't put them away.