Port Adelaide did what they were required to do in order to maintain top spot on the ladder and all but secure the double chance going into the last two rounds of the season.
Their six-goal win over the struggling North Melbourne side now sees them a game clear on top of the ladder with games against Essendon and Collingwood to round out the season.
In a couple of ways, this was really a no-win situation for Port, with most in the AFL media rating them a step below the Richmond/Geelong/West Coast trio as we head into finals. If they beat North, it was as expected. If they whacked the Kangaroos, the same AFL media would have trotted out the "they only did it against North Melbourne" rhetoric, but if they lost… the knives would have come out.
So in response, Port Adelaide put in a workmanlike effort to register this win. Nothing too fancy and nothing to be too concerned about. Their midfield hummed along beautifully, their big man made a bit of a statement against one of the fancies for the AA ruck slot, and a small forward may have got a little over-excited in the physical stakes. But for the most part, it was Port Adelaide being Port Adelaide… and that is pretty bloody good!
For North, this was a test of their heart. Long has this club prided itself on being able to dig deep and find something when the chips are down, and the chips are definitely down right now. Belief in the spirit of the club can only do so much when the on-filed talent simply is not getting it done, and with several players on their list now playing for their careers, there was a fair bit on the line.
Let's explore who did what, and how they went about it as The Mongrel asks the big questions stemming from the Power's 12th win of the season.
HAS TRAVIS BOAK FOUND THE FOUNTAIN OF YOUTH?
If he has, could he please forward me the address? I strained my hamstring yesterday kicking the footy 35 metres… it's sad.
We all know that Boak has not found any such thing – his success in 2019/20 is built on the back of ridiculously hard work. Whether it was his off-season, underwater, holding his breath training (look it up – it's remarkable) or his gut running to come into the season in the absolute best condition he could, Boak sent a strong message to those around him.
By his actions, the former captain stated "follow me", and Port Adelaide has.
Not to knock the captaincy of Tom Jonas – he is an understated star – but the play of Travis Boak since relinquishing the top job has screamed leadership.
He notched 34 touches in this one, hit the scoreboard, had nine clearances and went inside fifty on seven occasions. Running at 85% efficiency, the only thing he didn't do for Port was whack the physio armband on and start healing the wounded on the bench.
When you have a work ethic like Travis Boak, you have no need for the fountain of youth. You don't need luck or others to make it for you. When you work as hard as Travis Boak to be in the peak of physical condition coming to a season, the hard work is already done, and with his third 30+ disposal game in the last five outings, Boak looks as though he is primed for a huge finals series.
And if anyone deserves a run at the flag this year, I reckon Boak would be it. Respected by players and fans alike, he has demonstrated what is required to maintain success on the wrong side of 30.
And yeah, if anyone knows of that fountain, please message me.
DOES ZAK BUTTERS HAVE ANYTHING TO BE WORRIED ABOUT?
I'd love to say no – I really would.
You see, I am a big fan of physical footy and throughout the 2020 season no player has thrown themselves into physical contests with the regularity of Zak Butters. I love that he is willing to take a hit when his turn comes, as was evidenced by him not taking a backward step when Jack Ziebell lined him up in the last quarter, and I love that he is more than willing to dish it out.
But it is such a fine line, isn't it?
Butters elected to bump Jy Simpkin and clipped him on the shin. Simpkin had a bit of a stagger and fell backwards, which always spells trouble. After initially refusing, he was taken to the bench and ruled out of the game based on the footage alone. This was strange… I'll get to it.
The fact that Simpkin was ruled out bodes poorly for Butters, who should probably get ready for a week on the sidelines. I hate it, but this is the way of the game at the moment.
SHOULD HE CHANGE HIS GAME-STYLE?
Hell no!
Butters' physicality adds a dimension to the Power that gives them an edge. He is seeking out contact like my mate Joe Ganino on a crowded bus and when he gets it, how does he react?
With a smile.
I'm talking about Butters – not Ganino.
Players have their mongrel coached out of them in the AFL system. Weeks on the sidelines is the kind of penalty coaches do not want under any circumstances. Injuries, they'll cop. Indiscretions… not so much. However, watching Butters throw himself into contests like a miniature wrecking ball, I cannot help but love the way he goes about it. To change the way he plays the game would be like asking a bird not to fly, a fish not to swim, or a Collingwood supporter not to shoplift.
It is in his nature to play hard and occasionally, he will run afoul of the Match Review Officer. That is the trade off.
A Zak Butters in full flight is a Zak Butters that walks a very fine line between what is acceptable and what will incur punishment, and if he can walk it successfully, Port have a match winner on their hands.
As an aside, let's revisit Simpkin being ruled out for the remainder of the game. Did he take a concussion test? It didn't look like it – he did not even go into the rooms. If this was a final and Port risked losing Butters for a couple of weeks due to Simpkin being ruled out of the rest of the game, I would be arguing that the correct protocol wasn't followed. Sure, North were acting in the best interests of Simpkin, but without the test, how did they know he was not fine to resume?
It appeared as though they used the footage as the basis for keeping Simpkin on the bench. Had they done the test, maybe he would have been fine to come back on…
Anyway, I would hate to see a star of the game ruled out one day because he was involved in a clash and the opposition were being cautious.
WAS SCOTT LYCETT ON A BIT OF A MISSION IN THIS GAME?
If that mission was to let people know that he is more than ready to shoulder all the responsibility of being the sole ruck this finals campaign, then consider it a success.
Lycett was wonderful in this game, not just matching the output of Todd Goldstein around the ground and in close, but beating him. Quite soundly, I thought.
I smiled as the commentators made mention of the Lycett moustache – he reminds me of Buford 'Mad Dog' Tannen from Back to the Future 3.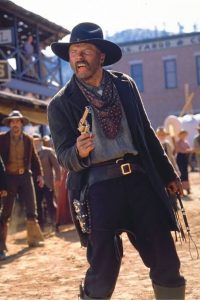 However, unlike Hollywood, in this one the bad guy won.
I've long enjoyed Lycett's ruck work, and at times I think he can come across as the AFL's version of a ruck bully. He is big, strong and likes to throw people around – he is my kind of ruckman, and in Goldstein, we were either going to get the free-wheeling style of the North big man winning out, or the hustle and physicality of Lycett being more prominent.
It was definitely the latter.
Lycett picked up five personal clearances and controlled the hit outs as the Power absolutely smashed North in the clearances. It will probably be a performance that flies under the radar, but for me, Lycett's role in controlling Goldstein and giving his mids first use of the footy was a huge factor in this game.
HOW SOLID IS THE PORT ADELAIDE BACK SIX?
We've seen individuals get hold of one defender over the duration, but as a unit, when the midfield applies pressure, the way the big Port defenders congregate and destroy contests is elite.
It is an absolute luxury to have players like Darcy Byrne-Jones and Dan Houston playing off the half back flank and the way Port have patiently waited for Trent McKenzie to grow into a very solid third tall defender speaks of a club culture that doesn't just look for immediate results, but sees the oak tree in the acorn.
If you're a stats-driven person, this game would kick you in the backside. North had the top spoiler in the game (McKay) as well as the top rebound fifty players (Tarrant and McDonald) and to top it off, they had the highest number of intercepts as well (Tarrant).
But with Port Adelaide, the whole is greater than the sum of its parts. Clurey, Jonas and McKenzie underpin a defence that sees Hartlett, DBJ and Houston capitalise on their hard work and get creative. Whilst the AFL media look for reasons to doubt the Power, a quick glance into the potency of that back six would have them think again… assuming they thought the first time round.
If defence wins flags, Port have worked themselves into a beautiful position heading into the pointy end of the season. With players like Jarrod Lienert, Riley Bonner, Ryan Burton and Justin Westhoff all capable of slotting in and filling holes, Port have created a defensive unit that would be the envy of many teams in the league.
DOES NORTH HAVE A DEFENDER THAT COULD BE ELITE?
I touched on Ben McKay above and he had a huge role this evening.
Playing on Charlie Dixon is no easy task at the best of times. Elite defenders have been exposed in 2020, with Dixon becoming the powerhouse forward we'd always thought he would, and with Ben MacKay lining up on him in this one, there was a bit of a feeling that the big bloke could be in for a night out.
You have to give a lot of credit to McKay – after a shaky start that saw Dixon kick the first of the game for Port, it took a gorgeous kick from a set shot at the start of the third for Charlie to kick his second. That would be all the scoring Dixon would do.
McKay was solid as he started to take front position and attack the contest, picking up six intercepts and ten spoils along the way. Port did Dixon no favours with some of their inside 50 deliveries, and in his defence the Queensland nights in September are not the right conditions for a big forward to clunk marks (so let's have the GF there… at night! Sigh…), but to give Dixon excuses would be to undermine the efforts of Ben McKay.
Playing at the opposite end to his brother at Carlton (maybe they both kick horribly?), McKay is learning the caper from one of the best in the game, in Robbie Tarrant, and it is clear that Rhyce Shaw has long term plans in place to build that defence around McKay's stopping ability.
I have no doubt there will be ups and downs, particularly in a team that is not performing well as a whole, but there has been some excellent signs from the 22 year old to date, with the promise of good things to come.
HOW IMPORTANT IS OLLIE WINES TO THE FUTURE OF PORT ADELAIDE?
Very, and I kind of wish he'd re-sign in the very near future and stop all the "will he, won't he?" speculation that will undoubtedly ramp up the longer the season goes on.
Wines was a beast in this game, slamming home two goals and picking up 30 touches as he spearheaded the third quarter surge that put the game beyond reach for the Power.
As a matter of fact, it was Wines' clearance work in a three-minute period during that run that resulted in his two goals. One came from an inboard kick from Zak Butters and another from a great snap after a Charlie Dixon contest.
Did Wines kill the contest in that three minute blast? Well, he had help, but if you were looking for a suspect in the murder of North Melbourne in the middle of the ground, it would be a three-man line up with Wines, Boak and Tom Rockliff.
And there'd be quite a few North supporters pointing right at Ollie.
I love one-club players – I hope he stays and becomes a Port Adelaide great.
WHERE DOES DBJ RATE IN TERMS OF RUNNING HALF BACKS?
At 17 touches per game in 2020, I reckon the influence of Darcy Byrne-Jones has been missed by many. I have to admit – I did not have him in my rolling AA team after Round 12, and given the level of performances this season from blokes like Brayden Maynard, Nick Haynes and Luke Ryan, slotting him in when our Mongrel team submit their final teams for 2020 will be pretty difficult.
However, if we are talking impact, and bang for your buck with disposals, it is pretty difficult to look past DBJ. What he does is look forward – he searches for ways to hurt the opposition by foot. So many of these disposal-accumulating defenders simply do not punish teams by using their run and carry and great foot skills to their optimum.
DBJ does.
I would take 20 touches from Byrne-Jones over 30 from Jake Lloyd or Brodie Smith. Byrne Jones is more like Jayden Short at Richmond or Daniel Rich at Brisbane. When they get the ball and go long or through the middle, they hurt.
So, in answer to my question… it depends. As much as running half backs are all thrown in together, they actually provide quite different results. DBJ is a dagger. When he gets the footy, he is sharp and dangerous. Others are like wooden mallets, banging the footy in the direction of their end without much thought put into it (James Sicily was doing this the most before his injury).
I prefer my running half backs to want to do damage, and for that reason, I rate DBJ right up there with the best.
HAS JARED POLEC BEEN UNFAIRLY MALIGNED AT NORTH MELBOURNE?
Definitely.
Look at this North Melbourne team.
They have given Mason Wood far too many chances. They have had a perennial underachiever, Shaun Atley barely missing a game in the last five years without ever being raked over the coals like Polec, and they've taken Shaun Higgins out of the role that saw him as one of the best mids in the game to throw him onto the wing – Polec's spot.
Then they have the audacity to place large portions of blame Jared Polec for the team's poor season? This stinks!
They brought this guy into the club to play the outside running game. He started the season well, averaging over 20 touches per game through the first four weeks of the season, so it was bloody well evident he could play the role.
Then he got on Rhyce Shaw's bad side. Listening to David King and company before the game tonight, there was the feeling that some at North did not like the fact that Polec is not the in-and-under type – perhaps not 'Shinboner' enough. Hell, I could have told you that about him before you recruited him! He is the run-and-carry guy. He was a half back flanker/wingman who cleaned up and delivered the footy. Not everyone is a Cunnington/Ziebell/Anderson-type player. If that is all you had, you'd be the slowest team in the damn league!
I look at Polec in 2020 and I see a scapegoat for a team that has underperformed. For that matter, I see the bloke who was traded with him, Jasper Pittard, as another scapegoat for some really poor management of players.
In Pittard's case, he started this year really well, too. Then, for some reason, he was thrown forward by Shaw in a defensive role. This looked to unsettle him and he was soon dropped. That was after Round 11 – we're yet to see him again.
I actually have a bit of faith in both Pittard and Polec. They are good players that have been let down by this club. North Melbourne and Rhyce Shaw have not only done a poor job in using them, but they have done a magnificent job in undermining the confidence of these two players to the point I am not sure they will be of use to North going forward.
There are a lot of rumours going around about whether Polec will be at Arden Street in 2021. I would not blame him at all for jumping ship if the opportunity presented. Ditto for Pittard. One is an outside runner that they want to be something else. The other is a half back flanker they are trying to make into a defensive forward. The responsibility for their poor seasons is as much Rhyce Shaw's as it is the players.
Probably more so.
COULD NORTH BECOME A LITTLE EXPERIMENTAL FOR THE LAST TWO GAMES?
I know this could be a direct contradiction to the section above, which has set both Polec and Pittard back, but at this stage of the season, why the hell not try something? It's not like they have anything to lose.
They're getting game time into Nick Larkey, which is great, but he is contesting one against two, and sometimes one against three in the air. Josh Walker is up forward with him, but these Queensland conditions are not really conducive to big forwards taking pack grabs, are they? Then why clog the forward line up with three of them?
You've got Larkey, Mason Wood and Josh Walker playing forward for the simple reason that convention dictates you're supposed to play three marking forwards. That's the only reason I can see for having all three out there. They're not there to provide effective targets – only the best big forwards in the game can thrive in night games in QLD.
North have been absolutely pummelled by injury, and I was going to suggest throwing a fleet of smalls forward into the fray to see what they could conjure, but with Tarryn Thomas, Curtis Taylor, Will Walker, Kayne Turner and Jack Mahony all sidelined, they really don't have anyone else to stand at the feet of a tall and rove the contests.
A forward line of Larkey, Zurhaar, Hall, Ziebell, Scott and maybe Marley Williams is still not quick enough and clean enough at ground level. However, what they're doing now simply is not working, either. Mason Wood is kicking at goal like a bloke with no legs, Larkey managed one grab with the ball continuously kicked on his head, and Walker… I love what he has brought to this team, but he is there as a stop-gap and is best used in defence.
Maybe they could start Flynn Perez in a pocket. Maybe Jack Mahony can get back and give them some zip when the footy hits the deck. Whatever they do, Rhyce Shaw now has the opportunity to throw this team around with impunity in the last two weeks. Forget Mason Wood – that ship sailed a long time ago. Don't be tempted by the eternal tease that is Taylor Garner who is listed as just about ready to come back right when things no longer matter. Try something different – something that hasn't already failed.
Go small, or smallish, given injury, and don't bomb the ball inside fifty. Grub it, kick chaos balls and allow the quicker blokes a chance to beat the Freo and West Coast defenders to the ball. Sometimes all they need is a chance. And going tall and kicking it on their heads time and time again offer no chance whatsoever.
IS ROBBIE GRAY BACK?
Did he ever really go away?
I think even the most ardent Port fan will concede that the 2020 version of Gray wasn't really up the level we have come to expect from this superstar, but over the last little bit, we're seeing some definite signs.
He was arguably best on ground last week, from memory, and this week he followed up with another 20 touches and a goal despite the attention of a quality defender, in Luke McDonald.
Robbie may have lost a little zing off his sidestep, but even at 90% he is better than most small forwards in the game. The fact he can shift gears and head into the guts adds so much more to the Power heading into finals.
An in-form Gray could be the difference between glory and almost attaining it this year.
WHAT'S THE DIFFERENCE?
Two incidents involving Connor Rozee were umpired completely different in this game.
One instance saw him tackle Jy Simpkin over the boundary line. The first quarter of the tackle was executed in-play, with the last three quarters occurring over the line. It was judged holding the ball, which was really harsh.
In the last quarter, the same thing happened, with Rozee propping on the line, daring the tackler to come get him. The tackler did and carried Rozee over the line – the umpire ruled it a throw-in. The incidents were almost identical and yet we have a completely different decision.
You hear fans of all teams scream for consistency. We didn't see it in this game when it came to these decisions. Rozee really got the rub.
Just before I finish up, did anyone else find it funny when James Brayshaw called the bloke out in the crowd wearing a mask? "Why wear one when you don't have to?"
Maybe because he doesn't want to die? Hope JB attends the next protest in Melbourne…
Did you know we have memberships here at The Mongrel, right? We are small, we're independent and we've knocked back cash from the gambling industry as I reckon I'd be a massive hypocrite if I complained about all the gambling ads on AFL coverage and then sold out to them. For 40-80c per day you get access to our wingman rankings, defensive rankings, weekly player rankings as well as members-only columns and early access to my Good, Bad and Ugly evening game reviews.
Plus you help us grow. Come on… click the image below and help an old mongrel out.