The last game as part of the "festival of footy" saw the Tigers overcome a strong Gold Coast challenge to cement themselves in the top four.
The Suns would be rueing several missed chances in a dominant second quarter which may have put enough distance between them and the reigning premier, however bad kicking is bad football, and you always felt that as long as Richmond were able to keep things close, they were going to come home with a wet sail.
Richmond enjoyed a nine-day break before this game, and the run in their legs was apparent as the last quarter got underway. Actually, you could see it in the third quarter, as they set up the field the way they so often do, fencing Gold Coast into their defensive half and launching multiple attacks on the weakening Suns defence.
There were several talking points to come out of this game, and we'll try to take a look at all of them as we ask, and hopefully answer the big questions stemming from the Tigers and Suns.
WHERE WOULD THE TIGERS HAVE BEEN WITHOUT THEIR CAPTAIN TONIGHT?
They may have been in a much less happy place.
Looking at the midfield matchups before the game, I was intrigued by the how the Tigers would go against two players who thrive on the contested footy and are willing to throw their bodies into the contest to get it.
Hugh Greenwood and Touk Miller have been huge in elevating the Suns this season, and opposed to Bolton, Martin and Cotchin, I was interested as to who would be able to match their intensity in close.
The answer was Cotchin, just as it has been for years when questions about the Tigers' competitiveness are raised.
The captain cracked in, with 15 of his 26 disposals coming in the contest. He single-handedly matched the clearance output of Miller and Greenwood, with eight to lead the game, and continually drove the footy inside 50 for his team.
Over the years, Cotchin has played some mighty games for the Tigers, but in recent years he has tended to play moments more than full game performances. He has bobbed up at crucial moments in big games and used that attack on the footy and the man (hello to Dylan Shiel) to turn the tide of the game.
In this game, he was the tide.
It is no stretch to state that this was Cotchin's best outing of the year, and I know I am supposed to be answering the questions here, but I want to ask one of the Tiger supporters – I know you're a chatty bunch.
When was the last time Cotchin was this good over four quarters?
DOES IZAK RANKINE OWE THE SUNS ONE?
Maybe more than one.
There is a time for finesse and a time for making sure of things and I am not sure whether young Izak got the memo about playing Richmond. You put your head over the footy, win the contest the hard way and match their intensity at the footy. You either do that, or you lose.
And Rankine lost in this one.
It may come across as harsh on a bloke with a handful of games to his name, but if he is going to be wrapped up by the commentators for looking sideways at the goals, then he has to cop the criticism when he makes mistakes in the name of flashiness.
The warning signs were there early when he opted to tap a ball into the area of a teammate instead of taking responsibility and grabbing it, but you can excuse that. Later in the game… that was inexcusable.
The Tigers had reeled the Suns in and Rankine got out at half forward. Running onto the footy, he stuck one paw out, fumbled the mark he should have gobbled up and then didn't commit to the ground ball contest, allowing Jayden Short to take the footy away and create another attack for the Tigers.
Rankine will provide a multitude of exciting moments over the coming years. He is supremely skilled, loves a big moment and wants the footy in his hands. However, sometimes you just have to put your head over it and win it the old-fashioned away. It's a nice complement to the spectacular stuff, but sadly, we didn't see any of that in this game.
WILL TOM LYNCH GO FOR HIS PUNCH TO THE GUT OF SAM COLLINS?
Here's the litmus test for the AFL. Are they serious on this stuff, or is it all talk and very little in the way of action.
It was a bit of a strange one – Lynch swung what appeared to be a fist – screw it, it was a fist – into the gut of Sam Collins before making a lead, taking a mark and kicking a goal. Collins slowed a little initially before slumping to his knees as Lynch got a away from him – yes, I agree that looked a little sus' but when you're winded sometimes, you get that couple of seconds before the shortness of breath kicks in, so it may have been fine.
The goal put the game beyond the reach of the Suns and in context, was a pretty significant one. In a game where 12 goals are kicked, one is worth a heap.
Will the AFL grow a pair and suspend Lynch, or hand down another fine to a guy making more money per game than plenty of people make in a year?
WHAT IS THE BEST POSITION FOR BRAYDEN FIORINI?
Right now – anywhere at another club.
This bloke led the disposal tally at Gold Coast in 2019. Yes, they weren't exactly successful, but I am flabbergasted as to how a guy can go from averaging over 25 touches per game to collecting just three in an entire game of footy.
Something smells fishy here, and for once it isn't Joe Ganino after a big night out.
There would be a few cubs seriously looking at Fiorini at the moment and wondering what they have to do to get him on their books. He is not playing good footy, and I am putting it out there that he will not be in Gold Coast colours by the time 2021 rolls around.
So, where will he be?
I'd love him at Hawthorn. With Mitchell and O'Meara the contested ball winners, a player like Fiorini would offer a great running presence through the middle, but I am sure there will be heated competition for his services.
Gold Coast fans, what would you be after for him? The way he is playing right now, his value is probably dropping! You'd be better off sitting him out with Will Brodie and packaging the two up for a good haul of picks, or a quality player. I'm listening to your offers…
IF THE 2019 GRAND FINAL WAS THE TIGERS AT 100%, WHAT PERCENT DID WE GET IN THIS GAME?
I'm going to say about 45%
That's not a knock on the Suns – they'd been belted by the Tigers on the last couple of occasions and fought this one out brilliantly (another honourable loss) but Richmond seemed nowhere near it in this game.
Their kicking was off, their tackling was off and they allowed free passage through the centre of the ground – that basically never happens! They often give you the option to do it, but once you take the option, they crush you like my daughter crushed a bug the other day and I didn't tell my wife in case she thinks I am bringing up some sort of psychopath!
But that's beside the point.
It took until the third quarter for the Tigers to set up defensively. Had the Suns kicked more accurately, it may have been too late. But they didn't kick accurately in the second quarter, and once Richmond were able to force the contest onto their terms, you could see the game change.
The Suns became hesitant and stagnant – the Tigers started hunting in numbers and it was enough to get them over the line without looking all that impressive.
Good teams win ugly, and the Tigers were able to do that against the Suns tonight. Anf they did it running at about 45% of their optimum.
IS KAMDYN MCINTOSH ON A MISSION?
He really seems to be.
Playing on the wing this season, McIntosh has had a couple of really solid games this season, but in this one he just seemed to do big things at the right time.
With 15 touches, you could expect people to gloss over his contribution, but it would not surprise me to see him secure votes in the Jack Dyer Medal this season. Whether he was working back hard into defence to help relieve the pressure, or contesting the footy on the wings, McIntosh is playing like a man who will not be the one forced to miss out if… yes, if the Tigers make the Grand Final this season.
I was really surprised that he stayed with the team after being overlooked for Marlion Pickett last season – that would have been a bitter pill to swallow at the time and I am not sure many Tiger fans would have begrudged him the move had he made it. However, it speaks volumes about his character and desire to prove himself to his coach and teammates that he hung around.
Yes, 15 touches doesn't seem like much, but each and every one of them were important in this one.
IS A REST FOR CASTAGNA COMING?
Damien Hardwick is not a fan of brain fades, as evidenced by the new nappy change rule at the Tiger hub, and I reckon he will be thinking long and hard about Jason Castagna's place in this side over the next couple of weeks.
Maybe he should just make the bloke change Trent Cotchin's kid's nappies for that stupid free kick he gave away in the last quarter to Brandon Ellis. Sadly, that was about all Castagna contributed for the evening – not exactly the memory you want your coach to have of your performance. Usually, you can hang your hat on a good tackle or something…
… but not Jason. In a contested ball kind of game, he didn't lay one tackle all game.
If Jack Higgins is right to go, he comes back in asap, and though I do think Castagna has plenty to offer, and is the kind of player that can bob up and kick three or four, he is looking like a guy playing without confidence. And if there is one thing this Richmond team possesses, it's confidence.
HOW DID BRANDON ELLIS GO AGAINST HIS OLD TEAM?
Not bad. Not dominant, but still a solid contributor and really looked as though the game meant a lot to him.
It was interesting to see him give Hugh Greenwood a bit of a bake in the last quarter as Greenwood's kick hung in the air a little too long and allowed the Tiger cavalry to arrive on the scene, but Ellis' workrate in the last was excellent, and if there was one Gold Coast player that looked like he might get out and make the Tigers worry, it was him.
He drifted back into defence several times to help alleviate the pressure on his defenders and ran extremely hard forward as well. Against his old teammates, I reckon he walks away from this one with his head held high, if not happy about the result.
DID WE SEE ROUND ONE OF A TEN YEAR MATCH-UP?
At 20 years old apiece, seeing Ben King and Noah Balta go head to head was a sign of things to come for these two teams in what will hopefully be a long-term one-on-one rivalry over the next five to ten seasons.
Balta is the great yellow and black hope going forward in defence. Built like a brick shithouse and with the kind of athletic ability that just really pisses off the average fella, he controlled his contest with King in this one, but if you're looking, you can still spot plenty to like about the way King went about it.
He gets his hands to plenty of contests, but just lacks that strength to drag them all the way down. I thought Balta was lucky to get away with a couple of arm chops but hey, like Jesse Ventura used to say – it ain't cheating if you don't get caught.
The last few years we haven't really seen the break out seasons from any young key forwards, but with both Max and Ben King hitting the scene, and Noah Balta starting to establish himself as a required defender at Tigerland, we could be in for some marquee matchups over the next little while.
IS THERE ANYONE I'M SOLD ON, OR NOT SOLD ON?
I'm not entirely sold on Sydney Stack this season. His pressure was better this week but there is something missing from his game – the ability to hit a target.
I am sold on Oleg Markov because he sounds like an assassin. Also, I liked his run off half back. Is beryy goooood.
I'm not sold on Caleb Graham. I think he is a bit of a battler, but I am happy to be proven wrong. If Rory Thompson is fit, does this bloke get a game?
I am sold on Will Powell, who looks like he has courage to burn and backs himself in the air. On this, Charlie Ballard is great in this regard as well, but he doesn't do much at all once the ball hits the deck.
I am not sold that Lachie Weller plays four quarters. Whenever I watch the Suns, he seems to disappear for a quarter at a time.
I am sold on Jayden Short as one of the best people to have the ball in his hands coming out of half back. Makes good decisions and can open the ground up.
I am sold on Nick Vlastuin being the glue that holds the Tiger defence together. Started on Rankine today and gave him a first half bath.
And I am sold on Jack Lukosius as the designated kicker from half back for the Suns. There's a bit of James Sicily in him, but I hope for the Suns' sake that he doesn't have a temper and that he doesn't ever fall into the trap of going long for the sake of it. His well thought out kicking is a highlight of the game.
DOES JACK REIWOLDT THINK HE IS ELAINE BENICE?
What's with the little kicks?
Remember the furore around the studs up rule? Remember everyone wanting it stamped out of the game?
Remember the grey area that surrounded the way Jack Riewoldt was attacking the footy after the rule was brought in?
Pepperidge Farm remembers.
The AFL shit itself after Jack Riewoldt was pinged twice in the same game for it in 2019 as it was not the way the rule was intended, apparently. They only wanted to stamp out studs up on contest if it could result in injury.
Yep, that'd be right – it was intended to stop Toby Greene. Not anyone else.
However, watching the game tonight, it is very clear that the AFL relaxing that rule has given Jack the green light to kick out at opponents in the act of marking the footy and I reckon he might be the only bloke still doing it.
I know this may make me a little unpopular with Tiger fans, but it's something he is doing a little too often for it not to be completely deliberate. I was going to embarrass myself with trying to piece together a video package, but instead I will embarrass myself with some really shitty stills of the three marks Jack flew for in this one, using the bottom of his boot as the first point of contact with an opponent. Have a look below – a couple of them are time-stamped so you can go back and watch the footage yourself.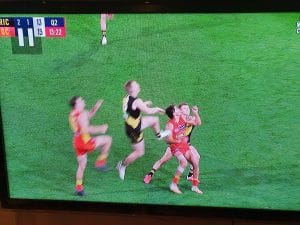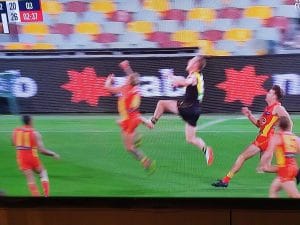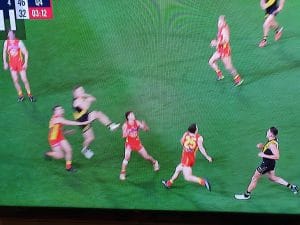 Now, we're not talking Toby Greene karate kicks or anything here, so the level of seriousness isn't all that high, but just for a moment let's swap out Riewoldt, who is loved by most people in footy… except those who know him… I kid, I kid! And let's throw in Toby Greene as the bloke going for marks in that fashion. What do you reckon the response would be?
Personally, I hate the studs-up rule as it eliminates the possibility of some big marks and imposes yet another rule on a competition with too many as it is, but two years after the AFL jumped at shadows and implemented it, only to panic and change it because Damien Hardwick jumped up and down about it, you've got blokes (or one bloke) still doing it three times in a game.
AFL – if you're going to make a rule, get it right and bloody well stick to it!
Oh, and in the last pic, Jack copped a fair whack of his own on the way through, causing a bit of bleeding from the eye and nose – no free kick was called, which I have to admit, was pretty harsh on him. However, some may call it karma…
WHERE TO NEXT FOR THE TIGERS?
They get to sink the boots into a disappointing Essendon team next Saturday, and isn't that just what teams love to do? Couldn't happen to a nicer bunch…  The game will be at TIO stadium in Darwin, so expect things to be warm and slippery… and no, not in the post-match huddle. Shitty writers are gonna get mileage out of that for years.
The Tigers now sit sixth and will be eyeing off one of those top four spots over the next weeks, with their match against West Coast in Round 14 looming as a ripper.
WHERE TO FOR THE SUNS?
Sadly, I think that'll just about do them for 2020. A win here would have kept them in the mix, and made for a more joyous Anthony Hudson on commentary, but they have one last shot at a big game this coming Friday against the Blues. It'd be their highest profile game in… ever? I'd expect them come out all guns blazing, but there'll be no finals for them this season.
And there we have it – I expect you guys will want to flame me for accusing Riewoldt of kicking in marking contests, but it's a part of his game that isn't aligned to the rest of the league. If it's a bad take, it's a bad take. Solid win by the Tigers against a vastly improved Suns.
Hey, you know we have memberships here at The Mongrel, right? We are small, we're independent and we've knocked back cash from the gambling industry as I reckon I'd be a massive hypocrite if I complained about all the gambling ads on AFL coverage and then sold out to them. For 40-80c per day you get access to our wingman rankings, defensive rankings, weekly player rankings as well as members-only columns and early access to my Good, Bad and Ugly evening game reviews.
Plus you help us grow. Come on… click the image below and help an old mongrel out.