We're a bunch that are pretty hard to please, aren't we?
All we want is our footy. The AFL, and Gillon McLachlan are trying their best, but sometimes their best is just not good enough.
I had one of those moments yesterday, when, hanging onto the hope we may see some footy in the next few days, I caught a report on Fox Footy claiming that the shortening of quarters was a "lock".
Now, I am a fairly rational person. I understand the reasoning behind this, at face value at least. It is being floated in order to allow players to recover quicker and therefore compete again sooner. This enables the AFL to have a tighter schedule with more games in a shorter timeframe. I get that.
Of course, it probably would have been better received had the league not been looking for a way to shorten games for a while now. I mean, that just seems a little… opportunistic, doesn't it? Or am I being a little too cynical?
Anyway, rather than bitch and whine about things, I thought about ways to work around what will certainly be viewed, historically, as a tainted season. Whichever team holds aloft the premiership cup this season, should we get that far, will have an asterisk next to their name. They'll be premiers, yes… but in the eyes of many, it will be a pretend premiership – one awarded for the sake of awarding one in a compromised season. A tainted flag.
And make no mistake – the season will be compromised; either now, in a month, or in three months.
Sooooo, what can we actually do to make the most out of a situation that could very well turn dire pretty quickly? That's where your friendly neighbourhood Mongrel comes in, and in a blatant act of theft, I'm proposing something that will enable the AFL to crown a premier in September/October, and still be able to salvage some excitement in what could be a lost season.
So Mongrel… what are you thinking?
If I had a dollar for every time someone asked me that… I'd have about seven dollars.
My idea is ripped straight from the NCAA in America, or Wrestlemania 4 if you prefer – with seedings based on the way the competition finished in 2019.
September-Madness.
Let's assume for a moment that the season is a wash. Whether the virus hangs around at approximately the current levels for a couple of months, or gets drastically worse, I don't know – I am no medical doctor (however, I have been known as the Doctor Of Lurve…).  What I do know, however, is that if we can't complete 17 rounds, or 15 rounds, or even ten rounds of footy, we are left with a situation where there will be no clear way, based on games, to earn the flag.
But hope remains.
The idea I am proposing is a "break glass if required" kind of solution, and will only take five weeks to complete. It is a system that rewards four weeks, or five weeks if you were bottom four last season, of good, solid form, and results in a premier, with hopefully the two best-equipped teams battling it out for the flag.
It is a single-elimination tournament, featuring all teams. The bottom four, based on their overall 2019 shitness, open the season in week one, with just two of them joining the main bracket thereafter. 18th v 15th and 17th v 16th battle it out in the first week to obtain a spot in the Sweet, and from then on, we go week to week, with one loss eliminating that team from contention.
Here's how it'd look.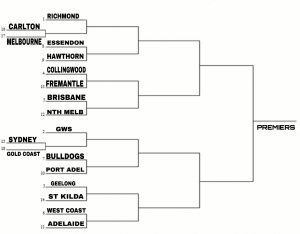 So, once two of the bottom four are out of the way, you get some tantalising matchups. The home ground advantage always goes to the higher-seeded club. You shouldn't ever be rewarded for not being a better team.
It should come as no surprise that that'll mean Richmond plays every single game at the MCG… so it's not too far removed from the way the second half of the season usually runs, anyway.
Round One would see the Hawks and Bombers clash, in a mouth-watering game, with Richmond v Carlton/Melbourne something that could be very interesting, particularly if the Dees regain some of their 2018 swagger. We also have the potential of a Sydney Derby if the Swans get over the Suns in the bottom four clash.
My favourite scenario would see GWS and the Dogs both get through to the final eight and square off in a rematch of the 2019 finals; one which the Dogs would be desperate to atone for.
So, what would be the downfall of a tournament like this? The fact that one bad game could cost your season? It's nothing new, is it? Ask GWS… their one terrible game came at the worst possible time in 2019. Same as the Dees in 2018.
In this system, you're only as good as your last game, and if you're no good once, you're done.
This may not be perfect, but tell me – is anything perfect at the moment? It rewards the team that can get hot for four weeks, and with every game a do-or-die encounter, there is a genuine sense of excitement attributed to each and every contest. Win, or go home.
People, the AFL season is hanging by a thread. Even if we get a start for Round One, we will inevitably be halted, and halted again. We may have a season that is simply untenable in two months' time.
Maybe that's the time we start to plan to break the glass. Maybe that's the time we start booking tickets for September. Maybe that's the time for September Madness?
Don't forget where you heard it first.