Injuries, people running home to Ireland, doom and gloom…
You would have read all the stories about the Bombers in the lead up to the 2020 season, and if you did, what right did they have to win in Western Australia, right?
Well, what goes on within a club, and what goes on in the minds of the media are very, very different.
The Eagles were not at their best, but some of the Bombers' lesser lights combined with some established stars to hang on to win on a wild and thundery night in Lathlain.
Here are some of the standouts from the game.
THE FIRST HALF OF ANDREW MCGRATH
I sat up and took a bit of notice as Andrew McGrath started in the middle, and wasted no time in establishing himself as a clearance player for the Bombers in 2020.
He was borderline best on ground in the first half before drifting further back in the second half. His seven clearances were an equal game-high with Dom Sheed, with the vast majority of them coming before the break. Is this the version of McGrath we will see more often in 2020?
He had a great mix of contested and uncontested touches, indicating that he is comfortable switching from ball winner to outside runner depending on the needs of the team. Now entering year four, McGrath is one that Bomber fans are hoping takes the next step, and it is a step that will either push him into the midfield permanently, or prove that he is a half back flanker at heart.
From what we saw in the first half tonight, McGrath has all the tools to become one of the Bombers' best midfield weapons. He did this in a game in 2019 as well… for a half. Let's see him put together four quarters of solid midfield footy this season. And let's hope we don't have to wait too long.
WILL SNELLING
This is a good news story that keeps getting better.
After five games in two seasons (one game at Port in 2016) Snelling looks ready to make a challenge for a regular senior spot in this Essendon side. His 2.2 tonight really could have been three or four goals to his name, with all his shots very kickable.
He is a hard runner who looks to have had a lightbulb moment over the last 12 months. He has realised that it is equal parts talent and hard work that makes an AFL player. Hard work beats talent when talent doesn't work hard – it's a nice quote, and with seven tackles to go along with his 20 touches and two goals, it looks like the benefits of hard work are about to be reaped by Will Snelling.
A BIT OF MONGREL RETURNS
Dev Smith's stats are not spectacular – 20 touches at 45% efficiency for those playing at home, but what he brings to this team is more than numbers and a good tackle count.
He brings a bit of hardness… a bit of mongrel.
You could tell he was feeling things out in the first half, getting his bearings back after an early finish to his 2019 season. Far out, the Bombers missed him.
He was throwing his weight around in this game, yapping at the opposition, and even dropping Nic Naitanui to his knees as he made the big fella pay for holding onto the ball and drawing Smith towards him. Lesson learnt – you don't want to draw Smith to you – it hurts.
Look, there were some aspects of his game that were messy – he cost the Bombers a goal in the second quarter when he decided to drop Jackson nelson off the ball and the Eagles scored, but screw it… I like what he brings, and if he is going to give away those sort of free kicks, do it in the pre-season when you can smile it off and prepare to attack again.
Essendon are a team many perceive to lack toughness. I'll admit – I'm one of them, but Smith in the mix adds something that all teams need. He adds mongrel, and the Bombers walk a bit taller with him on the park.
DIFFERENT COLOURS, SAME CLASS, AND A GLIMPSE OF THINGS TO COME
It took a little while, but Tim Kelly got motoring in the third quarter, and gave Eagles supporters a glimpse into what was possible in 2020 and beyond.
Kelly's third quarter was excellent, as he racked up eight contested disposals amongst his 13 touches for the period. He was paid scant attention by the Bombers unless he was in the thick of the action, allowing him to drift to the back of packs, or jog down the middle of the ground unattended, which led to a couple of shots at goal in the second half.
He finished with 27 touches and six clearances in an impressive debut, but I cannot help but feel it was an 'almost' game for him.
The amount of times that Naitanui was able to lay the ball into the path of Kelly would have made Adam Simpson smile. A couple of times the slippery pill was too difficult to handle, and/or he was cut off at the pass by an opponent, but as pre-season, and the home and away season rolls on, Kelly and his ruckman will develop a chemistry that will be hard to stop.
With this kind of silver service, we may see Kelly top his 2019 output where he had four games of 10+ clearances. He won't need to do it as often – he has some blokes named Shuey, Yeo and Sheed who can do some of the heavy lifting, but had the timing been a little better tonight, we may have seen him with ten in his first game in blue and gold.
THE OLD FELLA WITH THE ORDINARY PRE-SEASON
So, Josh Kennedy was trying to talk down his pre-season, huh? Kicking six goals in a Marsh Series game probably doesn't aid in your arguments.
In less than ideal conditions, Kennedy was the most dominant forward on the park by a long way. His night was unblemished on the scoreboard, and he managed to create one-on-one contests a little too easily as the game wore on.
It was a baptism of fire for Brandon Zerk-Thatcher, who had the task of limiting Kennedy's influence. Whilst he had moments, he will look back to see Kennedy with six goals to his name and wonder how the hell that happened.
At 32 years old, some have earmarked Kennedy as a secondary forward to Jack Darling in the Eagles' line up. With Darling unable to play in the pre-season, Kennedy looks determined to re-establish himself as the number one option in the west. With Darling more than capable of playing further up the ground, perhaps a sneaky bet on JK to win the Coleman wouldn't be the silliest idea?
THE BEST NAME IN FOOTY?
Steele Sidebottom, move over, pal. There's a new sheriff in town and he goes by the name of Zerk-Thatcher.
Now, what is the appeal of a bloke named Zerk-Thatcher? Just another hyphen, right? No… it's not just the surname.
In a terribly short-sighted move by his parents, they named him Brandon, which, when looking on the AFL app for stats, sees his name appear as B Zerk-Thatcher.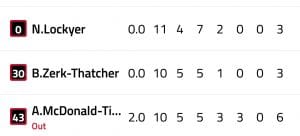 Yep, B-Zerk may sound like the tag of some wanker who runs around Port Phillip tagging buildings, but I'm going to make it stick for this bloke, and I hope he a) plays a good amount of games for the Bombers, and b) goes absolutely nuts one day after a free kick goes against him, living up to his nickname.
Parents of Brandon… you didn't think that one through, and your son is now known as B-Zerk. Give him a can of spray paint and watch him go!
HARDBALL WINS AND DECENT DELIVERY
I've been a bit of a critic of Dylan Shiel for a while now. No, not because I hate him, or think he is a poor player – I just think he wastes the footy way too often to be considered elite.
Maybe we saw a different version of him this evening?
Not only did he lead the game in contested touches, he also ran at 74% efficiency, which was a decent just from his 2019 average of 66%. Shiel has the ability to burst a game open, and if… and I know it's a big IF… he can lower his eyes and start hitting targets more often, he makes the Bombers infinitely more dangerous.
Tonight was a good start.
SOME QUICK BITS
Loved the work of Will Schofield deep in defence for the Eagles. Really, this bloke is the back up for when things go wrong, isn't it? I'm not so sure that, if everyone is fit, he gets a run in the best 22, but what a luxury to have this bloke as your 23rd man.
Nice game from Dom Sheed, who did plenty of unsung work in this game. Whilst Kelly will get the attention for his work in his first Eagles outing, Sheed put his hand up in the third quarter and made sure we don't forget about him either.
That was one of the better games I've seen Kyle Langford put together – 25 disposals and a couple of timely intercepts made for a good night. Is it me, or did he playing more outside than usual?
Darcy Parish was a little too wasteful with the footy for my liking. Gets plenty of it and had he played a little more game time, would have easily topped 30 touches. But what would he have done with them? In a game where he had 17 uncontested touches, you should not run at 48%.
Brayden Ham was impressive. I think he played most of his night on the wing, and was responsible for many of the driving balls deep (tee hee… balls deep) inside the Bombers' attacking 50. At pick 72 in 2018… that's not a bad return at all. He is obviously being told to run hard and kick long, because that was very evident in the way he played.
Fingers crossed for a quick recovery for Jacob Townsend. I thought it may have been a nasty one, but seeing him jog off the ground was a relief. I have always loved the way he goes about it and sincerely hope he gets a good run at it in black and red.
Saw the best and worst of Lewis Jetta in this one. His kicking can be absolutely brilliant, but then, just as I am thinking how good it's been, he completely cocks one up and the turnover results in a shot at goal. That said, nine out of ten times, he is the bloke you want with the ball in his hand exiting 50. Takes risks because he is allowed, and he is allowed for a very good reason.
Not sure that Mark Hutchings has great value in the West Coast team unless he is assigned a job and he does it.
Hurn got better as the game wore on. I wouldn't be surprised if west Coast nurse him a bit around the half-way point to avoid tired legs late in the year. He is a star.
Overall, a nice outing for the Bombers – some would consider it very unexpected for them to head interstate and pinch a win, but there were plenty out there determined to make a point, as evidenced by the +19 in tackles.
Just a pre-season win, but a pre-season win built on hard work, and that is comforting.