It was a slaughter. A beat down. A complete and utter dismantling of a team.
It was men versus boys at the MCG as a team that had been playing great, tough, contested football were exposed against the fiercest of sides, the Richmond Tigers at their Tiger-ish best.
People, this was a mauling. It was as though Richmond wounded GWS, got a taste for blood early, and the Giants were bleeding out and helpless by the time half time rolled around.
This review will be extensive. If you're a GWS supporter, read on at your own peril. There will be some harsh truths in here, but none unjustified.
If you're a Tigers supporter, this will be a celebration of what you have achieved this year, culminating in 120 minutes of classic Richmond football. The Tigers were hard, brutal, and played the sort of football that has seen them mooted as the 2019 premiers for quite a while, even if they refused to buy into the hype, themselves.
At the football coliseum in the heart of Melbourne, Richmond stood victorious, with their ravenous army in raptures around them.
Here's The Mongrel's good, bad and ugly of one of the most lop-sided grand finals I've ever seen.
THE GOOD
THE ALL-TIME GREAT
With his second Norm Smith Medal, Dustin Martin has moved into the frame as one of the greatest finals performers of all time. There was much talk about his game, the defensive attention he'd encounter and how he'd handle it. It turns out that we could have answered any questions about him with just one four words.
He is Dustin Martin.
Given he was four votes behind Tim Taranto heading into this game, I think he'll also be securing his second Gary Ayres Medal as well the Norm Smith, and it'll be the second time he's done that as well.
Martin is a monster, and needs no help to do what he does best, but some… perplexing decisions from the GWS defenders at times opened the door for him to finish with four goals.
Sam Taylor hit the deck going for a loose ball that saw Dusty licking his lips and snapping a goal to slot his second.
His third came from an inboard handball from Daniel Rioli, when he was able to find time deep in the forward pocket, stop on the line, turn and fire the ball off to Dusty, who snapped around the corner to continue the avalanche.
It was about this time I was wondering what the hell GWS were up to – there was no way in hell Rioli should have been able to get that much time on the boundary, but he did, found Dusty who snapped around the corner and added to the Giants' pain. It was as though Dusty and the Tigers sensed the vulnerability of the Giants and preyed on it
So after the game I started thinking – realistically, where will Dusty end up rating in the pantheon of AFL greatness? The club for two Norm Smith Medals is small. Just Luke Hodge, Gary Ayres and Andrew McLeod resided there until this afternoon. Now, Dusty hasn't just knocked on the door – he's kicked it down and asked where the bar is. And he's gonna make those guys pay for his drinks.
A Brownlow, two Norms, two Ayres medals… there are a few players whose careers have held them in great stead to be considered the best players of the AFL era, but with this performance, Dusty has moved into contention for that title with Wayne Carey and Gary Ablett Junior.
And at 28 years if age, he's not finished yet.
Would you back the Tigers to make another Grand Final in the next couple of seasons? There is a lot of water to go under the bridge, but if Martin gets back to the Grand Final one more time, you know he's giving it a shake.
Former assistant coach, Mark Williams said that Dusty is a man who operates best when there's a carrot dangling in front of him. Three-time Norm Smith Medallist – how's that for a carrot?
DYLAN GRIMES, DAVID ASTBURY AND NATHAN BROAD
So, right before the game I read a stat that the team that kicks the first goal in a Grand Final has gone on to lose the game in the last five Grand Finals. I guess we'd better make it six, huh?
Jeremy Cameron marked and goaled for the first major of the game, but where did it go from there?
The big three defenders in yellow and black made sure it went nowhere, cutting off every long ball inside 50, pressuring the GWS forwards to the point they were completely ineffective, and cleaning up the mess to give the Tigers the run from defence they needed.
Dylan Grimes is no longer unsung. What he provides is no longer unheralded – an All-Australian selection in the absence of Alex Rance has opened the eyes of many supporters to just how good he is, but the efforts of Astbury and Broad continue to fly under the radar.
These three rotate around when there's a block laid in the opposition forward 50 and do it so effectively that in the end, it doesn't even really matter which one of them ends up with the individual coverage – the ball is going to hit the deck and then players like Jayden Short, Liam Baker and Bachar Houli sweep in and clear it.
David Astbury is one of those defenders that just seems to bob up at the exact right time – basically he is to Richmond this season what Dylan Grimes was last year. Last year, Rance got all the attention and Grimes was able to fly under the radar. He and Astbury just cruised along, deflecting attention and Rance would cop all the criticism to go along with the accolades. This year it is Grimes getting the accolades and criticism on occasion, and Astbury and Broad filling those secondary and third slots.
They're like a well-oiled machine, those Tigers, aren't they?
BACHAR HOULI
I mentioned Houli above quickly, but last week there was a bit of damning vision of him, highlighting how he doesn't really defend anyone in particular and tends to make space so that he can hurt teams once the ball is released rather than shut someone down.
So this vision landed in front of me, sent to me by my old friend… me, and you know what I said when I saw this new and shocking footage?
"Well, no shit, AFL media"
 Do you think he's been racking up those 30-disposal games by playing close-checking, hard-nosed defence every time the ball goes into defence? Geez, sometimes it's as though people in the AFL bubble need to be beaten over the head with a fact before they "discover" it. Houli is the sweeper – the outlier. He is quite capable of defending, but he is best used when the Tigers can create space for him to collect the footy and run. It's not rocket surgery, is it?
Anyway, Houli was playing the role he was designated again today, and he was playing it brilliantly as usual. Often matched up against Toby Greene when the ball hit the deck, his composure was on display again as he ran around collecting 26 touches and six rebound 50 disposals.
He also laid six tackles and had five spoils, as if to say "screw you" to those who made a point of trying to pass him off as a defender who cheats by not "manning up".
In addition, I loved the way he walked over, put an arm around Greene after Toby seemed to be getting a little excited in the last quarter. It was a mature, intelligent thing to do from Houli, who with a smile and a bit of affection, soothed the savage beast quite quickly.
The more I watch Houli, the more I like him, and he is playing his best footy at a point where most are starting to decline..
THE NEW BLOKE
What a story. There were plenty of people calling for Marlion Pickett to wear the Norm Smith Medal this afternoon, but whilst I think he was good… and that blind turn in the middle of the ground was the kind of thing you just don't see that often in a game of this magnitude, I reckon he'd be content with being named in the top handful of players in the game. Actually, I reckon he'd be happy being named in the top 20 players on the ground.
Hmmm, really, I reckon he'd be ecstatic just to have been a part of this game, and part of this team.
He did some nice things, but I have to say that if you were blind you'd think he was turning water into wine out there the way Bruce McAvaney was prattling on about him! I particularly liked the "Pickett, so clean" call when it appeared as though he didn't really take possession of the footy. Maybe Marlion just has really good hygiene and washes thoroughly before he plays?
Hat said, there was no doubt he belonged – he finished with 22 touches and a goal in the kind of debut he'd probably dreamed about, but never thought would come to fruition. He had nine score involvements and eight inside 50s, giving his team opportunities to score time and time again, looking like a player that was born to don the yellow and black.
No Norm Smith, but a premiership medal will do just nicely on debut. Today, Marlion Pickett lived the dream – the blind turning, goal kicking, head turning dream of debuting on the grandest stage in footy… and performing.
TIM TARANTO
The Giants had one winner in the middle, and even that winner had his possessions impacted by the Tiger pressure that seemed to be present every time he touched the footy.
Tim Taranto capped a nice finals run by being the only player in the Grand Final to top 30 disposals in the biggest game of the season. Playing a lone hand, Taranto had five clearances, laid seven tackles and had a nice mix of contested and uncontested touches as he did what he could to stem the yellow and black tide… to no avail.
Without the room to move he would usually get, Taranto found himself being surrounded by Tigers every time he received the football. Gone was the composure that has been a bit of a trademark in recent weeks with ball in hand – instead there was an urgency about everything he did, whether the pressure was there, or only implied.
Taranto had great numbers, but in reality, there were several players who had a lot less of the footy, but were all more influential in the wash up.
There were maybe a handful of Giants who could legitimately hold their heads high after this game. Tim Taranto is one of them.
BREAKING THE TAG
So, a bit of history first.
Matt de Boer had limited Marcus Bontempelli, Lachie Neale and Scott Pendlebury to season-low disposal numbers in consecutive weeks this finals. As he went to Dustin Martin at the first bounce, there may have been a few Tigers wondering whether they had to look elsewhere for the drive from the middle.
They needn't have worried. Dusty started the process of drifting forward and moving up into the midfield when required to exploit his forward match up, Sam Taylor at the contest, only to drift back into defence and get isolation, seemingly whenever he wanted. De Boer would attend to Martin through the midfield, but Prestia was wreaking havoc in there, having 11 touches.
So Matt de Boer started wandering over to Dion Prestia instead as the second quarter got underway, but the Tigers' ability to lay blocks and create opportunities to free Prestia up meant that whilst Prestia's influence was limited, it was not completely halted. During the last quarter, one of my fellow Mongrels asked the question as to whether we'd seen Matt de Boer at all in the second half – it was a good question. I reckon the tag was released not long after half time – the game was done and it wasn't much point maintaining that rage.
De Boer ended up with 12 disposals, but with Martin winning the Norm Smith Medal, and Prestia finishing with 22 touches and four clearances, you'd have to think that the tag was well and truly broken by the Tigers, and broken well.
SHANE EDWARDS
If we were handing out the Norm Smith at half time, I reckon Edwards would have given it a shake. Whilst others had more of the footy, it seemed to me at that point, everything Edwards was doing had a purpose – everything he did actually meant something, and nothing meant more than when he put the Giants' best inside ball winner down on his haunches with a big hip and shoulder late in the second quarter.
Jacob Hopper is a good kid – a really solid in-and-under footballer who provides the grunt for the giants at stoppages, but he made the mistake of leaving himself open at half back, and Shane Edwards taught him that unlike the free reign he gets in the home and away season, you just cannot be oblivious in Grand Finals.
Edwards dropped him with a hip and shoulder and left him gasping for breath and grabbing at his knee (it seemed there was some knee on knee contact) and sent the message loud and clear that Richmond had no only the ascendancy on the scoreboard, but physically as well.
Edwards had six tackles and four clearances in the first half, and was one of the Tigers' absolute best when the heat was still on.
IF ONLY…
Oh Jason Castagna… a Norm Smith Medal may have gone begging in this game. He was electrifying in this game, with some scintillating moves with the ball in hand.
But it was the part where the ball left his hand, made its way to his foot, and then completely missed his intended target that the problems started to surface. He finished the game with 0.5 and one out on the full and really had a chance to stamp his name on this contest with authority.
It might miss being mentioned, but Castagna also had a shot go out on the full, so in terms of his work in front of goal, he was zero from six.
Castagna's work in the forward half should not be discounted – his presentation at the footy, and ability to make space really stretched the Tiger defence, but a few goals from those six shots would have had him in the best.
Easily.
HEATER
I felt a little sorry for Heath Shaw in this one, as he must have had a feeling regarding what he was witnessing in the first half – I reckon he saw it in St Kilda when he played in the Magpie team that knocked them over in the 2010 Grand Final replay. In St Kilda, he saw a team who had given all they had the week before and had nothing left.
And I reckon he saw plenty of the same in his Giants this afternoon.
Shaw never, ever shirks an issue and always takes the big jobs when they're thrown at him. This afternoon, he found himself matched up against the player re-establishing himself as the best player in the game, and thought he was beaten on the lead early, fought back manfully to gain a few wins of his own.
Sam Taylor was the other to have to stand Dusty when he went forward, and Martin had a bit of fun against him as well, but Shaw held his own in his battle with Dusty, as well as running off his opponent to collect 29 touches for the game.
At 33 years old and with 300+ games under his belt, this afternoon had the potential to give him a wonderful full stop to an excellent career, but with this horrid taste in his mouth now, I doubt Shaw will hang the boots up. It has to end better than this.
NICK HAYNES AND NICK VLASTUIN
If there was one player on the ground that seemed to be unfazed by the significance of the occasion in defence for the Giants, it was Nick Haynes.
After years of being neglected by the AFL media, Haynes has made a huge statement this finals series and is now getting the recognition he deserves. With another 24 touches and a game-high 15 marks, Haynes is one of the very few Giants who can legitimately hold his head high.
Locked away at GWS for the remainder of his career, Haynes' value as a player and defensive leader has soared in 2019, and I look forward to seeing whether he can establish himself as an All-Australian in 2020. He would had to have been close this year.
At the other end we had a player occupying a very similar role to Haynes in Nick Vlastuin. He played the link and release role superbly for the Tigers but I believe his efforts will go largely unsung in this game.
22 touches with 20 of them hitting the target, and 12 marks for the game across half back is a superb outing.
RUCK DOMINATION
So we had a period last week where Shane Mumford really stood up in an important part of the game, denying Brodie Grundy clear hit outs and really stamping his authority on the last five minutes of the preliminary final.
This week, he didn't really have those moments at all. He looked beaten and slow, because he was beaten and slow.
The combination of Ivan Soldo and Toby Nankervis were all over Mummy in the ruck. Not only did they have the ruck ascendancy 42-10, they were also making a big impact around the ground, with Nankervis picking up 17 disposals and Soldo drifting across the front of a couple of packs to take two really nice intercept marks in the third quarter to cut the GWS rebound off at the knees.
The Giants' mids fought on valiantly, but they had very little to work with in terms of ruck taps directly to them. I reckon Mummy might be done and dusted with Sauce Jacobs reportedly on his way to the Giants.
THE BAD
THE ROLLS ROYCE BREAKS DOWN
G'day Josh Kelly – I gave you a whole spiel in my preview where I spoke about the value you could add to the team if you improved on your Preliminary Final output.
You must not have read it?
Here's what I thought the Giants would need to get from Kelly to have a win.
30 touches, which really, is baseline for great mids these days, and you have the potential to be a great mid. You had 15 possessions, so as part of the Mongrel Punt review, you win the Bon Jovi award for being half way there.
I asked for five clearances – you delivered two. Give that damn Bon Jovi award back; they've got some good music you don't deserve to listen to them!
I wanted 20 uncontested touches so you could utilise those skills to deliver inside 50 eight times. We got 12 and two, respectively.
Josh Kelly had a lot of mates today, but he is the bloke other teams were lusting after just a few months back. He re-signed with the Giants amid celebrations that he was the sort of player that would aid in their quest to the flag. Yet when the opportunity rolled around, he rolled over.
I fully expect there to be a story about hamstring tightness, or a twinge or something. Funny how that always seems to happen when he doesn't perform.
WHITFIELD A STEP OR TWO SLOW
I reckon GWS would like their time again in terms of selecting Whitfield – he looked slow in this one, and nowhere near that streaking running machine we've seen so often this season.
He may be playing hurt, which is admirable, but I don't remember seeing Whitfield looking like a deer in the headlights quite like I saw this afternoon. He was run down, handballed to nowhere and found it almost impossible to find the space to move.
Early in the game it looked as though the Giants were trying to feed Whitfield whenever possible, and the Tigers were ready and waiting. Whenever he touched it, the walls closed in and Whitfield would either be caught or knocked out of the contest too easily. He drifted back to pick up the easier touches in the second half to finish with just 14 for the game, which has to be a huge disappointment for the Giants, given many thought he would be providing a real boost to the team that won in such a courageous way in the Preliminary Final.
Whitfield has had a great year – his run and carry, when fit, have been a weapon that has hurt many teams, but he was blanketed, beaten and abused today.
And the worst thing was, no one really went in and flew the flag, but we'll get to that.
THE STUPID HANDBALL GAME
I like being right – we all do, and I was spot on with this in my pre-game assessment for patrons. You see, the Tigers want you to handball. They dare you to handball. They look at you, give you an option to transfer the pressure to a teammate and lick their lips as you do it.
Why? Why do they want you to handball to a nearby teammate; particularly a stationary teammate forward of the ball? Because when you do that, their claws start to close and clamp around your whole team. The next player opts to handball too, and the claws close even tighter. One slip, one fumble or one errant handball and it all comes undone.
And it came undone in a big way today.
GWS handballed into trouble almost as much as they handballed out of it. Now that can be fine when your kicking game is on, but that was off too, and that meant that, simply put, the Giants were screwed.
It was as though the Tigers sensed it. They left that five metre-distance between them and their closest opponent, and when the handball was released, they'd close on in.
When that happened, the Giants were dead, and the Tigers walked all over them on the rebound.
Yet still the Giants would try it again and again, and miss the target again and again. It was frustrating as a neutral fan but it must have been infuriating as a WS fan, and delightful as a Tiger fan.
As an aside, how poor is the overall skill of handballing in the league right now? So many missed targets from just a metre or two away. Frustrating…
THE UGLY
THE INABILITY TO HAVE A PHYSICAL PRESENCE
Here we had this Giants team – built on a physical pressure in the finals. Coming in, they had this fearsome reputation as a team that would walk a fine line between what was legal and what was not. If there was ever a time you would want to walk that line, it'd be in the Grand Final.
But they stayed on the very, very safe side of that line in this game, and only rarely looked to get close to the edge. They were bullied by the Tigers at stoppages and around the ground. They were shown what a real physical presence was all about, and they offered sweet FA in return. They were knocked into and knocked over. Toby Greene was given a bit of treatment and NO ONE flew the flag for him. No bloody player went and stood up for him. It was so disappointing.
Actually, I might go a bit further here and turn into HB Caveman for a while if that's okay with you guys. Feel free to skip to the next section if you think that physical intimidation has no part in professional sport.
The Giants were six goals down at half time and needed a circuit breaker. Whether that was an act of physical aggression or someone taking the game, and the Tigers by the scruff of the neck, you could see them waiting for something to happen.
And that was the problem – they all waited for something to happen and nothing did. It may not be in Leon Cameron's nature, but at half time, if I were coach of the Giants, a quick word in the ear of say… a guy who hadn't troubled the statistician at that point. I may have suggested to the man whose name rhymes with Memory Binjayson that he try to have some sort of influence on the game other than playing the role of a witches hat. I would have eyeballed him and challenged him to exert some sort of physical influence on a contest that was getting away from them.
I would have wandered over to Mr Greene and gave him something like Alan Jeans gave Dermott Brereton before the Grand Final of 1989. I would have challenged him to lift, challenged him to live up to the attention he'd brought upon himself. And I would've approached Jeremy Cameron and told him that if a bloke drops in the hole in front of you on a lead, you take him the hell out. If you get four weeks, we deal with it next season – there is no guarantee you're ever going to play in a Grand Final again. Make this one count.
But I'm guessing those conversations didn't happen because cavemen like me don't have jobs in footy? I'm guessing the Giants came out and conceded that the Tigers were too damn good pretty quickly, and didn't bother giving a yelp after that. Richmond had the ball in their forward half for 94 bloody percent of the first three minutes. If the Giants were making a statement, it was that they were cooked.
And the Tigers knew it.
These Giants will go home, lick their wounds and regroup, but the scars, not just from being beaten, but beaten down, may take a while to heal, and they only have themselves to blame for that.
HB Caveman checking out for a while
JEREMY FINLAYSON
What a day to turn in the most insipid display of the season for Finlayson.
Can we list some words that describe his game? Can the children leave the page first, please?
No? Okay, I'll keep it PG-Rated.
Disgusting. Rudderless. Heartless. Inept. I can go on if necessary, but I don't think I'll be stating anything you didn't think, yourselves, whilst watching him play.
Finlayson managed just one disposal in 73 minutes of game time. Why only 73 minutes, I hear you think? Well, what was the point of keeping him out there any longer? He was contributing bugger all, and was being so soundly beaten by the Grimes/Broad/Astbury/Vlastuin quartet that I started mistaking him for a government mule… or a red-headed stepchild.
Thanks Jim Ross for those sayings.
Now, if this happened to a kid in game 20, or a player who was on the fringe all season, that'd be okay – you're not expecting them to come in and dominate the game, right? But Finlayson has had a blinder of a year. He had 44 goals to his name and averaged 12 touches per game as the clear second best option to Jeremy Cameron. Today, he was non-existent.
You know, it's funny – I sometimes get an email or message from a family member of a player when they appear in the UGLY section, and usually they're really good about it. They may offer a reason as to why their son, or sibling had a terrible day. Sometimes it's flu, or an injury. Other times it is something a little more. The only thing I can think of to explain Finlayson's disastrous output is that there was something more to it.
He could not have been that shit without a reason, could he?
THE AWARDS
THE EXPRESS TO FINDERS STREET AWARD – NOT TAKING PASSENGERS
The award goes to Richmond, who had nobody tagging along for the ride in this performance. The Giants were stopping all stations, by comparison.
THE DENNIS RODMAN AWARD – BEST REBOUNDER
Nick Haynes, take a bow. I know the ball came in there a heap, but you stood up whilst others around you toppled over. Also considered – Bachar Houli and Heath Shaw.
THE REAL ESTATE AGENT AWARD – MOST METRES GAINED AT 80% EFFICIENCY
Nick Vlastuin takes this one out, with 570 metres gained whilst clocking in at 91% efficiency
THE DIRK DIGGLER AWARD – BIGGEST TACKLE
Josh Caddy gets this one, for his drag down of Daniel Lloyd in the second quarter to cause a turnover and scoring opportunity.
THE DEFENSIVE 20 AWARD – INTERCEPTS AND 1%ERS TOTALLED TO EQUAL 20+
None, but Sam Taylor was closest with 15
THE KERRY GOOD FLYING NUN AWARD – WHEN ONE PLAYER DOES NOT TAKE A MARK FOR THE GAME DESPITE AMPLE OPPORTUNITY
Shane Mumford was the stand-alone player who could not glove one mark today. Had his chance with a chest mark at half forward, but fell over like a complete unco in the process and dropped it. Congrats, Mummy.
THE RODNEY DANGERFIELD COMPLETE COCKEYE AWARD – MOST INACCURATE
Jason Castagna… 0.5 and one out on the full… my goodness. He walked this one in.
THE DAVID BOWIE AND FREDDIE MERCURY "UNDER PRESSURE' AWARD – MOST PRESSURE ACTS
This ended in a three-way tie, but I am making an executive decision and awarding this to Daniel Rioli because he is a Rioli and this is a Grand Final.
THE MASH AWARD… IN MEMORY OF CORPORAL CLANGER – MOST CLANGERS
This surprised me… Matt de Boer, who had three free kicks against, which bolstered his numbers in this one.
BEST WINGMAN AWARD – MOST SCORE INVOLVEMENTS
I'm thinking of taking it off this bloke… Jason Castagna because he already has an award for kicking so many points. Screw it… Jason, you're out. The best wingman goes to Marlion Pickett, who had nine score involvements and didn't kick behinds with five of them. Jason… lift your game, son.
THE D-GRADE PREDATOR AWARD – HARD TO LOCATE, BUT CAN'T DO MUCH ELSE OF USE
Jeremy Finlayson. Not even close in this one
THE GETTING BACK TOGETHER WITH YOUR HIGH SCHOOL GIRLFRIEND AWARD
Brett Deledio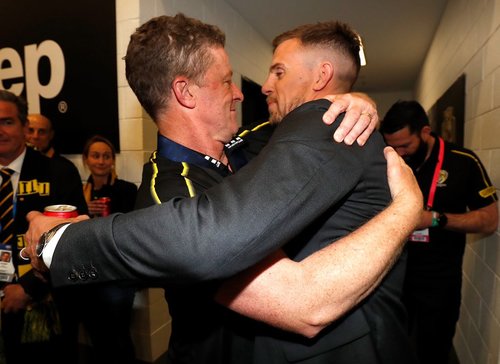 QUICK BITS
Should Phil Davis have played? He certainly played Jack Riewoldt into some form, didn't he? From the first contest where Riewoldt was not paid a clear mark, it looked as though Phil was simply unable to go with him. I have all the respect in the world for Phil Davis – what he has done with this team after leaving Adelaide to help them grow is exceptional, but he looked banged up and sore today.
Really strong start for Tom Lynch. Really bad result for Gold Coast, who now have to fight the perception that if you do a few years with them and jump to a Melbourne club, this could happen to you as well.
Oh, how annoying is the ad that shrinks the screen on Channel Seven every time there is a throw in? It's not enough that we have animated signage all over the ground, a big-ass Toyota logo on the ground, advertising on the ball and guernseys… we now have the picture shrinking to fit advertising on the bottom of the screen in the most brief of stoppages? Get stuffed Channel Seven.
How important do you think Rioli's goal on the quarter time siren was? The Giants had done relatively well to hang in until that point, but right them and there, the celebration of the Tigers just seemed to swing the momentum their way at that point.
Another dose of Toby Greene controversy? I'm reading a bit about it on social media (the last bastion of truth and balanced commentary) and they're alleging he raked Liam Baker's face this time? As evidenced by Baker getting up and not even acknowledging anything had happened?
"Is that what I think it was," asked Lingy?
Well, Lingy, it depends on whether you thought it was bugger all, because that's what it looked like to me. This is an absolute witch hunt.
Whilst on Greene, I thought he was serviceable without being a star. 23 touches whilst spending the majority of his time in the forward half is a reasonable output, but had he kicked that first goal of the game instead of hanging out to the right from 50… maybe that could have kick-started the Giants? Probably not, but they needed something. It does seem as though Greene is the only bloke on the park you're allowed to tackle high without a whistle, though.
Good to see Harry Himmelberg redeem himself in this game. The most effective forward for the Giants from my angle.
Hated the free kick to Jack Riewoldt in front of goals for the block against Davis. I was under the impression that you could use your body as long as you're contesting (as I heard multiple umpires explain this season). Davis did contest – he even spoiled his own man from marking, so I am not sure how that one constituted a free kick.
The Tigers were really able to get this game on their terms far too easily. GWS were off with their disposal and when they did take a risk, they really hung the ball out there for too long. There were no sharp 40 metre kicks – instead we got even seasoned players like Heath Shaw and Jeremy Cameron with dinky 15 metre passes to contests, or switches into the middle where their players were outnumbered.
Did the Grand Final pressure get to GWS? Was it Richmond's relentless attack on whoever had possession? Or did the Giants play out their version of the Grand Final last week?
Regardless, the Tigers now move to 12 premierships, with two coming in the AFL era. The Giants… they'll keep searching for their first.
So you just got through over 5,000 words of our review. Maybe closer to 6,000. You like it? You want this sort of stuff on a more regular basis? Help support The Mongrel become the site you want it to be and become a patron. Click the image below to support us.
Or you could buy a bumper sticker or stubby holder and spread the Mongrel.
Thanks for reading.