There were legends in the stands and legends being forged, enhanced or whittled away at the MCG in front of 94,000 fans.
I was watching intently, and here are my player ratings for the clash between the Cats and the Tigers
RICHMOND
Nick Vlaustin – 7
Resolute in defence as always especially during the first half when his team was under siege. Finished with 14 disposals at a stunning 93% on a night when good skills and decision making stood out along with two contested marks and five rebounds from the defensive 50.
Dylan Grimes – 6
25% down on his season averages for possessions, but it was the rare sight of the Tiger star and AA dropping marks when he had strong purchase and position that slightly downgraded his score. Still a strong contributor however his aerial threat in particular was no doubt disrupted by the close checking of Lachie Henderson.
Dion Prestia – 9
A powerhouse onballer's game from the former Sun, collecting 13 contested possessions amongst his tally of 28 touches, driving the ball inside 50 nine times and nailing two important goals. His ability to win clearances (equal leader for the night with Dangerfield), especially in the centre square creating space and delivering forward was a highlight, along with a monster 744m gained (60% above his already elite season average) were the highlights of a complete game.
Dustin Martin – 8
Clearly hampered by a heavy knock to his knee/thigh region while taking a contested mark in the first quarter, Martin struggled to impact the opening half. His steely resolve was on show however in the second half as he wouldn't allow the Tigers season to peter out again at the second last hurdle through his unique combination of raw power and guile, repeatedly winning contests and breaking open stoppages to allow the Tiger runners time and space. 22 disposals and two goals on a night where he was severely impacted spell trouble for his opponents next week as he attempts to join the greats, Gary Ayres, Andrew McLeod and Luke Hodge with two Norm Smith Medals.
Brandon Ellis – 7
A good night out from the oft maligned Tiger half-back/wingman who was able to show poise early in the game to stem the flow of repeated Geelong attacks. 18 disposals at an impressive 83% accuracy including five score involvements were solid reward for a good game.
Jack Riewoldt – 2
A sensational tap to a streaking Martin for a goal in the third quarter and a run-down tackle late in the last that basically assured his team of victory notwithstanding, Riewoldt was completely shut down last night. Some might argue he was playing a decoy role allowing his in-form twin-tower partner Lynch space to move, but that wouldn't be giving enough credit to his direct opponent Kolodjashnij. The team player he is would always take 0.3 in a Preliminary Final win over the 5.0 he scored in last year's loss.
Trent Cotchin – 7
The 2012 Brownlow Medallist's 2019 season has been hamstrung, quite literally, with the Tigers inspirational skipper averaging his lowest disposal average since 2010. While a return of 14 disposals last night would superficially appear sub-standard it is the intangibles that this elite leader brings to his team, and a triumvirate of mini-victories in genuine 50/50 or worse contests against the vaunted holy trinity gave strength to the Richmond fightback.
Shane Edwards – 9
One of the prime drivers of the Richmond comeback, the Tiger veteran was thrown onto the ball to counter the Geelong ascendency in that area and was able to wrest back control in a masterful performance. 18 disposals, six score involvements and six tackles don't tell the full story of the deft taps and knock-ons which released teammates into space nor the withering clearance he won early in the last bursting through a stoppage at pace to set up Lambert for goal.
Jason Castagna – 8
Another Tiger whose output cannot be judged purely on stats had a profound impact on this match. Generally clean and blindingly fast, Castagna contributed two vital set shot goals, the first from an excellent contested mark and was a consistent threat whenever he was in the vicinity of the ball.
David Astbury – 5
The low-profile Tiger backman had his hands full with the imposing Ratugolea during the evening, later aided by an injury to the big Fijian. Eight marks and a team-high ten 1%ers were a good return, but I've seen the two Tiger key backs play much better.
Bachar Houli – 8
Ice cold precision underscored his 32 disposals as he repeatedly looked to switch and open up the attacking side for his team. Seven 1%ers, four score involvements, five thrusts inside 50 and nine rebounds from defensive 50 are the resume of a consummate professional enjoying his best season in the AFL.
Jayden Short – 7
When you possess as damaging a weapon as the ironically named Jayden Short and can progress the ball by foot over the defensive zones you often don't need large possession tallies to affect the result. Last night was a perfect case in point as the Tiger runner collected just 13 disposals but helped his team gain an enormous 612 metres. In a game as tightly contested as last night, the ability to break open play with long kicking is invaluable.
Daniel Rioli – 2
A poor outing from Rioli who usually excels on the big stage, didn't work hard enough as his two tackles and two score involvements attest and was unable to hit the scoreboard to make any meaningful contribution.
Tom Lynch – 10
Those who have watched football for a long time fondly remember the days of the power forward dominating finals, and last night Tom Lynch in all his glory dominated proceedings from the beginning. Ten marks, (four contested, six inside forward 50), 19 possessions indicating a huge appetite to work, and a mammoth 12 score involvements (ominously his best since Rd 19 vs. Collingwood) and five goals was probably the best finals match by a big forward since Franklin lit up the MCG in 2008 against the Bulldogs.
Josh Caddy – 4
Another former Gold Coast player strutting his stuff on the big stage, Caddy was not able to reach the heights of his teammates Lynch and Prestia in his 5th Preliminary final appearance and was a little off the pace throughout the night. Six contested possessions amongst his 13 disposals with five score involvements and one direct goal assist would have looked better if he'd have converted from a long shot in the first term and if Riewoldt had goaled from a blistering pass early in the last.
Kane Lambert – 5
Probably the worst half of his AFL career to begin this match, punctuated by uncharacteristic fumbles and turnovers. To Lambert's immense credit he continued to run and fight hard as his seven tackles illustrate, was rewarded with a goal after the play of the match by Edwards to hit him on the move in the goal square.
Toby Nankervis – 3
Looks desperately short of a gallop, and the Tigers ploy of selecting two lumbering ruckmen was tested last night and almost proved their undoing. Nankervis wasn't able to do the things last night that have defined his career at Richmond, namely repeat contests, bullocking clearance work and link play from stoppages. In 60% time on the ground he was significantly below the output of Soldo (who only played 55% game time) for hit outs, disposals, marks, tackles, a showdown against the Magpies and Grundy next week should keep his magnet on the whiteboard but he's not pulling his considerable weight at present.
Shai Bolton – 4
The exciting Richmond youngster struggled under the glare of the bright final's lights last night, zero tackles and goals instructive of his performance or lack thereof. A breakout season in 2019 has set his personal expectations higher than what he produced last night, and he'll be keen to return to his July output where he averaged 23 disposals, one goal and five tackles per outing next week.
Jack Graham – 5
Shocking luck for the tough Tiger midfielder with a devastating shoulder dislocation early in the game. A measured prescription of painkillers and an equally effective dose of heart saw Graham retake the field and play out the game with five gutsy tackles and a shot on goal that should've sealed their return to the final Saturday in September. Is a near certain hard luck story of Grand Final week.
Nathan Broad – 6
Another of the wounded Tigers, heavily concussed due to some friendly fire after another Miers flop that resulted in a shot on goal for the Cats. Until that time Broad had been excellent in his primary defensive role, recording five spoils and eight pressure acts as he repeatedly worked to support undermanned teammates flagging under the deluge of Geelong inside 50 forays. Engaged in the post-match celebrations and you'd suggest will come up for next week on the 7 days break.
Ivan Soldo – 6
Clearly the best ruckman on the ground last night, giving excellent protection to his onballers by manipulating his big frame into the path of would be tacklers and allowing lighting quick clearances through the middle of the ground. Five tackles and three intercept marks (25% of his season total) were vitally important in the overall wash.
Liam Baker – 5
Baker's night mirrored his clubs to a degree, thrashed early in this case by an omnipresent Miers, before fighting hard to stay in the contest until the wheels turned through an avalanche of pressure. 18 disposals, three tackles and 3 score involvements along with 355m gained were a very positive return for a player and team that started so poorly.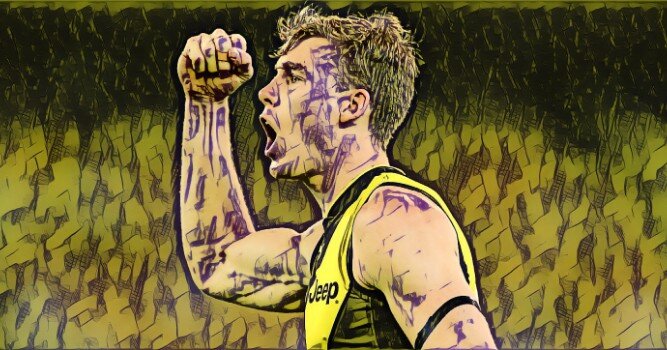 GEELONG
Rhys Stanley – 6
Highly competitive in the ruck against Richmond's two-headed threat, and with nineteen touches to go with his 24 hit outs Stanley fought hard until the end. If not for some regulation brain fades such as an ambitious handball to a stationary teammate closely marked by his opponent that resulted in a turnover and shot on goal, he would've ranked even higher.
Zack Tuohy – 7
Another disciplined and highly skilled performance from the consistent Cat who was the chosen outlet for attacking moves from the defensive half. 26 disposals and 542m gained at almost 90% efficiency are a pretty good indicator of his worth.
Brandan Parfitt – 6
13 contested possessions from a total of 16 was a good return in conjunction with four tackles and four score involvements for the talented Cat midfielder. Now firmly established in the side and above the 50-game threshold the expectation on him would be to elevate his performance next year.
Gary Ablett – 3
Kicked the first goal of the match from a clever snap and was the subject of the contrived Channel 7 narrative with his illustrious father on screen in the stands almost as often as Gary Jnr on the field. That was as good as it got however for the Little Master as he was badly beaten time and again, unable or unwilling to put his body in harm's way and having to resort to half-back flank handballs that symbolised his Gold Coast days.
Harry Taylor – 5
The Cats champion has shown definite signs of slowing down across the last season or two, and in what may indeed be his final outing in a simply outstanding career was handed an almost impossible task to hold the emerging superpower that Tom Lynch is steadily becoming. Lynch was awarded a perfect score for his match, there wasn't a whole lot Taylor could do to stop him, however particularly early he was creative and damaging with ball in hand as he found himself free across half back as Geelong switched the ball with surgeon like precision.
Jake Kolodjashnij – 8
The young Geelong key backman played the game of his life rendering three-time Coleman Medallist Jack Riewoldt completely ineffective.  His stat line featured eight marks, two contested highlighting his confidence and ability to read the play. Eleven disposals at 90%+ were a bonus for keeping the dangerous Tiger to just two touches for the first three terms.
Tim Kelly – 9
In a scenario strangely reminiscent of the 2010 Preliminary Final when Gary Ablett first left Geelong, Tim Kelly was stunning in what will surely be his last match wearing the hoops. 31 exquisitely executed touches and three clinical goals headlined the best match of his short but highlight filled career to date. While his impact dimmed across the course of the night, he along with Selwood took a leaf out of Richmond's famous theme song not conceding defeat until the final siren unlike several higher profile teammates who checked out when the going got tough.
Joel Selwood – 8
Reports of his demise have been grossly exaggerated, or at least based on his form in the past three games. In his 30th finals match the Geelong captain again took the lead role and kept presenting until the battle was lost. 14 contested possessions from a total of 30, six clearances and seven tackles only told part of the story as Selwood played a slightly different game to his usual combative self, turning provider and playmaker more often and being integral to many of the switches in play or utilising exceptional vision to start attacks. A three-time premiership legend of the club, time is slipping away for him to crown his career by holding aloft the cup on the premiership dais.
Esava Ratugolea – 5
Unfortunately copped a wrist injury in a tackle that reduced his impact thereafter but was lively early particularly when allowed to run and jump at the ball coming straight at him. Showed enough in the past few weeks to suggest he could become a valuable foil for Hawkins in that second forward/back-up ruck role.
Quinton Narkle – 5
Was exceptional early, belying his inexperience to really take it up to the battle-hardened Tiger midfield displaying evasiveness, strength to break tackles and clarity of mind to make good decisions. Somewhere in between the half-time siren and Joel Selwood's on field address for the start of the third quarter those attributes completely left him, and he joined a number of his teammates who went MIA.
Jed Bews – 2
Matched up against Castagna for most of the night and was unable to quell his influence, which unfortunately for Cats fans was ample. Unlike last week where he was able to push forward with score involvements, inside 50s and even a goal, Bews was soundly beaten in both respects in this game.
Lachie Henderson – 6
Brian Taylor completely missed the point when Henderson had been credited with only one possession at half time comparing his output to the suspended Tom Hawkins. Henderson was there wholly and solely to be a nuisance and play a defensive role on Grimes, to which he performed admirably limiting the key Tigers influence. Two goal line shepherds (which were probably both free kicks against but unpaid), a third term goal to keep the margin to under a major and three contested marks had him far from the Cats worst.
Sam Menegola – 4
Looks the part of an AFL footballer, but has not delivered this season and was poor throughout a September campaign gifted to him via injuries to firstly Guthrie and then Duncan. Apart from a spectacular and team lifting smother on a certain Martin goal didn't contribute anything positive to the cause and left too much to too few.
Cam Guthrie – 4
Started brilliantly working seamlessly with Kelly, Selwood and Dangerfield to totally dominate the centre clearances and stoppages but came to a grinding halt as soon as the Tigers ramped up the pressure. 12 disposals and five score involvements the vast majority in the first half are not an acceptable return of a player of his class.
Tom Atkins – 2
Atkins aggression was sorely missed when he was out of the line up with injury, but last night his contribution was all bluster rather than substance. One big tackle early in the first quarter aside he wasn't able to add any value to his teams' endeavours and was found wanting in the physicality stakes despite his menace when compared to the hungry Tiger opponents.
Gryan Miers – 7
The sum total of the good and bad of Gryan Miers in this Preliminary Final should probably have resulted in a nice even 5, however I'm choosing to place a higher weight on his early work which was of the very highest quality. To put it bluntly, Miers was electric early picking apart the Richmond defence with wonderful vision and hitting the scoreboard at will as the first-year player almost nominated himself as the most unlikely 2019 Mason Cox. Turnovers, free kicks against, going to ground disappointingly easily and the tenacity of his direct opponent Baker conspired to prevent Miers being written into history's pages, but there's plenty to work with here.
Patrick Dangerfield – 4
Potentially a hard mark for someone who has registered 27 touches in the fiercest of matches against a very good team, but if you are consistently rated in the top few players in the competition when the contest is at its hottest – you need to stand up. Dangerfield simply did not do that last night in the second half, meekly accepting his team's fate without a whimper. A dubious free kick and subsequent 50m penalty will also not make for good watching on review for a genuinely tough and hard player who takes the easy option far too often. It is now 12 completed seasons for Danger in the AFL and not one single Grand Final appearance. A contemporary who was drafted two places behind him in the 2007 National draft retired a year ago with 4 premierships from five GFs playing in a team with a similar collection of talent around them to what Paddy has enjoyed. Sometimes you have to look in the mirror and wonder if it's not them it might just be you.
Jack Henry – 7
Another of the Cats finds this season, Henry was very good again last night as his calm demeanour shone through the chaos. With a team-high eight 1%ers, twice as many as the next best pivotonian Henry can look forward to a larger role in the coming seasons armed with the experience and ruthless drive a close finals loss can bring.
Luke Dahlhaus – 3
Lacking the intensity of earlier in the season, Geelong were 11-0 this season when Dahlhaus amassed 20 or more disposals. Looked pressured whenever he got the ball last night, rather than when at his best the opposition do. A poor finish to what began as a very promising year.
Mark O'Connor – 7
A terrific game from the Irishman, who displayed great feel for the game highlighted by his defensive spoiling and a pinpoint kick to the lead of Esava in the first quarter after burning down the wing to provide the outlet option for his skipper. 18 disposals at 80%+, can hold his head high for a four-quarter effort.
Tom Stewart – 6
A subdued performance from the Geelong superstar, keeping variously Rioli, Graham and Bolton quiet for large patches of the game but lacking his usual drive and capacity to help out other defenders when teams get a roll on. 19 neat disposals at an incredible 100% accuracy in 86% game time probably deserved better.
Mark Blicavs – 3
Zero impact for the third straight week of finals, admittedly played out of position, and would surely have fared better against a rampant Lynch than a clearly outmatched Taylor. While being played outside his comfort zone is some excuse, there is none for the simple set shot he butchered in the second that would have pushed Geelong's lead into the almost too hard to chase down category nor his inability to outrun several Tigers in one-on-one contests throughout the night. A forgettable September.
So, what'd I get right, and what did I get wrong?