In front of 93,000 (same number as Wrestlemania 3… impressive) at the MCG, Collingwood were all over Geelong early, and managed to do enough to hold on to win by ten points in a low-scoring, dour, defensive clash.
Looking at recent history between the two teams, only a fool would have expected a high scoring affair between them, but early on it looked as though the Pies may blow the Cats out of the water. Jeremy Howe, Darcy Moore and Brayden Maynard played wonderful defensive games as their midfield maestro, Scott Pendlebury notched up a victory in game number 300 and booked a place in the final four. Steele Sidebottom returned to 2018-finals form and Jamie Elliott played big out of the square.
For the Cats…well, they all but forfeited the ruck in a mind-boggling move and allowed Brodie Grundy to feast on the carcass of their very part-time replacement rucks. They got the usual desperate effort from Patrick Dangerfield but there were far too many passengers in the hoops for even a player of Dangerfield's calibre to carry.
Here's The Mongrel's good, bad and ugly.
THE GOOD
HOWE GOOD
There were no screamers from Jeremy Howe in this one – but there were no need for them. What we did see was a player at the peak of his defensive powers, reading the incoming footy like a book, and not only rendering his man useless (hello Gary Rohan) but becoming the springboard for the Collingwood counter-attack on numerous occasions.
The funny thing about Howe is that had Rohan kicked his second goal toward the end of the first quarter, Howe would have been forced to tighten right up on him. Of course, being Rohan, he didn't kick the goal – he kicked it on the full from 25 metres out – and Howe got a reprieve. Instead of locking down, he was able to continue to do Jeremy Howe things, and those things were good enough to have him as the best player on the park.
Howe finished with 23 touches and 13 marks as he rules the skies in defensive 50. His ten intercept possessions made him one of just three players to top double figures in that category, and the fact he held his opponent to just three disposals for the game is testament to the defender he has become.
MOORE AGAIN
I mentioned there were two other players with 10+ intercept possessions in this game – Darcy Moore had 12 for the Pies, as he took over as the game entered the last quarter.
The Cats became desperate as the time started ticking down, and that played directly into the hands of Moore, who clunked everything in the last ten minutes of the game.
Moore had six contested grabs as part of his nine marks overall, and rewarded Nathan Buckley for believing in him and taking the risk on him at selection. Moore's health, or more to the point the health of his hamstrings, has been an issue Collingwood has had to deal with for a couple of years now. Whilst there seemed to be a little scare in the third quarter, Moore soon returned to the fray and was dominant when Geelong decided they were actually going to try to win the game late in the last quarter.
Thanks to Darcy Moore, those efforts from the Cats were too little, too late.
PENDLES V DANGER
This was a joy to watch. Irrespective of which team you follow, you know a marquee match-up when you see one, and in terms of midfield battles, it doesn't get much bigger than Pendlebury v Dangerfield in a Qualifying Final.
They have such contrasting styles, yet matched up against each other at stoppages in the second half, you would not dare to choose one over the other as to who was going to win any given personal duel. Pendlebury has often been called the Rolls Royce, as he cruises through the midfield as smoothly as anyone who has played the game. Dangerfield is more like a beaten up off-roader that doesn't mind a bit of the rough stuff.
Both would have to be in the running for best on ground honours (I'd personally go with Howe, Maynard and Grundy but not everyone sees things the way I do) and it looked for a fleeting moment late in the game, with Dangerfield bursting out of the centre and going loooooong, that he might be able to power the Cats home over last year's runner up team.
Alas, it was not to be, and the Collingwood captain was chaired off with a smile on his face as Dangerfield must have been left wondering what else he could possibly do to drag his team to the position where they realise that they have to display his level of desperation or GTFO.
JAMIE ELLIOTT
I've been wrong plenty in 2019, and I've got to say I wasn't really sold on Jamie Elliott coming into this year. I thought he'd struggle to keep his place in a side stacked for forward half talent and we'd see him eyeing off a move to another club right about now.
Well, he might be eyeing off a move – how would I know? But he has definitely earned his place in this side, and then some.
Look, I could talk til the cows come home about his offensive efforts, but that smother deep into the last quarter… that was something special. With Jed Bews looking to pump the Cats inside 50, Elliott made huge ground to throw himself across the boot of his direct opponent and make the smother. It will be counted as a one-percenter in the stats, but is worth so much more.
Those kinds of acts – we saw another from Jeremy Howe in the last quarter as well – are what galvanises a team. They see one put their body on the line and make the supreme effort, and the next thing you know, everyone is doing it. I hesitate to write this, but it's those kind of efforts that make up premiership teams.
Tonight it was Elliott and Howe putting their body on the line to smother a kick. Next time it might be Stephenson and Crisp. Things like this are catching, and when Jamie Elliott works as hard as he did tonight, not to get in a scoring position and reap the rewards of others' work, but to follow his man down the ground and impact the play defensively, it makes a big difference to the entire team.
MAYNARD STOPS THE LEGEND
I wrote this morning about how this could be the last finals series, and the last games of Gary Ablett's career, and it was as though Brayden Maynard decided that the Little Master was not going to have a game to remember against him.
If anything, Maynard made this a game to forget for Ablett, completely blanketing him to the point where Gaz looked ineffective – it may have been Ablett's worst performance of the year. As we hit the mid-point of the second quarter, Maynard started running off Ablett at every opportunity. Though he didn't receive the ball every time, it was as though Maynard realised Ablett just could not go with him and decided to make the most of it.
There was plenty of niggle between the two, with Ablett obviously frustrated with the amount of attention he was receiving. It was a one-sided affair, however, when the ball was in their area, with Maynard simply not allowing Ablett any room to move. Up until three quarter time, Maynard was even accompanying Ablett into the middle when Gaz switched to an on-ball role. Wherever he went, Maynard was sure to go.
Gaz finished with 17 touches (seven in the last), but don't be tricked into thinking he had any significant impact on this contest – he did not. Maynard had 16 but was a far more influential player.
Once Maynard gets a nicer haircut, starts looking respectable and gets some female attention, he may one day get married and have kids. They, in turn, will have kids and old man Maynard can sit them on his knee and tell tales of the 2019 Qualifying Final… the time he completely shut down one of the greatest players the game has seen.
Also, Maynard looks a bit like Scott Pendlebury's slow younger brother.
THE BAD
GARY ROHAN DROPS HIS FINALS BUNDLE… AGAIN
So the big knock on Gary Rohan has always been his inability to perform in finals. Well, true to form, he absolutely choked in this one in a huge way.
Long before he limped off the ground with hamstring tightness, Rohan's day was over. Mentally, he was completely defeated. He missed a 25 metre shot at goal in the first quarter by a significant margin…. No, that's too nice. He absolutely butchered a shot from 25 metres out when the Cats really needed him to hit the scoreboard.
He sprayed that shot so badly, it almost went sideways off his boot. And after that one mishap, it was as though the little man in his head started telling him he was no good, and that he always played poorly in finals. He hardly got near the footy from that moment on, playing an embarrassing game of footy in the process.
He played on a bloke named Jeremy Howe, who seemed to realise that Rohan had given up the ghost, and started to have a party at his expense. Rohan was second to the ball, or continuously found himself in the wrong spots. When he did get near the ball, he was soundly defeated in every contest he took part in.
Howe just started drifting off Rohan as the Geelong mids hacked the ball inside 50 aimlessly. Rohan may have been leading to the right spots, but he was never going to get a touch the way the cats were moving the ball.
One thing I will give Rohan credit for – he goes hard at the man with the ball, even if it is to his own detriment. He attacks the body hard and does not take a backward step, however I am not sure that makes up for being continually caught out behind his opponent and not doing the simple things to limit his opponent's influence. I suppose it is a little easier to go hard at the man when you're second to the ball all the time.
You know you've had a dirty day when your opponent is best on ground. That about sums up Gary Rohan this evening. He will be known as Jeremy Howe's opponent in this game, and as such, he'll be known as the guy Jeremy Howe destroyed en route to a best on ground performance.
ROADS TO NOWHERE – THE GEELONG GAMEPLAN
So, you want to explain to me the Geelong game plan? I can do it for you if you like, and I can do it in two words.
It's shit.
Really, if someone could articulate to me exactly what they were trying to achieve by holding the ball up at every opportunity, refusing to switch, and seeming content to make up 15 metres at a time with nothing kicks, I'd love to hear it.
I'd love to hear how they were being patient in every way except the one way that mattered – the delivery inside their attacking 50. But the problem here is that all the patience in the build-up basically allowed the Pies to get numbers back and make it damn near impossible for Geelong to find a target anywhere close to goal. So tell me Chris Scott… coaching mastermind, what were you actually attempting to do out there, particularly in the first quarter?
The Cats looked either confused or disinterested about how they should attack… and I use the word 'attack' very loosely in this regard. Their spearhead was rendered redundant by Jordan Roughead, who was playing as a god damn forward in the games prior to this. Their small forwards seemed to all be limping in the first ten minutes of the game, and their legend couldn't get near it.
If any Geelong fans are out there solely bagging their defence tonight, they should immediately reconsider and broaden their critical horizons – take a look further up the ground to where players like Dahlhaus, Ablett and Narkle did bugger all for the team.
On another note, as I watched the Cats in the first half, I could not get over how often teammates seemed to get in each other's way and then be unable to recover as their direct opponents swooped on the loose ball and either converted a goal, or went prancing downfield with the footy.
Chief amongst the culprits was the bloke whose name I always have to look up – Kolodjashnij, who was like a tripping hazard for his teammates out there. He just could not get into the rhythm of the game and errors from him, particularly in the air, led to a couple of goals. In a low scoring game, how valuable are a couple of goals?
The Geelong defence is only as strong as its weakest link, and tonight Kolodjashnij was pretty brittle. Harry Taylor wasn't much better. If not for Tom Stewart, who just played the best finals game of his young career, things could have been much worse.
THE UGLY
HAWKINS
So, this is the All-Australian full forward, huh? Goalless for three consecutive games.
Ben Brown must have turned off his TV in disgust this evening and stormed off to eat some carrots or some crap like that, knowing that he was passed over for the AA spot again, this time for a bloke who kicked 0.4 and didn't look like it all night.
At the beginning of the fourth quarter, Hawkins was warming up and I remember thinking 'Geez, he looks pretty fresh'. Yeah, well there is a good reason he looked so fresh – because he did bugger all for three quarters prior to that moment.
Look, Hawkins is a very good player – I won't say great, because I actually don't think he is, or ever has been a genuine great of the game, but his inability to impact this game in any way is an indictment of the kind of player he's fast becoming.
Since the bye, Hawkins has averaged just 1.54 goals per game, and has been goalless four times in that stretch. If the Cats are to progress any further than next week, they are going to need more from Hawkins. He has spoken about how his game has grown, how he is more inclined to bring teammates into the game, and how he is part of a wider team where kicking goals himself doesn't matter.
Only, it does matter. His side was struggling to get on the scoreboard and Hawkins added four behinds. He's the All-Australian full forward… I reckon Ben Brown would've kicked at least one.
THE SELECTION MISTAKE
I'm sure it seemed like a good idea at the time, but the decision to play Sam Menegola over Rhys Stanley is mind-boggling in hindsight.
Look, I am adding this section after sleeping on it – Cats fans have every right to be pissed off with this mistake. This is not some movie where you screw around with what has worked and in an amazing turn of events, everything turns out great and Sam Menegola becomes the match winner. No, no, no… that sort of shit doesn't happen. Sam Menegola is not Keanu Reeves and there is no happy ending or the equivalent of a touchdown pass. This is not scripted, and the move of replacing one of the only blokes that's been able to match it with Brodie Grundy all season is one of the biggest pieces of idiocy you'll ever see at selection.
Back in Round One, Stanley had a pearler matched up against Grundy, matching the man who would go on to become the All-Australian ruck, but with rain perhaps…maybe…sort of forecast for some point today, Chris Scott decided that playing a ruckman was overrated, and opted to send the team of his best key defender, and a slowly developing forward at Grundy.
And Grundy feasted.
Matched up with Mark Blicavs and Esava Ratugolea, Grundy had his way in the ruck contests as well as around the ground. He had 21 touches, 47 hit outs as he rucked without a break, and seven clearances himself.
The man brought in to give the Cats more run and carry… well, he was able to contribute one possession in the first quarter as the Pies kicked away. He'd go on to add 15 more touches over the next three quarters, but did the Cats get what they wanted with this shrewd move at the selection table? If they did, you have to wonder what they were thinking.
Was it Chris Scott that championed this move? If not, whose idea was it, and who pushed it until the idea became a reality? Whoever drove this deserves to be held to account for it. Geelong allowed the best ruckman in the game to have carte blanche in the ruck contests and had it not been for the desperation of Dangerfield at the coal face, and Joel Selwood cracking in late in the second quarter, things could have got ugly real fast.
Stanley for Menegola is one of those decisions you'll be able to mention to Geelong fans and you'll be able to see the moment when their hearts break. Use it, enjoy it, and think of the old Mongrel when their face gets to the 'Wiggum' point .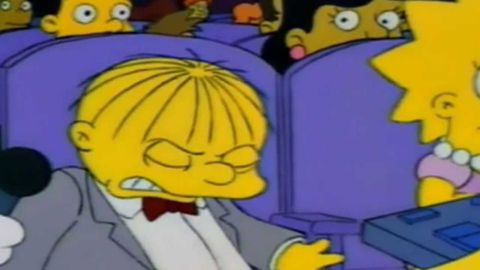 It'll happen as you use this line – "so… what happened to the rain on Friday night?"
QUICK BITS
So, can we talk about Gary Ablett a little bit? Is it not going to trigger anyone? Righto, he looked done tonight. He looked as though he was getting attention he did not want or need, and had just had enough. I really hope the final time we see Gaz is not on the end of straight-sets losses, but with the Eagles looming large, it's going to take a monumental effort from the Cats, and the Little Master to turn things around.
Cast your mind back just a few years – could you see a player like Brayden Maynard curtailing the influence of Ablett? No disrespect to Maynard; he did a wonderful job in this one, but we're talking about arguably the greatest player of the AFL era here in the form of Gaz. A few years back, Ablett would have led him a dance.
How were the boos for both Jaidyn Stephenson and Gary Ablett early on…
The pre-game injury to Jed Bews – it looked messy, didn't it? The bench looked like they didn't know what was going on, the umpires were ordering him back onto the ground and to full back to line up on Jamie Elliott, he was limping significantly, yet he somehow finished the game and looked better as the game went on.
Dangerfield was brilliant above his head in this one and I wonder whether Chris Scott thought about isolating him forward at any stage. Of course, he would have to rob the midfield of that drive and run the risk of being unable to get the ball forward with enough penetration to reach him…. Maybe Scott could clone Danger, like what happened to him when he was a kid, obviously. How else could he have coached both North Melbourne and Geelong simultaneously?
I was going to throw Taylor Adams into the mix in the 'good' section but he did give away two shots at goal in the first half with undisciplined acts. His clearance work was exceptional. He finished with nine for the game and was instrumental in getting the ball going the Magpies' way from stoppages around the ground.
Speaking of clearances, Brodie Grundy did as he pleased in the ruck, but also added seven individual clearances of his own.
Is Rupert Wills' headband made of electrical tape? Can someone at Collingwood check the maintenance cupboard. I reckon he's knocked a roll of it off. Has his pay cheque bounced or something? Get him a good headband.
How worried are Pies fans about the ongoing issues of Jordan de Goey? This hamstring awareness business… I have it every day. Believe me, I'm aware my hamstrings are there, and I know they're going to strain if I do anything too strenuous – at what stage do the Pies throw caution to the wind with him? I'd say he has to get through the prelim without any scares to play the Grand Final…
…assuming the Pies make it, of course.
I thought Tim Kelly's first half was pretty ordinary. He had ten touches but very little influence. He was pretty good in the last quarter, but the Cats really needed him to be a star in the first half, and he was a long way off it. Didn't like the hard ball early on.
Joel Selwood – long term readers know I love that bloke, but this was the first time I really noticed him not being clean with the footy. To double grab is un-Selwood-like, yet here we are in 2019, and I saw it happen with my own eyes. It made me sad.
Passengers – I mentioned the word at the start of this review, so it would be remiss of me to ignore it. Gary Rohan was a passenger. Jake Kolodjashnij was a passenger. Tom Hawkins was a passenger too. Luke Dahlhaus, Quinton Narkle and Sam Menegola all did their share of sitting in the passenger seat in this one. You can't win a final with a quarter of your team being carried. The Cats have a week to work it out, and the term "straight-sets" is going to be bandied around quite a bit over the next six days. Let's see how mentally resilient they are.
How are we enjoying the contact below the knees rule these days? Such a terrible interpretation, particularly when two incidents were adjudged differently within a quarter or so of footy. Consistency… please work on it.
If there was one worry for the Pies, I reckon it would be the final margin. There is no way the Cats should have been within ten points given the way the game was played. That felt like a ten goal win the Collingwood, yet with three minutes to go, the Cats were alive. When the Pies get a break in the prelim, irrespective of who they play, they need to put the foot on the throat immediately. No allowing teams to hang around. That has a habit of not ending well at times.
The game itself… well, it was a pretty tight contest and another low scoring affair between the two. It was never going to set the world on fire in terms of end-to-end action, but there was enough from stars like Danger and Pendles to keep the interest.
The Cats now go into a do-or-die clash with the Eagles. Remember around the half way mark of the year? People were starting to engrave Geelong's name on the cup. They're now looking a little shaky, whereas the Pies march into the prelim and get themselves another week off.