The Pies moved into the top four and placed the pressure on both Richmond and West Coast to win this weekend, with a solid, if unspectacular victory of the Bombers in front of a great crowd.
For the majority of the game, it seemed as though the Pies had some semblance of control, yet the score remained close throughout, with the Bombers hitting the front early in the last term. However, the Pies were able to rally and finish stronger on the back of some class by Scott Pendlebury, the hard work of Adam Treloar, Taylor Adams and Brodie Grundy, and some stellar small forward work by Jamie Elliott, who could have ended with a bag of goals.
Plenty of stories to come out of this one, with injuries to both Michael Hurley and just for a change, Darcy Moore sure to impact the run into September.
Here's The Mongrel's good, bad and ugly.
THE GOOD
THE POWER RUCKMAN
This bloke has dominated our Mongrel Player Power Rankings all season. He continually hits statistical triggers to retain the number one spot – something I did not think would be possible under this system. He has been number one in nine-straight rankings periods. I do not expect the tenth to be any different.
His performance this evening was a brilliant combination of power, hard work and class. His gut-running in particular was a huge standout to me, as he left tom Bellchambers looking like a statue at times as he took off and made contests that Big Belcho simply could not get near.
The way Grundy seemingly decided to take Bellchambers to the school of ruck in the first place was so brilliant. He just manhandled the returning Bomber to take possession of the ball cleanly three times, including twice in consecutive stoppages, resulting in a snap and miss.
But it's not just the running, ruckwork and quality disposal options from Grundy that make him such an excellent overall player – it is the second efforts. It is his willingness to get his hands, feet, face… who knows what other body parts he's willing to get dirty in order to help his teammates?
Many times you would have heard the media speaking about his dominance – almost as much as they talk about Pendlebury's basketball background, but Grundy's defensive work at stoppages is second to none. Whilst he only had three tackles to his name in this one, the fact he was often seen disrupting plays, or getting in the way as the opposition tried to will the ball forward speaks volumes about his commitment to the team and where the Pies are headed.
The speculation about him leaving will be rife with the temptation to go to a South Australian team pulling at him, but this game should be a definite sign to the Pies – pay the man what he wants and give him the five year deal he desires.
Grundy is currently 25 years old. A five year extension will take him into his very early 30s. For reference, that's how old Todd Goldstein is right now, and he is still playing excellent football. This bloke is THE player you build a team around – there are some that are more talented overall, but none in the ruck position.
MR CONSISTENCY
I wrote an article for our Patrons yesterday (I think) detailing the season Adam Treloar has had to this point. And if you joined the patron you may have read – if you haven't… well, I would appreciate if you supported us to produce more of this content.
Okay, my cheap plug is over.
Treloar has been a monster this season. Tonight was the 18th game out of 22 that he has topped 30 disposals. That is incredible. The details for other players who have had good 'big numbers' are in the Patron article, so I won't rehash them here, but check out how many of the other apparent locks in the AA selection have stats that pale in comparison to Treloar. For sheer ball accumulation, no one comes close. Jack Macrae is next best, but he is a mile behind in terms of 30+ possession games.
Treloar had 35 again tonight and just seems to get better and better as the night goes on. His tank would have to be huge – he gut runs all day and starts really hitting top gear as everyone else starts to fall away in the third quarter.
Whilst I don't think Treloar possesses the class of Pendlebury with the ball in hand, his ability to break lines and start the Collingwood machine rolling is incredibly valuable. He had six clearances and pumped the Pies inside 50 on eight occasions tonight in another high quality display of consistent, ball winning footy.
It's basically at the point now that it's when he doesn't hit 30 touches in a game that we start to worry what's going on.
And that is a great problem to have.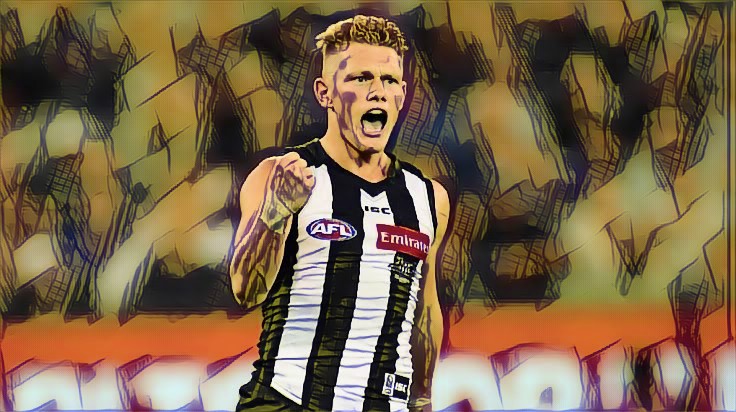 THE CLASS
How can we not talk about Pendlebury tonight? He had a signature Pendles moment – did you catch it?
It came about halfway through the last quarter when he gathered the ball at half back as teammates and opposition scrambled to cover the options up field. So many players would have pulled the trigger and hoped someone would run onto a long bomb inside 50. Others would think a handball to someone running past would be the best option.
Sorry to channel the Rock, but it doesn't matter what we think!
And do you know why it doesn't matter? Because try as we might to predict the right decision to make, Pendlebury rarely gets things wrong. In this instance at half back, he grabbed the ball, cocked the handball and waited. He then changed direction and again, had a little hesitation, just enough to get a little more time before hitting up Treloar with a perfect pass in the middle. The result saw a shot for goal from Jamie Elliott that missed, but the setup from half back from Pendlebury was exquisite.
He finished with 33 touches at 79% efficiency and I reckon the delivery he was giving to Brody Mihocek may mean the big fella owes him a bottle of wine this week.
Pendlebury is a class above most other mids. His poise and composure is just about the best in the league and he flat out refuses to be rushed by an opponent or by the situation. What a player he's been for the Pies over the journey.
Is it crazy to say he could have a claim on being the best Magpie of all after all is said and done? I mean, how many years does he have left? He is about to play game 300 and is still producing at a ridiculous level. Interested in your thoughts on his standing at Collingwood.
THAT IRISH BLOKE
Really nice game from Conor (with one 'N')McKenna in this one. He was back deep often, he beat his opponent in genuine one-on-ones, and his 35 touches was far and away the highest total of his career. A few knives have been out recently about his trip back to Ireland for his brother's wedding, or whatever happened, but when you have a player that can produce like that, I reckon you allow him a concession or two, especially given he is so far from home.
McKenna has increased his disposal average for each of the past five years, and really is on the verge of being an elite running back. His change of direction continually has opponents on the wrong foot, and he is one of the few players that is ALWAYS ready to take the game on.
Sure, sometimes he has to make up a solution quickly when he runs himself into trouble, but he has the potential to be a genuine game-breaker with his run and carry
LITTLE BIG MAN
Jamie Elliott probably should have ended up with a bag of five or six again tonight, but I guess he will happily settle for three and a Collingwood win – that's the important one.
But the aspect I think will go unnoticed was the impact he had on the running Essendon defender, Adam Saad.
Given the way Saad has played this season, and how Essendon have used his run and carry to tremendous effect, it was a little bewildering to see him plonked in the goal square against Elliott so often, particularly when you see how good Elliott is in the air.
Alas, Saad was back deep in defence attempting to disrupt the leads of one of the better marking small forwards in the game. It didn't go well.
Saad finished with just 12 touches and almost one hundred metres under his average amount gained for the Bombers. It was his second-lowest disposal total of the season, and Essendon would be wise to attempt to free him up at every opportunity in future. So much talk has been about Anthony McDonald-Tipungwuti and what he produces in wins, but not many have looked at Saad's better games creating wins for the Bombers.
When Saad has 20+ touches in a game this season, the Bombers are 5-0. When he is under that mark, they are 7-8. I know they've got Conor McKenna to run the ball where required, but the results show that it is Saad who provides the spark that lights the Essendon fire. Heading into finals, Worsfold could do a lot worse than to allow him the opportunity to get meaningful run out of defensive 50. Tonight, he was anchored to the goal square in case Elliott hurt them on a turnover.
And that, in and of itself, actually hurt the Bombers.
The other part of Elliott's game that needs to be addressed is his hands in marking contests. Looking at Saad contesting against him, you could basically concede that Elliott was going to take a couple of grabs opposed to him. Not sure I liked the perseverance from Worsfold with this matchup.
WALLA
Wow! Talk about a livewire. The repeated efforts of Anthony McDonald-Tipungwuti through the centre and on the wing in the last quarter were truly inspirational. With players down and others not playing, Walla was the heart and soul of this Essendon team tonight, and went pretty close to putting them on his back and carrying them over the line, kicking and screaming.
At the end of the first quarter, Tipungwuti had two goals and two direct goal assists to his name, as he created havoc inside the Bombers' forward 50. His running power, ability to anticipate where the ball is going, and his will to compete were a lethal combination that aided Essendon's springboard to a 19-point quarter time lead.
He finished the game with ten score involvements (the Bombers only had 15 in total) and looked like the only forward capable of breaking down the Magpie defence inside 50. McKernan had moments, and several of them were further up the ground, but AMT was solid all game, and refused to fall over in contests which would draw second and third players to him and open up opportunities for his teammates.
Watching him, he just looks out of shape, doesn't he? He's like a barrel – like Jack Steven, except that Walla has that solid weight behind him… some call it… muscle.
He is very difficult to bring down and knows how to lean into a tackle at the perfect angle to draw a free kick.  His run with the flight in the last quarter to disrupt Levi Greenwood was perfect defence, avoiding contact, yet bringing the ball to ground.
After games early in the season where he looked as though he was somewhat disinterested, to see Walla playing like this on the eve of finals is something I'm genuinely excited about.
COREY'S BRO
Don't worry… I would call Corey "Shaun's bro" as well.
Some really good hands on display from McKernan in this game as he took four contested grabs amongst his 12 marks for the day.
Though he picked up marks up at half back, which can kind of inflate stats here and there, McKernan's efforts seemed to be desperately required by the Bombers, and he bailed them out of trouble several times with those grabs at half back. With no Daniher and with Stringer out this week, the Dons needed McKernan to stand up, and he did as the most potent big forward for his team.
He was matched in the game by Brody Mihocek, who played well against a quality opponent in Paddy Ambrose, but for mine, McKernan's marking and contesting kept the Bombers in the hunt. His "I'm going to make amends" face after giving away 50 metres to Darcy Moore and ostensibly costing his team a goal was the kind of determination you want from a young bloke like that.
And he did redeem himself, very quickly with a brilliant goal on the curl from 50 out.
THE BAD
ALL SIZZLE, NO STEAK
Before I speak about this, I just want to add that I really liked the pressure Zach Merrett put on around contests in this game. He cracked in when he had to and made some very nice defensive plays as the game went on.
However… what is going on with his kicking? The more of the ball he got in this game, the less targets he seemed able to hit. His disposal efficiency for the game was just 46 percent, which is pretty poor, but made to look even worse when you factor in that 16 of his 26 touches were uncontested. He had the time and space – he just couldn't execute
Merrett will run all day, and though he isn't what I would term an elite kick of the ball, he really seemed to fall off a cliff in this game. He overshot kicks, under-kicked others, and went wide at times, forcing teammates to run an extra 25 metres to retrieve the footy when they were open and on the lead in the first place.
No one questions his ability to accumulate possessions, but the way he is disposing of it is giving those up field very little chance to win their contests, or at times compete at all. I've been a little critical at times of Dylan Shiel's disposal, and tonight did not renew any of my faith, but in the heat of September, I wonder how Merrett is going to perform? He looked as though he felt a fair amount of pressure in this game, and really, after the first quarter the heat was nowhere near what it'll be if these two teams lock horns in a couple of weeks' time.
Merrett was an All-Australian two seasons ago, but with disposals like he displayed tonight, he won't be back there this season – not even in the squad of 40.
AN UMPIRE'S GOAL
Want to know something I really hate about footy? There are not many things, so this is a big one for me.
Gifted goals.
I really cannot stand gifted goals, and the Pies got one tonight. When the play goes like this – Free kick at half back. 50 metre penalty. Free kick at full forward. Goal – that's called an umpire's goal.
The commentators made a bit of a big deal about it, but when Shaun McKernan was called for a hold at half back and had something to say to the umpire, the whistle blew and he was pinged for a 50m penalty. You can argue it was there all you like but McKernan did not seem to be overly demonstrative and there is a better way to go about this.
If you're the umpire, just ask a question – Are you talking to me?
No, no – not in the De Niro "Taxi Driver" style. Just a quick "Are you talking to me, Shaun?" would have been all that was required to defuse the situation. Of course, if McKernan is given the option of stating "Yeah, I was talking to you, dickhead," or "I was talking to myself" which one do you think he'll take?
It's basically giving the player a chance to retract something he's said in the heat of the moment. They're not robots. They're not emotionless automatons. They're people and at some points during the game… and this is an emotional game – things will boil over, players will get frustrated and they'll bark something out. It is up to the umpires to see this, ask the question and use some common sense.
TOO UNSELFISH
I've got a joke for you – which players were best at running the ball out of Essendon's defence?
Adam Saad?
Nope.
Conor McKenna?
Nope again?
Give up? It was Travis Varcoe.
Oh man, sign me up for a Netflix special, pronto!
I don't know what Trav Varcoe was thinking.
After stepping around an opponent and with both feet in the damn goal square, he elected a 20 metre kick backward to a teammate who was stationary. The kick was accurate…
… but about five metres too long, and rather than a snap from the goal square, we had the ball rebound away from the pies' goals.
Varcoe has flashed in and out of games all season, and this had the potential to be one of those moments where people looked at Varcoe and just thought 'wow'.
But instead, he got a "WTF is he doing?"
Unless he completely forgot which way he was kicking for a moment, the answer is showboating. He should have snapped that goal on his left from less than ten metres out. You do not mess around in front of goals. It's disrespectful.
THE UGLY
HURLEY AND MOORE
There are integral parts to every team, but you don't get much bigger than your elite key defenders, and tonight both teams lost one apiece.
Let's start with Darcy Moore. I'm writing this immediately following the game, so info is pretty scarce at the moment. There was nice icing up on the bench, nothing strapped to indicate there was a big issue, but he did not return to the game following a quick trip down to the rooms with the doctor.
A lot of people have been throwing around scenarios where Moore moves somewhere else in the off-season. I believe the Western Bulldogs were floated by someone as a possible destination for him, but with his injury history, and his injury present, why would you take the risk?
And then there was Hurley – those shoulders look like a huge issue. He had some good moments in this game, and with Cale Hooker out, a lot of the weight from tat defence sat on his bung shoulders.
Hurley was just returning from surgery on a shoulder when it seemed as though his arm got caught in a marking contest and pulled backward. He clutched at it immediately – he knew something was up.
For the Bombers to make some noise in September, they need their defensive pillars playing well. Hurley started great in the absence of Hooker, but if Hurley is sidelined, Essendon may not be able to break that 15 year finals-win drought.
QUICK BITS
It seemed as though Mitch Brown came in for some scrutiny by the hive mind on Channel Seven. A couple of times BT and Carey were lamenting Brown not gloving marks, but on both occasions the opponent had no eyes for the ball and attempted to spoil. Baffling.
Very unfortunate knock between Greenwood and Scharenberg that saw Scharenberg take no further part in the game. No talk between the fellas, and not only did it cost the Magpies a fit player, but the play also continued on to as McDonald-Tipungwuti goaled on the run.
At quarter time I had McDonald-Tipungwuti as the clear best on ground, followed by Grundy and then McKenna. Walla's presence was electric, and Grundy's stoppage work was derailing the Bombers' momentum. I hasten to add that without Grundy, I think the Bombers win this comfortably. Again, Collingwood… give this bloke the duration he wants.
A fair bit shown by John Noble in this one and it's the second consecutive week he has topped 20 disposals in a game.
A bit of a nice path for Roughead the younger (cousin) in this one, but his kicking from 50 looks rather awkward. If you're going to throw him forward, best get him some kicking practice.
A real hit and miss game for Andy McGrath tonight. Still getting plenty of it, but at times he is just missing targets too often. Sometimes, even in simple five metre handball scenarios, he is overshooting the mark by quite a margin. That's the kind of thing that costs teams. He has been pretty good in other games I've seen him. What's your verdict on him, Bomber fans?
Is it a worry for Essendon as to how completely Adam Saad can be taken out of a game?
Chris Mayne deserves more press for the really positive run he is now having at the Pies. Remember that first season there, when blokes like Adam La Porta were demanding he take less money given his performances? He was really under the pump back then, but he has worked through it brilliantly.
31 touches at 90% for Mayne in this one. Great knock.
Such a grey area in terms of when umpires pay marks and when they decide it's play on. I reckon there were two or three decisions tonight that looked like clear marks that were called play on, and then tomorrow, you can set your watch to the fact there'll be three or four non-marks that will be paid.
Tom Phillips still falls into the crap of hacking kicks forward. A couple of his efforts late in the piece were not all that beneficial to the Pies at all, and gave his forwards little chance.
I touched on Mihocek earlier, but he has been so good in multiple games for the Pies this year. He is basically a mark and kick man but he is doing good things with the frequency of no other Magpie player in front of goals. Tonight was his fifth bag of four goals this season.
I like Mason Redman every single time I see him. Great confidence in the young fella, and I continually wonder why he is without a contract for next year. He's an SA boy… surely he doesn't have that wanky homesickness, does he?
Speaking of that, do the Bombers expect Aaron Francis to re-sign? Personally, I think if he was going to sign, he would've by now.
And what of Walla? I think he'll remain a Bomber, but tonight may have added a few dollars onto that contract figure he's asking for.
It's been really quiet on the Fantasia front since all that talk about him wanting to go home mid-season. Yeah, it was a bit of a beat up, but where there's smoke…
So my takeaway from this is not all bad at all for the Bombers. They were beaten by a team that should have beaten them – Collingwood have been good this season, but they were in it up to their eyeballs all the way until the last couple of minutes. You could blame some inaccuracies from the Pies, but I just feel that with a few more classy ball users in the team, Essendon could really give the Pies some trouble if they run into each other in the next few weeks.
So, where do we head from here? The Pies now await the results of the Eagles and Tigers games to see where they sit in the finals fixture, whilst the Bombers will be either seventh or eighth depending on how the Dogs go against the Crows.
That'll do me, but before I go, I've been getting a few messages lately from disgruntled supporters accusing me of being biased against their team, or stating that I am being unfair to their team or players. Guys; I will always call things as I see them on this site – it is a point of difference I wanted to have I regard to the way we cover footy.
I don't want to sugar coat things and if it hurts your feelings that I may point out errors or some poor play, I'm sorry, but these are highly paid professional athletes I am commenting on who choose to play their sport in a public form. They are not locked away in a private facility because they are shy or need their privacy. They are playing in front of 80K people and they are deciding to match their best against the best of other athletes.
All we are doing here at The Mongrel is writing about what we see, floating ideas as to why it happened, and engaging with you about why you think it happened. We're discussing AFL in an open, honest way, without an agenda and without an axe to grind against anyone.
If you feel I am being biased against your team, you have the right to state it, or message me and let me know, but I am stating right here, right now that I have no agenda, and no malice toward any player or team. If honest assessments of games/individuals upsets you to the point you need to have a go at me, threaten me, and/or attempt to discredit me, I think it says a hell of a lot more about you than it does about me.
Cheers