Out of contract.
Putting contract talks on hold.
Deafening silence.
They're a recipe for disaster for the clubs who have a player with two of those three things apparent, yet that's where we find many clubs as season 2019 starts the transition from the home and away fixture into finals.
For many, the announcements will come in the few days, following the final round of the season. With their teams failing to make the finals, and the door will open for them to make their intentions clear. Some have not waited that long, their intentions to leave painfully obvious already.
For some, they will leave on great terms. Others… their current clubs won't like hearing what they have to say or the reasons for their request to be traded. Nonetheless, nine out of ten times, the player gets his way and a trade is worked out.
Whilst the big names have had ample column space allocated in every publication both online and in print, there are others that will be moving on and making impacts elsewhere and others again who will float the idea of leaving and end up right where they are now.
Let's have a look at some of the candidates to possibly find a new home in 2020. They're out of contract, aren't discussing things, and won't talk to the press about it…
.. which may be code for "I want out!"
HUGH GREENWOOD
Squeezed out of an Adelaide midfield rotation on the basis of the Crows having too many same-speed players. Best 22 in most teams, but fighting for his place against Crouch x 2, Sloane and Cam Ellis-Yolmen is a big ask. The Adelaide off-season will be a big one, particularly if they do not see September action. Greenwood could be an absolute steal for a rival team.
JAMIE ELLIOTT
Gave the footy world a reminder of what he is capable of with a big game against the Crows in Round 22, and without a contract for next season, has every reason to perform. When fit, the Pies forward line is packed with talent. Elliott is 27 (today, actually) and would not be the Pies' first priority in any forward set up where the big blokes are fit. Stephenson, de Goey, Thomas, Hoskin-Elliott, Mihocek and Cox, when fit, all get a look in going forward. Elliott will feel the squeeze.
AARON FRANCIS
Reportedly wants to head back to SA again (I believe he floated that as his preference at a point last year as well, only to be shut down). The Bombers see enormous potential in him, but if he sees himself elsewhere, perhaps the they could look to deal with the Crows for one of their want-away players. Hugh Greenwood would be handy as a bigger body in the guts, and can take a mark.
ANTHONY MCDONALD-TIPUNGWUTI
The Western Bulldogs are supposedly very interested, and having him at the feet of a big forward who actually gets on the park would be very interesting. Outside looking in stuff – I reckon he uses any interest he garners to negotiate a better deal with the Bombers. When on, he is Essendon's best forward, and his flashes of brilliance and forward 50 pressure should see a high value placed on his services.
MASON REDMAN
Surprise! I'm not picking on the Bombers here, I swear. I've got Redman in here due to his impact off the half back line this season, where his dash has been ultra-important. I fully expect Essendon to re-sign him, but if I were looking for a young half back with a big upside, I'd be making some enquiries. Im completely surprised he has not been locked away considering what hes been able to produce this season.
ED LANGDON
He's got one foot out the door, with Melbourne reportedly the front-runner to obtain his services. Why he'd want to go there, god only knows, but he would be adding some run to a kick-and-hope midfield. I'd be incredibly surprised if Freo do not try to gauge whether he'd like to head to Geelong. They have a nice player who could be part of a swap, with a pick involved as well.
BRAD HILL
Another runner about to set sail from Freo… who will their outside run come from next year? Apparently a 'Godfather' offer on the table for St Kilda, who would normally wait a few more years until a player's legs are shot to offer big money. Maybe they know something we don't?
JACK MARTIN
The Bombers dipped their toe in the water last off-season, but were up to their necks in the Dylan Shiel trade. This season, Dodoro and co. will be able to zero in on Martin, who looked as though he wasn't interested in playing at the Suns after the half-way point of the season. They won't be the only ones, and of this list, Martin is the one of the few definites to move on.
ADAM TOMLINSON
Basically linked to St Kilda every year, maybe this will be the year he finally makes it out of GWS? He's really been a square peg in a round hole in that team, and a fresh start may be just what the doctor ordered. Would be a great fit at Hawthorn, but with Patton already looking likely, and their focus also on Coniglio, Tomlinson will probably be at a different club.
JONATHON CEGLAR
Without a contract in front of him, anyone interested in Ceglar will have to trade for him, and at 28, has several good years left. Strong hands and very capable of playing forward, would make a handy marking target for teams lacking tall timber up forward.

 SAM FROST
The arrival of Steven May and the recovery of Jake Lever have put Frost on a bit of notice, and whilst he is athletic and quick, he is also a bit like a chook with his head cut off when he gets the ball. Think a much bigger Adam Saad, only with less direction and much poorer disposal. At 26, he would be handy for any club looking to bolster an ageing back six
TODD GOLDSTEIN
I'm hopeful he stays at North, but as an unrestricted free agent, he could sign wherever he wants. Though I don't think he's going anywhere, a chat with the western Bulldogs, giving Tim English time to fill out and providing them with an experienced head at stoppages, would be more than worthwhile.
KARL AMON
Has flagged a move back to Victoria and is in the midst of a career-best season. Nice timing, Karl. Better than his timing last year, when he basically did the same thing. It's been reported that both the Hawks and Saints are interested, but then again, they seem to be the go-to teams, along with Carlton for any players linked with a move back to Victoria at the moment.
PADDY RYDER
Despite assurances from Ken Hinkey about Ryder being at Port next year, it's pretty clear that the Power's ruck future lies with Ladhams and Lycett and if Ryder wants a full time gig as a ruck/forward, he'll have to looks elsewhere. GWS, Western Bulldogs and Essendon have all been thrown around as reported destinations.
ALEX KEATH
Remember earlier in the season when every man and his dog had Keath in their rolling All-Australian teams? The Mongrel remembers, and there has been no movement on his contract status all season. The Crows receive Tom Doedee back for 2020, so it's not a crippling loss, but they'll want value back, as he showed plenty before his injury. North, Carlton and St Kilda all made enquiries earlier in the year, but all has been quiet on the Keath front recently.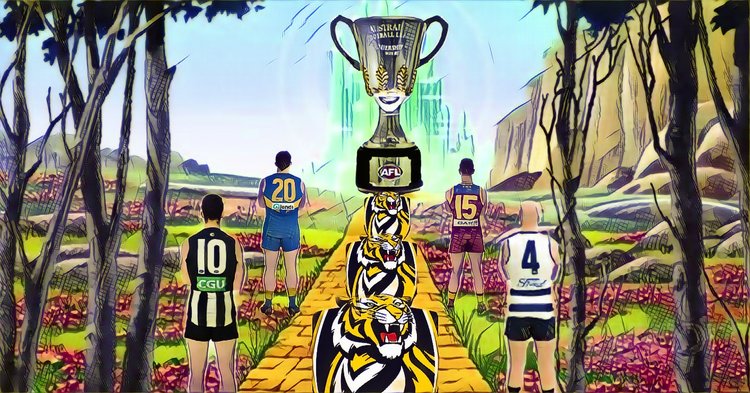 BRANDON ELLIS
Don't get grumpy at this assessment, Tiger fans – Ellis reminds me of someone who is serviceable in a very good team but will flounder in a team that's not so great. I guess we'll see, because he probably won't be in yellow and black next season. But where will he end up? I read a report he could be at Carlton next year. Look, I don't think losing Ellis will be a huge deal for the Tigers. He's a 'nice to have' but not a 'must have' for them.
BRENDON AH CHEE
This bloke is an interesting one. I've liked what I've seen from him when he's had the chance, but he is playing behind Darling, Kennedy, and now Oscar Allen in the forward line and then Jarrod Brander as he develops. Can't get a run there or in the midfield. Opportunity for him lies elsewhere. His brother is at Gold Coast, and they could really use a 25 year old with a few seasons under his belt and grown-man strength.
Add these blokes to the likes of Stephen Coniglio, Tim Kelly, Jonathon Patton, Josh Jenkins, Isaac Smith and Shaun Higgins who are all a possibility of being elsewhere, and you have one hell of an off-season upcoming.
Who have you got your eye on?