I write this with a touch of trepidation.
In the current climate, writing a negative article about a player is dangerous ground. With a larger percentage of AFL players taking time away from the game to deal with mental health issues, hatchet jobs don't exactly add anything positive.
That said, when critiquing a game or a sport, there has to be scope to look at a player, team, or performance and assess it critically. Even whilst being mindful of how aplayer, or the family of a player may react to an article, comment or belief expressed, there is still room for honesty and legitimate criticism.
And with that in mind… we begin.
There were several big moves in the 2018 off-season that seemed destined to reap rewards for the clubs receiving the big name players.
Dylan Shiel moved to Essendon, and despite some issues with his kicking, and kicking at goal in particular, the move has been a good one for all involved. He has added to the Bomber midfield, and the Giants have unleashed the Tim Taranto and Jacob Hopper combination into the middle more often where they is racking up big numbers.
Tom Lynch packed up and moved from Gold Coast to Richmond where he sits fifth in the race for the Coleman Medal, with 34 goals to his name, shaking off a couple of injury-plagues seasons.
And then there's Jared Polec, who moved from Port Adelaide to North Melbourne, and though his numbers are down on his career-best 2018 stats, he is providing good run and carry, as well as adding a dimension to North with his long kicking.
However, amid all the successful off-season moves, there is one that has fallen completely flat. The move of Mitch McGovern to Carlton has been a failure thus far, and just how poorly the former Adelaide Crow has fit in at Carlton has never been more apparent than this week, as he collected just five disposals, with one being effective, in their narrow loss to Melbourne.
Reportedly on over $600K per season, McGovern is averaging a paltry 8.1 disposals per game and concerningly, has just registered his second game of the season where he was unable to grab one mark. I'm not talking about taking one contested mark – I mean one mark in total.
This, from the man who was recruited as a marking forward.
I don't think it is a stretch to say that Carlton were one player away from winning their clash against the Demons. With Melbourne having three on the bench to start the last quarter, there may have been the feeling that they could overrun the Dees.
What they hadn't factored in is that they were ostensibly one player down for the entire game, themselves due to McGovern's inability to have any impact on any contest at all. Sometimes the criticism levelled at players is completely unjustified, but as McGovern continues to piece together a terrible season, more and more Carlton supporters are questioning him and his role in the team.
So what do we put this abhorrent form down to? Surely he isn't this bad a player? How did he pull the wool over the Blues' eyes if he is in fact just what we're seeing now and no more?
Let's take a look at some possible reasons.
PRE SEASON INJURY
Back injuries are not to be toyed with, and when reports trickled through in the pre-season that McGovern had cracked a vertebrae in a marking contest, there must have been a fair sense of panic at Ikon Park. Miraculously, McGovern was back in action by Round One and he should be applauded for not wanting to sit out and let down his new team.
Perhaps he's still playing hurt, or perhaps it is the effects of not having a complete pre-season, but he moves like a man who is not fit at the moment. He moves like me… and that is nothing to be proud of at all.
If he is carrying the remnants of that back injury and it is hampering him to the point he cannot perform, Carlton need to do the right thing by him, and he needs to do the right thing by himself by taking the appropriate time to get right. It's not as though the Blues are pressing for a finals berth. They can afford to put him in cotton wool and focus on 2020.
POOR DELIVERY
Some blame can be laid on the poor delivery from up the ground, but doesn't every forward experience that? I watched a couple of kicks hit the deck in front of him this afternoon (thanks Paddy Dow), and I felt for McGovern. What should have been easy chest marks were instead tough-to-handle half-volleys, and a turnover resulted.
That said, this is the AFL; you're expected to win your own ball when you don't get silver service, and McGovern was out of every contest today after a single effort. He turns like a container ship, and is easily lost in traffic.
As a matter of fact, I am not sure there is a player in the game that finds himself in between contests as much as McGovern. He may need some physio on his neck from watching he ball sail over his head and to the players twenty metres behind him.
Is this a sign that Carlton simply don't trust him to make a good contest? They're going to Levi Casboult more often for God's sake. That's saying something! Or is it more an indication that McGovern is leading to the wrong spots at the wrong times?
FITNESS
There are two key forwards who simply don't look in good enough shape to me. One is Cam McCarthy at Freo, and McGovern is the other.
Maybe he just has that McGovern look – let's face it, Jeremy is probably not going to win Mr Universe any time soon, and maybe Mitch has a bit of that about him too. He looks like he has bulked up a bit over the last 18 months, and in situations where he used to use his agility to win contests, he now appears too land-locked to make a contest. Once the ball hits the deck, he is all but redundant.
Fitness and desire create second and third efforts. One seems to be lacking here. i'm hopeful it's not two.
The thing is, McGovern is playing out games. He's not sitting on the bench for inordinate amounts of time, so his tank can't be too bad, can it?
THE WRONG ROLE
I have watched a bit of his work from when he played in Adelaide over the past couple of days, and what came across is that he was never the number one option for that team. Nor was he number two, three or even four. He was a spare parts player when he had his time in the forward line.
Don't believe me? Read on, my friend.
The Crows had Walker and Jenkins, Tom Lynch, Eddie Betts and at one point, Charlie Cameron roaming their forward l
ine. You could argue that in 2017, McGovern was the fifth or even sixth option, and was therefore getting the least capable defender each week.
Even with injuries tearing the Crows apart last season, he wasn't the number one option. It was Jenkins and Walker, always.
Now, thrust into a Carlton forward line where he has only one genuine option ahead of him – 22 year old Charlie Curnow. As a result, he is having a lot of attention paid to him. In the game against Melbourne, with Curnow out injured, he had to deal with Steven May.
And when I say he had to deal with May, I mean he had to be absolutely destroyed by him.
Usually when a defender beats a forward so comprehensively, I think about them for votes, but the sad fact is that I expect McGovern to be trounced by his opponent at the moment, so a performance by someone like May, which should probably be applauded, is quickly forgotten because McGovern is not offering a yelp regardless of who plays on him. At the moment it seems like an automatic win for the defender.
If the question is whether he is playing the wrong role at Carlton, the answer is yes, but only because it seems the right role for McGovern is to drift in and out of games with a lesser defender on him.
DID CARLTON, AND EVERYONE ELSE OVERRATE HIM?
It's a legitimate question, particularly given the facts about the Adelaide forward line listed above. Maybe he just isn't that good?
Never a high-disposal player, he's had 20 touches in a game just once. Known as a marking player, he has had 10+ marks in a game just once as well – that surprised me. As a goal kicker, he has had a bag of five once, and four three times. The most goals he has ever kicked in a season is 32 – that was his debut year. The next best is 20.
In contrast, Jeremy Finlayson has kicked five twice, and has amassed 20+ disposals five times. He currently has 29 goals this season. GWS were basically giving him away after last season, and his price tag would be several hundred-thousand dollars less to have him on the books. Isn't Stephen Silvagni in tight with the GWS boys? Hasn't he taken all their offcuts recently? Finally there is one worth taking and he somehow missed it?
Classic SOS.
On paper, the move of Mitch McGovern to Carlton looked like a winner. He was coming from a successful side and had a highlight tape that spoke of performing in big games and in big moments.
The reality has been vastly different.
He is averaging career-lows in disposals and marks. His pressure is at career-low standards as well, with 1.46 tackles per game, and he averages one contested mark about once every two games.
Were Carlton enamoured with a name? Did they actually know they were recruiting Adelaide's fifth or sixth best forward and paying him like a superstar when history tells us he was only capable of much less?
We have seven games left in 2019, and we are yet to see anything of substance from Mitch McGovern. At this point in time he is another lamentation of disgruntled Carlton fans searching desperately for something to celebrate.
He has to turn it around and show that the Blues made the right decision in recruiting him, or their investment may end up looking like one of the biggest busts since Brisbane took on Brendan Fevola.
Grab a Mongrel Bumper Sticker – click the image, grab a sticker and help spread the Mongrel word. We'd really appreciate it.
Look! Mongrel Punt Stubby Holders. Buy one and be cooler than all your friends! It also helps the site out.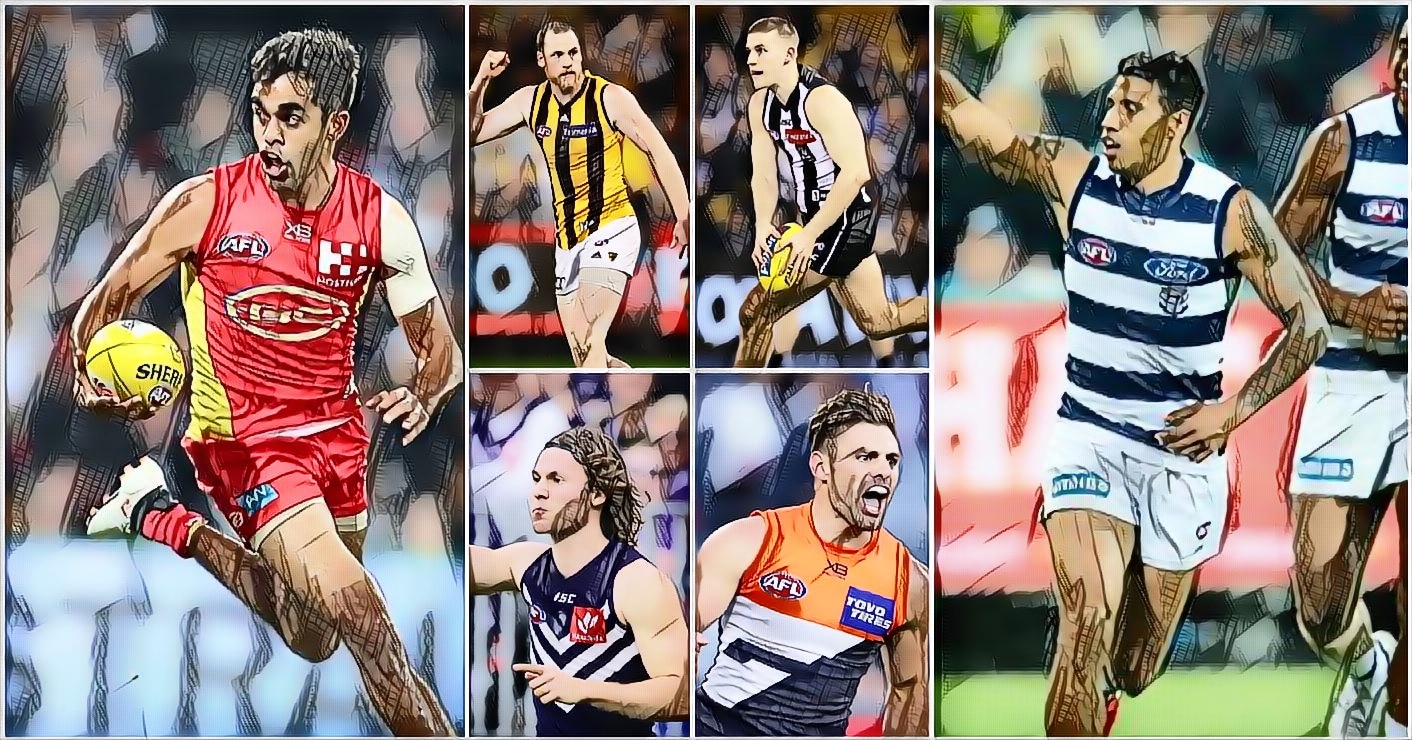 Who is on the block for trade? Check out The Mongrel's player movement guide/wild opinion column.
Want extra content? Want more Mongrel and the chance to have input into our site and what we cover? This is your avenue. What are you waiting for? Click the image and sign up.
Got anything to add? Make sure you hit us up on our social media, or give us a yell in the comments below. Oh, and if you'd like to support the site, you could always become a patron of the Mongrel.
If you want to give us a Like on Facebook or a Follow on Twitter, we'd really appreciate that as well.
And hey… if you'd like to support us, you could head over to our Mongrel Shop and purchase one of our hideously overpriced hoodies or notebooks. We even have a place for donations now.  ORRRRRR, get one of the more moderately priced stubby holders or bumper stickers. Keep The Mongrel alive.