I've been wanting to write about this for a while, but you know… life gets in the way.
And then we have the Jaidyn Stephenson matter bring gambling to the fore, and everyone is talking about gambling in footy, so at last, the time seems right.
The relationship between the sport we love and gambling has reached a critical point. I watched AFL360 on Wednesday night with interest, as the host, Gerard Whateley, and stand in sidekick, Mike Sheahan (who was so much better in the role than Mark Robinson) spoke at length about the misdeeds of the reigning AFL Rising Star and the punishment handed him.
And then we went to commercial. Lo and behold, there were ads for betting sites and apps. Not just one or two – for the duration of the show, betting ads were everywhere.
I tuned into SEN radio on the way to work, mainly to listen to Don Scott and Sam Newman join the breakfast show for an hour, but I kept listening as Whateley interviewed Nathan Buckley on the matter of his young charge's errors. Buckley was, as always, riveting listening as he detailed the response from the club and the culture of young blokes at clubland.
And there they were again – gambling ads.
I rolled into work, sent an email or two so people would know I'm alive, and started perusing the newspaper. Stephenson was all over the back page (and front page… but who looks at that?) as the newspaper lamented the decision making of the 20-year old. However, working from back-to-front, as most normal people read the paper, the first hint of pro-gambling came in the game preview for tonight's clash, where the team listings had the price for each team to win. Pretty inconspicuous, I thought, and as it was not the most prominent part of the preview, probably appropriate.
And then I turned a couple of pages.
A two page-spread about betting on the weekend's sport confronted me. Two full pages of odds, options for multis, tips and ads.
Gambling is bad…but here's how to do it!
The AFL's own app has gambling odds splashed right in the middle of the screen for tonight's preview of the Eagles and Bombers. They're also there for the Hawks v Swans tomorrow night and every other game this weekend. This is an app young people can access – it ingrains in their minds that gambling is part of sport, instead of being on the periphery, where it belongs.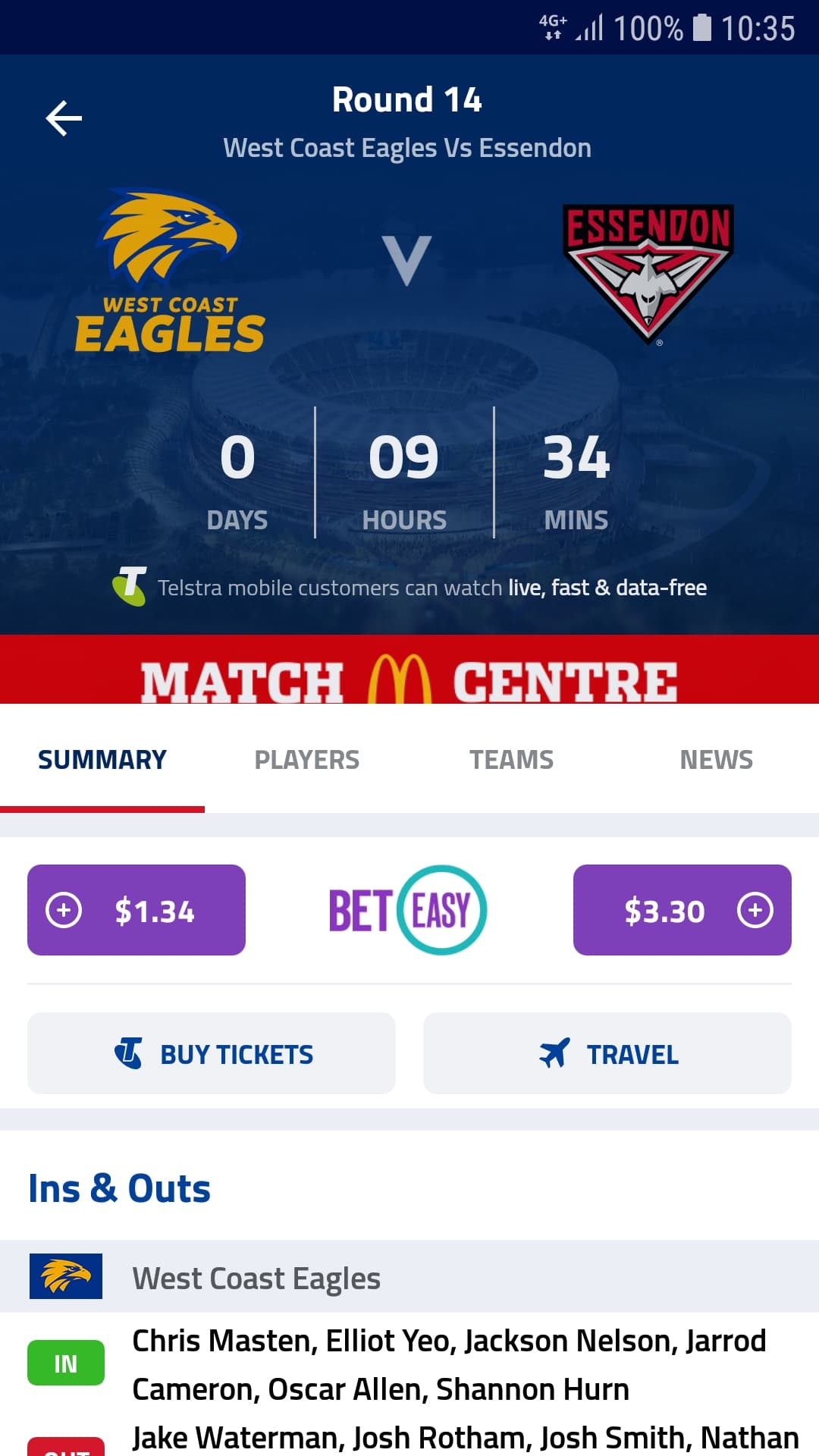 I'm very opposed to the marriage of gambling and sport, whilst at the same time aware that it is now part of the common sporting culture. We've got a lot to answer for in that regard.
The amount of people I know that either enhance or detract from their enjoyment of a game by placing one or multiple bets on any given game outweighs those who don't.
Personally, I don't make a habit out of betting on games, and I don't want to demonise those who do. It is a legal pastime, and I may have had a crack at a "most possessions" bet here or there in the past. People are free to enjoy it as they see fit. Just as they are free to enjoy smoking and drinking.
However, it is a shame that sporting organisations, and for the purpose of this article, let's focus on the AFL, are so willing to accept money from gambling agencies, despite the damage they cause to families and individuals being well-documented. They've drawn a line on the sand with alcohol and tobacco, but was that because they had to?
I work in an industry where the ramifications of drugs, alcohol, tobacco and gambling are acutely felt. I work with people whose problems are temporarily hidden by the euphoria of those vices, and are compounded in the long run. Maybe it's made me jaded, or maybe it's opened my eyes a little more to the problem the AFL is willingly contributing to.
Saying "gamble responsibly" after spruiking the product doesn't absolve you of moral responsibility. If the AFL will preach to us on a number of other reasons, wearing any number of their social justice hats, I find it hard to stomach that they can embrace this blight on the game due to the amount of coin it injects.
There was a time when the alcohol and tobacco products were part and parcel of the AFL/VFL. The Escort Cup? The Fosters Cup? Alcohol and ciggies were as much part of the footy culture as meat pies and elephants getting out of hand as they did a lap of the boundary.
But there comes a time when enough is enough, and it's about time that the league started looking outside the world of gambling to inject money into its coffers.
The Jaidyn Stephenson story is the tip of the iceberg. We've all heard rumours about players having gambling debts, about bikies showing up at training to send a message to a player who owed a lot of cash, and we've seen the stories of David Schwarz and Brendan Fevola, who had significant issues after being unable to "gamble responsibly".
No one likes moving away from a revenue stream. No one likes turning their back on potential money, but if the AFL are serious about being as moral as they appear to be, it is high time they moved away from gambling and put it back where it belongs, on the fringes of the sport, instead of part of the overall package.
If we can take the financial hit here at The Mongrel Punt, and reject the overtures of gambling sites to run ads on our little domain, surely the AFL can find additional sponsors to make up for the short-term shortfall they'll experience? My guess is there are hundreds of more reputable sponsors out there than the ones they're giving time, space and valuable promotion to.
Newspapers – same deal. Reporting on gambling as a societal-ill and running ads for them makes you hypocrites. Fox Footy – same deal. How can we take your opinion on gambling seriously when it is so imbedded in your business?
It takes courage to make a stand. Looking at the AFL landscape right now, who has the courage to make a stand against gambling companies? Is it the clubs, of whom several have moved away from from poker machine revenue?
Maybe.
Is it the players, who see stars of yesteryear with their faces plastered across betting ads, and a chance for more earnings after footy?
Unlikely.
What about the TV networks, who reap the big bucks from advertising during games and even as part of the coverage?
I don't expect a millimetre of movement from them.
Is it the AFL, with Gill McLachlan at the helm?
He's already been on SEN speaking about the benefits of having partnerships with gambling agencies in order to police things more closely. Yep, that's what it's about.
Or is it you and me?
Sadly, we're probably the only ones who will. And if we're the only ones arguing against the heavy involvement of gambling companies in footy, what do you think the chances are of anything happening?
I'd be betting against it.
If you'd like to support us staying ad-free, and rejecting the gambling companies, we'd really appreciate your support. For $4.50 per month you could become a patron of our site and get access to all additional long and short form content. And you'd have our thanks.
Got anything to add? Make sure you hit us up on our social media, or give us a yell in the comments below. Oh, and if you'd like to support the site, you could always become a patron of the Mongrel.
If you want to give us a Like on Facebook or a Follow on Twitter, we'd really appreciate that as well.
And hey… if you'd like to support us, you could head over to our Mongrel Shop and purchase one of our hideously overpriced hoodies or notebooks. We even have a place for donations now. ORRRRRR, get one of the more moderately priced stubby holders or bumper stickers. Keep The Mongrel alive.