Finally, a Friday night blockbuster, or so I thought. I was sick, drugged up, tired, sleep-deprived and could barely string a sentence together… which is generally par for the course for me, but damn I was looking forward to this one.
Looking at the 2019 version of the Tigers, this game loomed as the litmus test. Their wins prior to this game had come against 7th, 9th, 10th, 11th 15th, 16th and 18th. They needed this to make a statement that they could still put a good team to the sword, and the first quarter indicated that they still had the tools.
And then the Geelong machine started warming up. They punished Richmond for their wayward first quarter, slamming on 11 straight goals as they raised their game to a level Richmond simply couldn't match.
It was the Tigers' lowest ever score against the Cats at the 'G, and a late goal from Jason Castagna flattered the margin. In the end, it was the Cats by 67 points, but it felt like much, much more.
Geelong now firm as the premiership favourites as the Tigers are left to ponder just where their season is headed.
Here's the Mongrel's good, bad and ugly.
Whoa…. whoa…. wait up.
I'm glad I waited until the morning to publish this, because I would like to share with you a snippet of the text-conversation I had with a mate who is a little on the "special" side when it comes to football. So, he believes that the way Richmond lost last night is all part of a plan because last season they peaked too early.
I shit you not. I won't reveal his name, but his first name sounds a lot like Johnny, and his surname sounds a lot like Affa, and if you guessed his name is Johnny Affa, then there's a big chance you'd be right.
Affa – "You watched the game, right? They were nowhere near us in the first quarter. We knew we had them.
Me – "So you lost on purpose? And you kicked five goals for the game as part of a cunning plan? I see…"
Affa – "Yes. How many times did you see us go inside? We played the boundary, kicked to contests… very unrichmond-like. Delivery into the forward line three on one (Lynch). Small forwards were unseen. Six players under 11 games, we've got some talent. Naish was shite. Played like a junior, got the ball and just kicked it. We really miss Lambert through the middle and Jack up forward. We peaked too early last year."
Me – "These sound like the ramblings of a lunatic."
You see what I put up with? Yes they miss both Riewoldt and Lambert, but part of a cunning plan, huh? You think Mr Hardwick is sitting there on Thursday night with his missus and he goes "So, I've been thinking about tomorrow night, and I reckon if we can go out there and get absoutely toweled up on the ground we were unbeatable at last season… it'll be great. because, you know, we peaked too early last season"?
This is delusional stuff, and if you subscribe to this theory, I'd like to recommend you please give your doctor a call and speak through your issues. help is available. Johnny Affa, whilst it is true that in the land of the blind, the one-eyed man is king, some of us have two eyes, and we know what we saw last night. The last three quarters were not the anomaly. The first quarter was.
THE GOOD
THREE DIFFERENCE MAKERS
You know, I am charged with giving votes for this game for The Mongrel, and there is part of me that wants to reward both Gryan Miers and Esava Ratugolea for what they contributed to this win when the game was hot.
In the second quarter, it was Ratugolea's contested marking that gave the Cats a steadying presence. He finished with four for the game and was the most impressive player in the air for the entire game… which is quite amazing since he spent the last quarter and a half on the bench. His goal to open proceedings in the second got the ball going Geelong's way, and his shot from an acute angle later in the game was wonderful.
We'll get to best on ground soon enough, but I just wanted to give a tip of the hat to Ratugolea, as he was immense when it mattered.
Gryan Miers was talked up a fair bit during the broadcast, and rightfully so. He was a livewire up forward and just seems to have a knack of getting where the ball will be.
He finished with 21 touches and three goals, and probably could have had one or two more. His back to back majors in the second quarter built momentum that the Tigers could not combat.
Gary Rohan had eight touches for the game. He kicked one goal and laid two tackles. Pretty poor, right?
WRONG!
As the Cats turned the screws on the Tigers, Rohan was instrumental. He is the classic low-possession/high impact player, and this was never more evident than in the second quarter when he landed a thumping tackle on debutant, Patrick Naish which resulted in a free kick and perfect delivery to Hawkins 15 metres out from goal.
Rohan will once again be a victim of statistical analysis – sadly, it basically runs the game, but when the game was hot, he was fantastic, and that tackle… wow.
Some players go the course of the game, pick up stats and have nice numbers to reflect on. Others do little things in moments that turn the game on its head. Gary Rohan is one of the latter, and in a league that seems to value numbers over impact at times, he is a difference maker of the highest order.
DANGER ZONE
So, I thought he had a really sloppy first quarter, but then again, basically every Geelong player on the park except for perhaps Miers was relatively poor in the first stanza – hell, Mitch Duncan had close to the worst 13-disposal quarter I've ever seen.
But then, things started clicking for Danger and his relentless attack on the ball started reaping rewards. He finished with what will probably amount to the three-vote Brownlow game, and I'm finding it difficult not to follow suit with three votes in our Mongrel voting.
He was all over the place, finishing with 38 disposals, eight inside 50s, two direct goal assists and nine tackles. He went at the contest with aggression and even flew the flag for his team when the opportunity came to drop Jacob Townsend in a tackle.
Dangerfield had a blistering start to the year, but his overall season has probably been shaded a little by that of Tim Kelly, who was also good again here but did bolster his numbers with nine in the last quarter.
With the Cats at 11-1, is it possible that we could see both Danger and Kelly battling it out at the top of the Brownlow leader board after Round 12?
MR CONSISTENT
Remember when the Music Men sang their song about footy and there was a bit about Jason Dunstall? Lead out, chest mark, kick a goal…
Yeah, I don't blame you if you don't remember – it was the 90s.
They were basically saying that Dunstall did the same thing over and over again because it worked. Well, we are now in the midst of a four-goal per week barrage from Hawkins, who just topped that mark for the fifth consecutive week. And some of you mocked me when I tipped him for the Coleman… shame on you for booing a Mongrel!
The funny thing is, he was ultra-consistent last year as well, and at one point rattled off ten out of 11 games where he slotted 3+ goals. Geelong have more than a few avenues to goal. They have this little bald fella running around up there. They can throw Dangerfield forward to provide a matchup nightmare, but their best option remains the power man of the team, and the way he was able to both work in body-to-body situations, as well as push off and get space on the lead in this game emphasised his importance to that Geelong forward half.
But wait, there's more.
The steak knives in this deal are his goal assists. You see, not only does Tom Hawkins kick goals – he creates them for teammates. We saw his unselfishness earlier in the year, handing Jordan Clarke his first goal in footy, but we saw it again tonight, with his quick hands setting up both Miers and Duncan for goals.
Compare the pair – have a look at what Hawkins was able to do when faced with opportunity. He kicked at 80% accuracy. Now, scroll down and see what Tom Lynch delivered.
BRANDAN PARFITT AND CAM GUTHRIE
Not much was made of these blokes, but as defensive midfielders today, they were fantastic.
At quarter time, both Trent Cotchin and Dustin Martin were giving the cats a bit of a touch up in the middle (sounds slightly erotic, mainly because it is) and whichever Scott Brother didn't get fired decided he needed to make a move.
Martin and Cotchin had 20 disposals between them in the first. With Guthrie and Parfitt paying them some close attention, the pair had just nine combined touches in the second. Meanwhile, Parfitt and Guthrie started to compile nice little games for themselves as well.
Parfitt ended with eight clearances to lead the Cats, whilst Guthrie finished with 27 touches and six clearances of his own.
Combined, the Geelong pair finished with 46 touches and 14 clearances, pitted against 48 disposals and 12 clearances for the Tiger pair. If you can break even with that pair, you're doing well, and that's what two of the more unsung Cats did in this game.
THE USUAL SUSPECTS
I want to make sure I don't gloss over these blokes, as it is definitely not my intention.
Gary Ablett – just another ripping game from the Little Master. 24 touches as a half forward, two goals, three direct goal assists and nine score involvements. Basically, he's got the All-Australian forward pocket spot sewn up, and only something disastrous would see him replaced.
Luke Dahlhaus – Okay, in the Mongrel game chat, I floated the suggestion that he was the best recruit of the year in terms of coming in and fitting right in with what his new team needed immediately. I admit, I forgot about Lachie Neale at Brisbane. Anyway, whilst Dahlhaus had no goals to his name, he collected 24 touches, laid five tackles, and had seven score involvements.
Tom Stewart – That's All-Australian, tom Stewart to you, Mr Mongrel. Ah yes, and soon to be 2x All-Australian. Another 28 touches off half back to go with nine marks and 11 rebound 50 possessions to lead the game. Stewart is the obvious choice to be AA half back this season, and there is a part of me that thinks at some point there may be a tough choice between him and James Sicily.
Full disclosure – I'm a Hawthorn supporter… and I pick Tom Stewart. He's an undoubted star… and he seems less of a dick, too.
Tim Kelly – Another 32 touches and four clearances… and another week with no contract talk.
Rhys Stanley – At quarter time, the hit out count was 17-8 in favour of Ivan Soldo. He had laid a few right in the hands of his mids and, truth be told, was giving Stanley a nice little touch up. Credit to Stanley… the count ended up 33-33 so Stanley lifted his work rate after quarter time.
THE BAD
TOM LYNCH FAILS TO DELIVER
The signs were there early. Lynch was taking marks, and had a couple of shots at goal. Sadly, for him, he was unable to convert, and his inaccuracy was one of the most costly aspects of this loss.
The Tigers held the Cats goalless in the first quarter, but were unable to convert. Lynch missed two very gettable goals despite being on top of Blicavs, and then went missing for the next two quarters.
You know, I have warmed to Lynch in yellow and black. He was doing one thing for the club – marking and kicking goals, but tonight he finished with 1.2 and went at 17% accuracy at goal. What does that tell you? It means he missed the lot on four occasions as well.
Lynch's job is to kick goals. That's why he was recruited. That's what he's paid for. Shanking kicks, missing from 30 metres out, and failing to convert the hard work of others are the sort of results that cause mids to drop their heads and start looking for other options.
The way the commentators started talking up his performance in the third quarter made me sick. The game was gone by that stage and now they started yapping about "oh, he's been good"? No, he hadn't been good. He'd been poor because he'd failed to capitalise on the opportunities afforded him.
With Riewoldt still a while away, the Tigers need Lynch to convert. It's not as though he is capable of doing anything else at the moment. He had one tackle and went at 33% disposal efficiency. Not good enough.
THE UGLY
WORST ON GROUND – D RIOLI
Righto, so what is happening with this bloke? Let's completely disregard the junk time stats and concentrate on his first three quarters where he was a non-factor. His stat sheet will say he had it 13 times, but four of those came in one passage of play in the last quarter.
At three quarter time, Rioli had troubled the statisticians just six times. And what was worse is that the famous Rioli pressure was nowhere to be found either. He had plenty of mates amongst the Richmond small forwards, and you'll read more about them below, but in terms of sheer talent, Rioli is the standout. He looks like he is cruising at the moment, and with a relegation to the VFL already part of his 2019 season, I don't think it'll be long before we see him in the twos again.
He had two tackles for the game. The famous Rioli pressure? Maybe after next week's game he could go spend some time with Cyril and rediscover the art of forward pressure, because tonight he was horrible.
Remember when he was the "it" guy for the Tigers? Remember when Tiger fans were lauding his every action, every contest and every win? He's down in every major stat this season, and has returned just one game with 14+ disposals. What is more concerning is that he has dropped away by 1.5 tackles per game this season as well.
He was the poster boy for the future Richmond dynasty at one stage, but based on his 2019 season, that future is now looking a little bleaker.
RIOLI'S MATES UP FORWARD
So we gave Rioli his own whack, but as I said, he had plenty of mates.
Again, I'm not concerned with what happened after three quarter time. It was junk time.
Jason Castagna was able to accrue stats of 11 disposals, but his only contribution on the scoreboard came in the last 90 seconds.
Dan Butler had the worst turnover of the night, resulting in a goal to Patrick Dangerfield. Unlike every other Tiger small on the ground, he applied himself defensively to end up with a game-high 11 tackles, but he had just seven disposals and hit the target with just three of them.
Liam Baker has been good this season. Tonight, he was not. 13 touches at 46% efficiency. He finished with five tackles but had just one in the first half when the pressure was on.
Jack Higgins might be the most disappointing second year player outside Ben Ronke. 14 touches and two tackles for the game. Whilst his overall numbers are up slightly on his rookie year, I think it would be fair to say that his development has stagnated this season. No smiles, no jokes… he doesn't appear to be having a lot of fun this season.
The Richmond forward set up was built on pressure. Its foundations were steeped in a manic attack on the man and ball, but what we saw in this game was a set of small forwards wanting the easy kicks, and to be on the end of the hard work of others. Dan Butler tried, but was let down by his disposal, and inability to get his hands on the pill. The others… they were just let downs in general.
GOAL REVIEW WRONG AGAIN
So, can we all agree there's a massive problem here?
Good. But what is the massive problem? Is it that we have a system that does not work? Is it that the review system is too rushed because they don't want these long, drawn out reviews? Or is it that they're using cameras and equipment to review decisions that is just not good enough?
The answer is – all of the above.
The AFL are a professional sporting organisation, but you wouldn't know it by watching errors of this magnitude when it comes to one of the most important parts of the game. Jack Higgins kicked a goal, and somehow, the goal umpire thought it may have hit the post. The camera angles were inconclusive and so, the behind was awarded.
But no… there was another angle of the incident, and after it was floated that Higgins had indeed kicked the ball from the grassy knoll, the ball did not bounce back and to the left off the goal post, as the reviewers initially believed. I know they're poor JFK references, but someone should be shot over this kind of screw up.
Guys in the review truck, or room or whatever you're in… take your time – it's not sex!
Watch all the available footage… watch it a couple of times and don't jump the gun.
AFL – get off the reviewers' backs and make sure they have the adequate amount of time to view all footage. And while we're at it, invest in some goal line technology that actually allows the reviewers to get a clear picture rather than this grainy garbage they're confronted with. Wasn't there some crap called AFL Edge that was floating about earlier in the season? Where's that gone?
This was probably the biggest Friday night game of the season to date, and sadly, again… the conversation will focus on how crap the score review system is. I feel for the blokes having to use footage that looks like it was shot with my old Nokia. If you can't do it properly – don't do it at all.
QUICK BITS
When I get to this part and still haven't mentioned one of my all-time favourite players, Joel Selwood, and the Cats have won by 10+ goals, something must be going right. I love that Selwood is being preserved this season. He's still cracking in, and was probably really stiff not to get a couple of high free kicks, but he is just doing what needs to be done now, and doesn't have to kill himself to get the cats over the line – that may come later in the season.
Some positives for Richmond?
Maybe Naish's first goal in footy. Kamdyn McIntosh's job on Selwood, and how clean he was in the first quarter. Dion Prestia's continued climb to the top of the Richmond midfield tree. It's pretty sparse in the way of positives, which is very un-Richmond like
One part of having Richo on commentary I really enjoy is when he butchers the English language. Loved him calling Geelong "ominous" at one stage. Always makes me smile, and I like to think he is doing it on purpose because he just sounds like a ripper bloke.
Really iffy free kick to Caddy for a hold in the third quarter as Tom Stewart marked. I reckon the ensuing miss was a bit of poetic justice.
The work of tom Hawkins at ruck stoppages inside forward 50 has been excellent all year. Do you think at some point opposition players will become aware that he really wants to take it out of the ruck every single time? The amo
unt of times he's been able to create something for his team in those instances this season has been startling.
I haven't watched every Geelong game (I reckon I've missed three) but the regularity of Hawkins snatching the ball from the ruck and either dishing to a player in a scoring position, or having a ping himself has to be on their radar, right?
I've neglected to give much love to Mitch Duncan in this column because I really did not like his first quarter at all. 13 touches, but he was so wasteful. Obviously he got better after quarter time, because, let's face it, he couldn't get any worse.
Bachar Houli worked into the game nicely as the night went on, but credit to the Geelong forwards who made it really difficult for him and Nick Vlastuin to work into space and intercept with the regularity they usually do. Houli still finished with 11, but they weren't as telling as they usually are.
A couple of side notes… Mrs Mongrel reckons that Eddie McGuire looks a bit like Blinky Bill when he looks directly at the camera.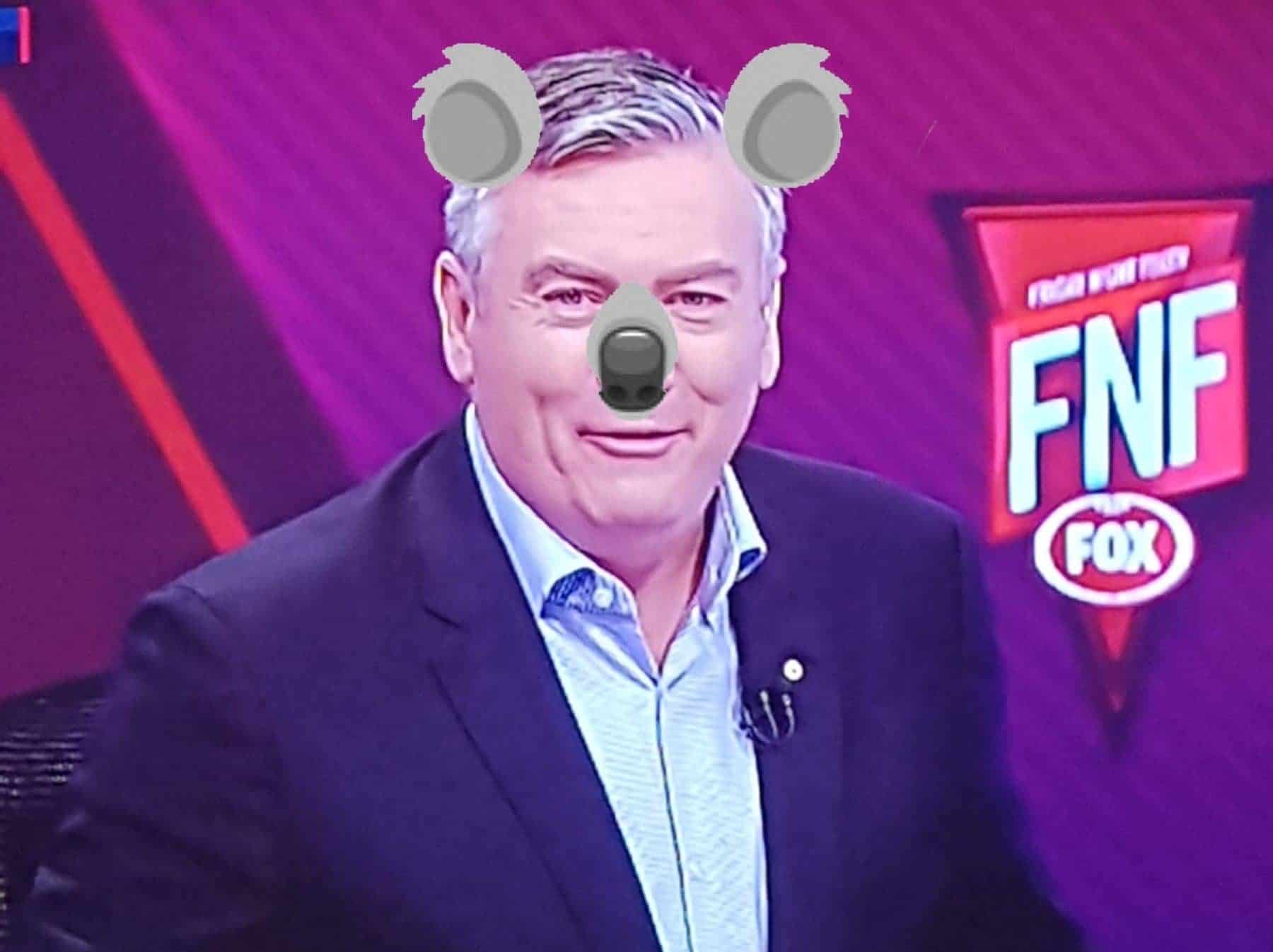 And she also thinks that Jordan Clark, with his hair a little messy, makes him look like Rizzo from Grease. I reckon she's stretching on that one. If only Kenicky were still around to compare them.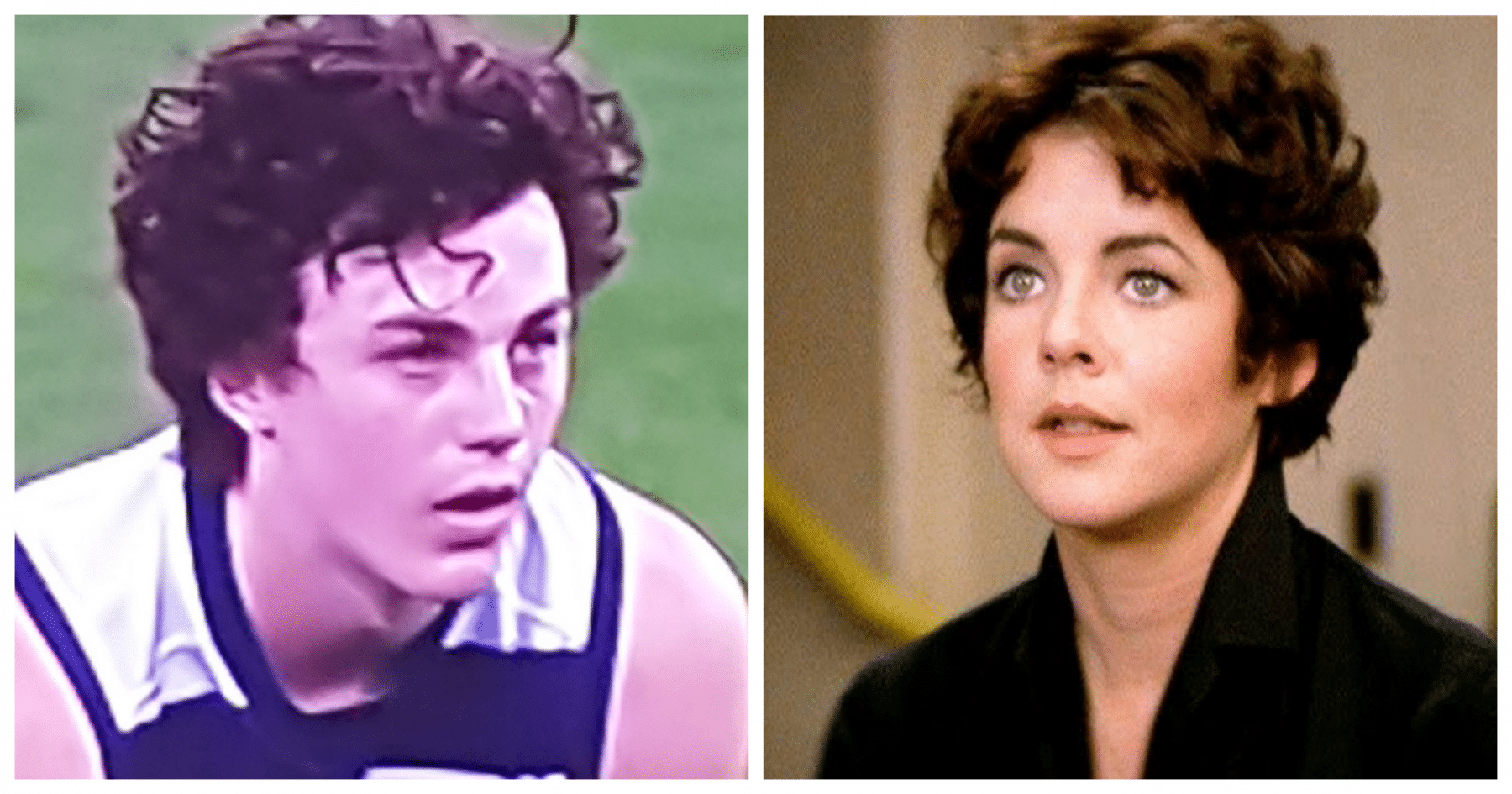 So, where to next?
The Tigers get another Friday night belter against the Crows, which depending on how Adelaide go this weekend, could turn out to be one of those eight point games we always hear about.
The Cats get the week off, and will return to face Port Adelaide on the road in Round 14.
Make no mistake – this was a huge result. I really felt like the Tigers needed to make a stand in this, but it was Geelong that absorbed and fired back. Do you think we found out more about Geelong, or Richmond tonight?
Got anything to add? Make sure you hit us up on our social media, or give us a yell in the comments below. Oh, and if you'd like to support the site, you could always become a patron of the Mongrel.
If you want to give us a Like on Facebook or a Follow on Twitter, we'd really appreciate that as well.
And hey… if you'd like to support us, you could head over to our Mongrel Shop and purchase one of our hideously overpriced hoodies or notebooks. We even have a place for donations now. ORRRRRR, get one of the more moderately priced stubby holders or bumper stickers. Keep The Mongrel alive.