With the exception of those of us smart enough to have voted at a pre-polling booth, and those weirdos who do a postal vote (Seriously? If you're under 80, you come off as creepy by doing this), you're forced to head out and perform your democratic duties on Saturday and vote for our new overlords until we do it all over again, probably in a few weeks' time.
Unless of course, you're under 18, and if you're spending your free time reading an article on football-related politics, when you could be out……listening to hit young bands like the B-52s or Kenny Rogers or something instead, this seems a tremendous waste of time.
Most clubs have by now used their healthy influence and appeal to their thousands of supporters nationwide, to lock in funding agreements with at least someone. If they haven't, quite frankly, it's an indictment on your club's power brokers. Unsure on who to vote for? Ashamed of how poor your dick drawing skills have become in your old age, and might just fill out the ballot instead? Your old friend, The Mongrel has you covered for who you owe a favour to:
FUNDING LOCKED IN TO THE BUDGET:
Brisbane – The new facility known, creatively as 'The Facility' has finally received a Federal Government commitment in January this year, after the Queensland Government pledged its support subject to being matched by the Feds, after the Abbott Government pulled previously allocated funding. The Facility will be a 10,000 capacity stadium for the purpose of hosting AFLW matches, with state of the art training facilities provided for both the men's and women's teams. $18 million from the Springfield Land Corporation, $12 million from Ipswich City Council, Brisbane Lions and the AFL contributing the remaining $10 million with a view to a first game being played at the stadium in 2021.
The Federal member for Oxley is called Milton Dick, who is also the brother of the state Infrastructure and Planning minister. That is all. Milton Dick, everyone.
Carlton – The Blues were able to obtain $20 million from the Victorian State Government prior to the election, contingent upon the Federal Government providing a further $15 million towards the upgrade of Ikon Park, establishing it as the home of AFLW. The upgrades will include a women's coaching education hub, upgraded match day facilities as well as a women's sports injury prevention center.
Richmond – Have secured funds from the Morrison Government in the latest Federal Budget confirming a $15 million commitment to the building of the William Cooper Centre, designed to bring together sport, culture and diversity under the one roof, with a flow on of funding towards the Bachar Houli Academy. The Tigers are still seeking further contributions from the State Government to contribute towards the $60 million outlay required on the new facilities.
FUNDING SUPPORTED BY BOTH SIDES IN THEORY:
Adelaide – The Crows have secured a commitment of $15 million dollars from both sides of the fence – namely from retiring MPs Kate Ellis and Chris Pyne to go towards a $60 million state-of-the-art training and administration facility in North Adelaide, as well as a further $6 million for the SANFL's redevelopment plans for Thebarton Oval.
Collingwood – Have secured a commitment from both parties of $15 million towards a $70 million project in conjunction with Monash University towards a sports and medical research hub being built at the Olympic Park precinct. The centre will also provide support to netball, swimming, wheelchair AFL and feature a rehab gym.
FUNDING SUPPORTED BY LABOR ONLY:
Essendon – Have received a $4 million contribution commitment from Labor towards the second phase of The Hangar, Essendon President Lindsay Tanner having, of course, served as Finance Minister in the Rudd Government. This money will go towards supporting the expansion of disability sporting programs and facilities at The Hangar. To time of publication, the Federal Government have not provided a matching contribution commitment, which just goes to show that you can be a reprehensible human being capable locking up children in offshore processing, but can still draw the line at systemic AOD-9604 use, I guess?
Geelong – Have received a $20 million commitment from Federal Labor to assist with the final stage of the redevelopment of GMHBA Stadium just this afternoon, not only causing a rewrite of this article, but a genuine "What the fuck?" reaction as the marginal seats of the area continue to receive unprecedented levels of pork barrelling from all levels of government – having previously secured $102 million from the Andrews Government late last year, lifting the capacity of the stadium to 40,000.
Gold Coast Suns – Have this week received a commitment from Federal Labor of $1 million towards new womens' change rooms being built at the Suns' training and administration base, the Austworld Centre, with a further $500k being provided from the Palazczuk Labor Government.
Hawthorn – Will receive $20 million in federal government funding if Labor is elected towards the new Dingley facility. The new site would be geared towards community use, gender equal facilities, education spaces and a regional home for non-profit groups such as Deadly Choices and headspace. The Kennedy Community Centre (named after TV legend and former host of Australia's Funniest Home Videos, Graham Kennedy) will contain two ovals, an indoor stadium and facilities for wheelchair football. Surely a former Liberal Premier for a President can convince strings to be pulled in Canberra if Scott Morrison and co are given another term?
Port Adelaide – Have obtained a $5 million dollar commitment from the Labor Government to fund the establishment of the Aboriginal Centre of Excellence, helping to close the gap for Indigenous youth and providing a facility for students to reach their full potential residing either full time or in short stays at the Centre while attending school, with additional programs focused on culture and identity, resilience, wellbeing, health and fitness
FUNDING SUPPORTED BY THE COALITION ONLY:
Sydney – The Swans have received a commitment from the Federal Government of the default figure of $15 million towards a new high-performance home in the Eastern suburbs of Sydney for women's sport in NSW and the club's eventual entry into the AFLW. That this development will be built in the muchly marginal seat of Wentworth does not appear cynical at all.
RECENT FUNDING RECEIVED AT STATE LEVEL AND NOT MUCH ELSE:
GWS Giants – Have received $400k over 4 years from the NSW Liberals and Nationals Government for a new community program named after Stephen Coniglio, encouraging eating a healthy breakfast in the morning, learning about Australian culture, the importance of a healthy and active lifestyle and how restricted free agency works. Currently the ACT government are negotiating a new deal locking in the Giants playing 3 games a year in Canberra until 2031.
Melbourne – Received $5 million from the Andrews Labor Government towards upgrades to Casey Fields' female amenities. Talks continue with the State Government towards building a new headquarters above Jolimont Station, including the provision for a new football oval to be built in Yarra Park.
Western Bulldogs – Having received a $38.5 million boost to developing their home away from home in Ballarat, Mars Stadium. The Bulldogs have so far been able to attract any Federal Government money to fund their proposed move to bring back the Whitten Oval as a boutique AFL stadium hosting games against expansion clubs, despite boasting such political heavyweights as former Prime Minister, Julia Gillard, and former star Palmer United Party senate candidate Doug Hawkins as club backers.
YOUR CLUB HAS RECEIVED SFA:
North Melbourne – The North Melbourne Football Club continue to lobby for funding from all levels of government, the AFL, passers-by or the one family that makes up their entire membership base, either towards the expansion of facilities at the new North Melbourne Recreation Centre, or even just paying the bill for the rendering of this image, showing players from the hit Playstation game, AFL Live 2004 being forced to stretch in full exposure to all elements of Melbourne weather, whilst someone recklessly runs up a power bill inside. Approximately $9 million has been sought after for new oval lighting and scoreboards. To date of publication, no funding arrangement has been obtained.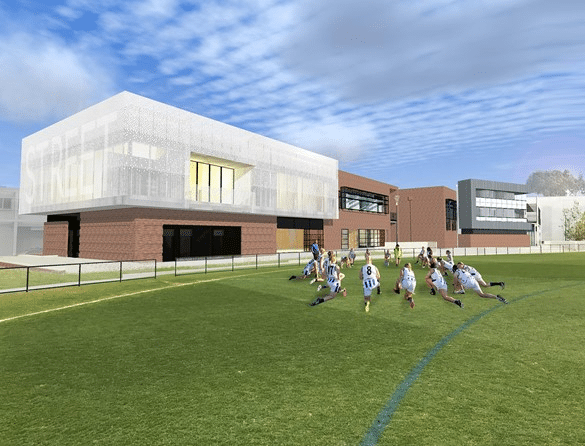 Perf sides – Not a Mongrel article goes by without at least one Western Australian wanting to publicly entertain their inferiority or persecution complex, and point out that Big Victorian Football Writing have been unfair to them, overlooked them, underestimated them, been biased against them, or something. I zone out pretty quickly.
Nonetheless, after the State Government have finally seen their $1 billion investment in Optus Stadium finally bear fruit, and with all but one WA federal seat considered safe and unlikely to change hands, no formal funding allocations or policies specifically relating to the Dockers or Eagles have been provided by either major party.
Tasmania – Tasmanian Football has been boosted by an announcement from Opposition Leader, Bill Shorten of a promise of $25 million towards a feasibility study on whether the Apple Isle can proudly boast a sustainable AFL team one day. This would hopefully be matched with a further $25 million dollar feasibility study into just what the fuck you can spend just $25 million on here that any ardent supporter of the code can tell you for free. I'm more than happy to take $250,000 to sit around the house, hitting a bucket bong, playing AFL 99 for a few months, and coming up with a Terry Wallace level Powerpoint presentation to let the league heavyweights know that Craig Callaghan was nigh-on unbeatable in this game, and not much else, and it would still be a far better use of money and time. Just get it done.
In conclusion, kids, it's a safe bet that your tax dollars will go towards funding a club that you don't like very much. It's also quite likely that despite the plenty of buzzwords about who can potentially use the facility – the community, marginalized demographics, but probably won't. A lot of money will also go towards medical science in women's sport, that will tell us that major footwear manufacturers spend bugger all on footwear for women to wear specifically for the purpose of football, and increase the risk of women blowing out an ACL mid-match, as has happened far too often this year.
Vote wisely and get the democracy sausage out the way early.
If you want to give us a Like on Facebook or a Follow on Twitter, we'd really appreciate that as well.
And hey… if you'd like to support us, you could head over to our Mongrel Shop and purchase one of our hideously overpriced hoodies or notebooks. We even have a place for donations now. ORRRRRR, get one of the more moderately priced stubby holders or bumper stickers. Keep The Mongrel alive.