The Saints jumped out of the gates, and by the time the Bombers got going, it was too late.
In a big boil over, the Saints moved to 2-0 and Essendon crashed to the exact start that will have many questioning whether the hype surrounding those formerly from Windy Hill have the guts, and ability to pull themselves out of the hole they've dug.
And whilst they may have dug that hole, St Kilda dumped a bulldozer of soil on them as they tried to climb 'out today. Credit where it's due – this isnt about Essendon being bad. This is about St Kilda making them look bad!
Alan Richardson wasn't smiling too much in the box after the game (my missus calls him "sad coach"), and really, the margin should have been a lot larger than it was. The Saints kicked 10.16 but were wasteful in the first quarter when they had nine shots to the Bombers' two, and had their opponents in complete disarray. They were a six-seven goal better side on the day.
Here's the highlights in our good, bad and ugly.
THE GOOD
JADE GRESHAM
I have to admit, when I saw Gresham lining up in the middle, I was a little doubtful that this was going to be his best position.
I'm now ready to admit I was wrong. Actually, I was ready about half way through the first quarter, when it seemed that every time he touched the ball, he made something happen.
Gresham is supremely skilled, well-balanced and had thighs like bloody tree trunks. He doesn't lose his feet in contests, and is always looking for the best option when he gets his hands on the pill.
Whilst the stats say he went at just 64% efficiency, I reckon you can forget that noise. What he is able to create when he gets the ball far outweighs him missing the occasional target, and the fact that he doesn't just bang the ball on his boot to get cheap "metres gained" stats indicates that he is looking for options all the time, whether they be forward or sideways to open the game up.
Add to that the fact that he was still able to be very effective around goal, with two goals and two goal assists, and you have the perfect player to run hard from the guts deep into the forward line.
Three votes, J Gresham – mark it down.
THE MATTHEW PARKER HIT
You just don't see this kind of stuff too often anymore. Matt Parker is a young gun, looking to establish his place in the St Kilda side. You really don't want to stand in his way of achieving that goal, do you?
Ask Andrew McGrath.
In fairness, McGrath got a terrible handball from Zach Merrett, and had to commit to it. He took it at full pace, and coming the other way was Matt Parker. The second gamer dipped his shoulder and put McGrath down, and he took a long time to get up.
It wasn't high. It wasn't illegal. It was a good, old-fashioned bump, and it knocked the absolute stuffing out of McGrath to the point he had to go off.
Am I condoning violence? HELL YES! As long as it is within the rules of the game, I love it, and Matt Parker made a huge statement today that he is not just some guy that's going to wandering to the St Kilda team and not take his chances. He is playing for keeps, as were the Saints.
Great hit.
HURLEY V BRUCE
It's not often we see many true one-on-one defensive tussles these days, but we got one today, and for me, it was the highlight of the game.
Hurley and Bruce engaged in a great back and forth contest all game. Hurley got plenty of the kind of ball he usually gets – the kick across ground where he is loose and looking to change position – but he had no such luck contending with Bruce, who commanded every bit of his attention when the long ball came into 50.
The one occasion early in the piece when Hurley decided to sag off Bruce saw the St Kilda forward swoop on a loose ball, turn onto his left foot and kick a goal, sailing the ball over the head of the zoned-off Hurley.
For the rest of the game, Hurley and Bruce waged war both in the air and on the deck, with Bruce taking the points with a knockout punch late in the game. After spilling a diving mark in front of Hurley, Bruce's second effort to gather the ball whilst on the ground and fire out a handball set up Jade Gresham for the game-sealing goal.
It was fantastic reward for effort for Bruce, and a great indication of what he means to the St Kilda structure. Every time the mids look for Brice, you can tell you're going to get a 100% commitment to the contest from him. It was an aspect that was sorely missing from their side in 2018.
THE CAPTAIN'S EFFORT
There was a moment that kind of made me sick in the third quarter, when Dyson Heppell took a handball from Mark Baguley and snapped a goal.
"A captain's goal!" barked one of the commentators. Yeah, it was a nice snap – I'll give you that.
Then in the fourth quarter, Heppell took a nice mark running with the flight of the ball inside forward 50. Again the commentators waxed lyrical about leadership and how the players should follow Heppell as he was setting the example. He went on to miss the goal badly, but that's not the point.
The point I want to make is that during the third term, there was another instance where leadership was on display. You had the two captains in a one-on-one duel running inside the Bomber forward 50. Jarryn Geary v Dyson Heppell. The ball coming in was a true chaos ball, floating through the air to the advantage of nobody.
But Geary made that ball his.
With the game tightening up, and the pressure increasing, Geary took a great one-grab contested mark with the Essendon captain as his direct opponent. The unsung St Kilda captain beat the lauded Essendon captain hands down, but where were the gushing praises from Brad Johnson and Paul Roos? Where were the plaudits for the effort of Geary in demonstrating guts, timing and leadership? Where were the endorsements of his captaincy?
Jarryn Geary is the most unheralded captain in the AFL, to the point I reckon that the commentators didn't even realise how big a moment that was. That was the St Kilda captain standing up when his time came. That was someone who leads by example doing what earns him the respect of his players.
That, my friends, was leadership.
THE EMERGENCE OF ROWAN MARSHALL
You could be forgiven for looking at the hit out stats and thinking that Tom Bellchambers had his way in the ruck this afternoon, and you might be right unless you broaden your gaze a little.
I watched Lewis Pearce perform throughout the JLT series and last week again
st the Suns, and all I could think was "Where's Rowan Marshall?"
Found him!
Whilst this was by no means a dominant performance, Marshall bobbed up for a game-high seven clearance, at times roving to the ruckwork of Bellchambers, and added 13 contested touches and eight tackles. The young man showed plenty after being thrust into the first ruck role, and was able to restrict Bellchambers' influence around the ground.
Great work, big fella!
JACK SINCLAIR
There were a couple of instances this afternoon where I thought Sinclair may have made the wrong decision with the ball – his decision to go for home in the last quarter when Gresham was streaming into space inside 50 is one that leaps to mind, but there were plenty of other moments where he made excellent decisions.
His pulled kick to hit Matt Parker late in the third quarter gave Dean Kent a (failed) chance to score, and his tackle on pretty boy Dylan Shiel earlier in the same quarter earned a free kick and resulted in an advantage goal to Membrey.
Often lost amid the plethora of Jacks, Sinclair really stood up in key moments today, with his attack on the contest unrelenting. He finished with just 13 disposals, but I loved his defensive efforts, and his nine tackles were a game-high.
JACK BILLINGS
Second week in; second week Jack Billings features in the 'good' category. Well, I guess it kind of helps that I covered both Saints games, right?
I, like just about everyone else with half a brain, has been waiting for Billings to start doing this. Of course, many thought he'd be doing it in front of goal, but Billings' release to play further up the ground has been an inspired decision by Alan Richardson. Billings' inability to hit the scoreboard must have started to have an impact on his psyche, but away from goals, he has been able to run hard into space and create for teammates.
He has played a very outside game this season, collecting another 21 uncontested touches this week, with his ability to work into defence providing a great outlet for the Saints backs as they look for an option to clear the area.
Whilst I didn't have him best, his willingness to work into space when fatigued in the last quarter enabled the saints to spread the field and work the ball across the ground. St Kilda has been waiting a while for you, Jack… glad you could finally make it.
THE BAD
ANTHONY MCDONALD-TIPUNGWUTI
Okay, I've defended this bloke in the past, so don't go sending me the "that was a hatchet job" messages. I've read them before.
You think for a pressure forward would occasionally get his hands on the footy, right? Just once in a while. Not if you're this bloke, who touched the ball just seven times, and made Orazio Fantasia look like a veritable Greg Williams clone in the process.
I've often said that with Walla, you need to focus on what he does provide; not what he doesn't. But what about when he doesn't provide any of what he usually provides? What do you focus on then?
All you're left with is him ducking his head in marking contests (and I say contest inasmuch as he thought there may have been someone else contesting the mark) and jogging around at three quarter pace. Yeah, he threw his body in late, but after conserving so much energy early in the game, no wonder he was able to apply pressure in the last quarter.
He finished with stats of seven disposals at 29% efficiency. Yep, two disposals that mattered. He added five tackles inside 50, which is a great return, but got little return for his efforts. Throw in his equally ineffective counterpart in Fantasia (13 touches at 46%), and you have a key component of the Essendon structure falling down.
They had plenty of mates, but when your game is built around winning the hardball and creating something out of nothing, and you do neither of them, you deserve to have your name in this section.
NO BIG BODIES
There was so much hype around Dylan Shiel coming to the Bombers to provide that inside midfield presence. I wonder if reality is starting to hit home – that isn't really his game.
In a nutshell, Shiel and Zach Merrett play basically the same game. They like to get the ball in space, duck a little, weave a little and maybe run through the middle. The Bombers are still lacking that hard-bodied, Jobe Watson type to put their nose over the ball and farm it out.
They just don't have it. Kyle Langford was looked at as the possibility. As was Darcy Parish. They're either not the answer (Langford), or not ready (Parish) but with the next best option being David Myers, or Jake Stringer, the Bombers will need to address this.
If they're going to engage in an open, running game, they have the ability to tear a team to shreds, but when the going gets tough, are you going to look to Dyson Heppell to go and win you a hard ball?
I wouldn't be.
The clearance numbers were close on the day, but if we set up with a minute to go and scores level, with the Saints midfield brigade on one side and the Essendon mids on the other, I'd back the Saints to win the clearance. The Bombers are still think in the guts. Having Dylan Shiel hasn't helped that.
THE UGLY
THE ESSENDON FIRST QUARTER
Okay, I can sum this up in the description of two plays.
The first one saw the ball almost roll out of bounds on the wing, and a free kick was awarded to Jack Lonie. Sounds like a rudimentary kind of play, and not unexpected for the absent-minded Langford to give away a free, right?
Well, it doesn't end there. There were two Bombers on the scene for that free kick, but only momentarily. For reasons only they know, both Langford and Matt Guelfi decided that they didn't need to stand the mark for Lonie's free kick.
Guelfi ran into the St Kilda bench, and Langford took off and ran away from the contest to head to the Essendon bench. Meanwhile, Lonie looked completely confused, as all of a sudden there were no opponents around to stand the mark, or impede him in any way.
What the hell were these two idiots doing? It was Under 12s stuff.
The second came a bit later in the quarter as Aaron Francis took one of his nine marks for the game deep in defence. He scanned the available options, and picked one out. The target had a big number 18 in the middle of his back, and he hit that target beautifully, kicking the ball right into Michael Hurley's back just a few metres away.
This was like the Keystone Cops as the Bombers scrambled to do… something in the first quarter. They fumbled like they were playing wet weather football, and looked dangerous a grand total of… ZERO times.
Their goalless quarter was the nightmare their supporters were fearing after their virtual no-show in Round One. It took until the third quarter for the Bombers to hit their stride, but the first quarter was some of the worst football I've seen in recent history.
If I was asked for one word to describe what I saw in this quarter from the Bombers…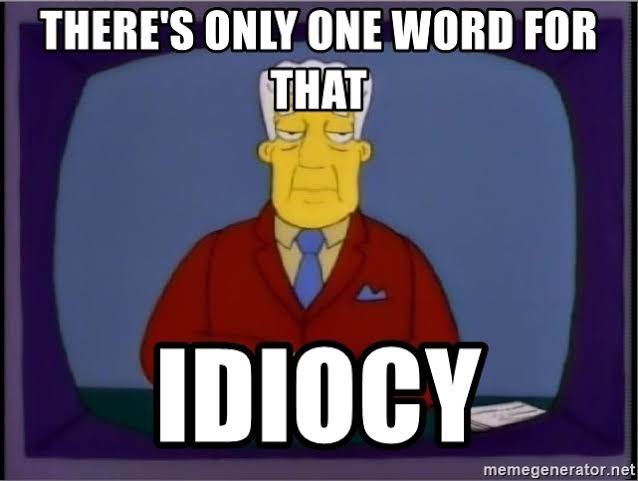 QUICK BITS
I rated Jake Stringer's game this afternoon. Early on, he looked one of very few who actually gave a shit about the way the team were playing, although I am not sure giving Aaron Francis a spray for missing the target is the sort of thing that'll endear him to those delivering the ball to him.
Stringer tried to mark everything in this game. He was leaping from three and four deep, trying to jump over the pack when a few times staying down and crumbing was probably the preferred option. That said, he was getting very little from Shaun McKernan and Mitch Brown, so he obviously felt he had to do something.
I thought the bloke tossing the coin did a great job. Too bad Eddie Mcguire wasn't commentating this game.
The first five minutes of this game were about as bad as AFL footy gets. Fumbles, spilled marks, terrible kicks, missed goals… you name it, we had it. It really didn't elevate until the third quarter, but when you're looking at professional players doing whatever they were doing to start the game, you have to wonder how much is going on upstairs.
Zach Merrett – the stats tell you he had a good game, huh? 28 touches at 75%, plenty of inside 50s and rebound 50s… then why do I feel like he didn't do much? His influence was negligible, and with David Zaharakis seemingly spending time in defence (why?), Merrett needed to do something with the ball when he got it. The fact he was not actually hurting the Saints… that's a lot of midfield time invested in a bloke who seemed to cruise around for most of the game, feigning for free kicks or setting up teammates to be smashed.
Concerning sign in that Nathan Brown seemed unable to take the ball cleanly all game long. A more desperate forward line would be all over errors like he made, but as it was Essendon, he had the time to recover on each occasion.
The Bombers need to cut their losses on Mitch Brown and Shaun McKernan. It's not going to work. Go small and lower your eyes. Send those two blokes back to the VFL where they can get a few kicks.
The deliberate free kick paid against Dean Kent? Atrocious. Absolutely disgraceful call.
So Devon Smith is the reigning Essendon B&F winner, huh? How bad must have they been travelling last year for that to occur? He had his standard seven tackles today, which is wonderful, but by foot, he couldn't hit the side of two barns with the side of another barn today… even if he was sandwiched between the barns. Lots of farm talk… because the Bombers played like horse shit.
The best thing Smith did all day was kick a goal due to Jack Lonie's deliberately rushed behind. Put that on your resume' I guess. The stupid free kick he gave away against Jack Steven in the last quarter was at a time you don't want to be making those mistakes. Yes, I know the umpire just plucked it out, but why, when the game is in the balance, would you give the umpire a reason to ping you? Devon got sucked right in with that one.
I really disliked how Heppell was blamed for not picking up Gresham in the second quarter ay the stoppage, enabling Gresham to get the kick away for a goal. If you watch it again, it is Adam Saad who just allows Gresham to run away from him after the softest block in history. Heppell took the bullet, but the gun should be aimed directly at Saad for that one.
I had Rowan Marshall in the 'good' category, but Tom Bellchambers should be ashamed of himself today. Not taking advantage of the Saints playing a kid in the ruck… poor form, Tom. And giving away two free kicks in the first minute of the last quarter… even worse form.
Seb Ross is an interesting player to watch. Great at making space, works extremely hard, but seems to lose his bearings a little when required to make the classy kick inside 50. It's not an uncommon problem; I just always thought he was better at that aspect of the game.
Jack Newnes was a couple of good finishes away from votes this arvo. Looked blindingly good in the first half.
And that'll do. Is Worsfold now in trouble? Is Richo ready to start talking finals? Am I completely jumping the gun on both?
Stay tuned for Round Three when the Dons take on the Demons, and the Saints try to go 3-0 against the Dockers.
Like what you're getting? Want more? We have additional content weekly on our Patreon Service. Become a Mongrel Patron, and you can get more of this kind of… stuff
If you want to give us a Like on Facebook or a Follow on Twitter, we'd really appreciate that as well.
And hey… if you'd like to support us, you could head over to our Mongrel Shop and purchase one of our hideously overpriced hoodies or notebooks. We even have a place for donations now. ORRRRRR, get one of the more moderately priced stubby holders or bumper stickers. Keep The Mongrel alive.