With just under two minutes remaining in the 2018 AFL Grand Final, West Coast midfielder, Dom Sheed slotted a cold-blooded goal from close to the boundary line to give the Eagles a slender four point lead. It is the passage of play that will long be remembered as fans reminisce about the win that handed the Eagles their fourth AFL premiership.
Sheed covered himself in glory, executing an extremely difficult kick under enormous pressure. As far as kicks go, it was a great one. As far as plays within a game go, it was great also.
But great plays don't just happen. They have to start somewhere, and this one started almost 100 metres away, with an intercept mark by a man who has made that stat his own over the last few years.
In 2016, Jeremy McGovern leapt to the forefront of the football world, claiming his first All-Australian berth on the back of taking 75 intercept marks, patrolling the Eagles' defensive 50. In 2017 he repeated the dose with another 75 intercept marks before upping the ante this year with 77, and his third consecutive All-Australian blazer.
It was only fitting that the play that launched the West Coast Eagles' winning foray forward started with McGovern – he has been their backbone all year.
As the Magpies surged down the wing, a two point lead up their sleeve and searching for the knockout blow, Adam Treloar gathered on the wing and looked inside 50. There, he spotted a one-on-one with Brodie Mihocek and Lewis Jetta. It was a mismatch in the air. Mihocek's strength was Jetta's weakness. If Mihocek could take the mark, the Pies would be almost within range. A goal would all but seal the game.
Sensing danger, McGovern took a gamble. At this point he was responsible for one of the most dangerous forwards in the competition – Jordan de Goey, but when it's your turn to go, you have to go.
McGovern went.
He peeled off de Goey and made for the Mihocek-Jetta duel. With perfect timing, he leapt and planted a knee into the ribs of Mihocek, taking the ball in typical McGovern, one-grab style. His pass found Nathan Vardy and his kick saw Liam Ryan remind everyone why he is nicknamed "Flyin' Ryan", taking a spectacular mark at half forward.
The long ball then went inside 50 to Sheed who, cool under extreme pressure, slotted the goal home. The Eagles won, completing a season that defied many critics. They held the premiership cup aloft, received their medals, sang their song and did their lap of honour. As the Magpies looked on, McGovern and company celebrated, and they'll be celebrating long and hard for the next little while. To the victor go the spoils.
Check out The Mongrel's Grand Final re-cap here. The Good, Bad and Ugly
Earlier this season, McGovern effectively took himself off the table by re-signing with West Coast for a sum reportedly in excess of a million dollars per year for five years. At 26, it will see McGovern through his remaining peak years and into his 30s. It will also make him a one club player.
You have to hand it to West Coast. With rival clubs starting to circle, they did what was necessary to secure the best intercept mark the game has seen (since statistics were kept) and lock him away.
And hasn't it paid dividends already? The rewind button on the remote will be worn out watching him crash into Mihocek and take the relieving mark over and over again.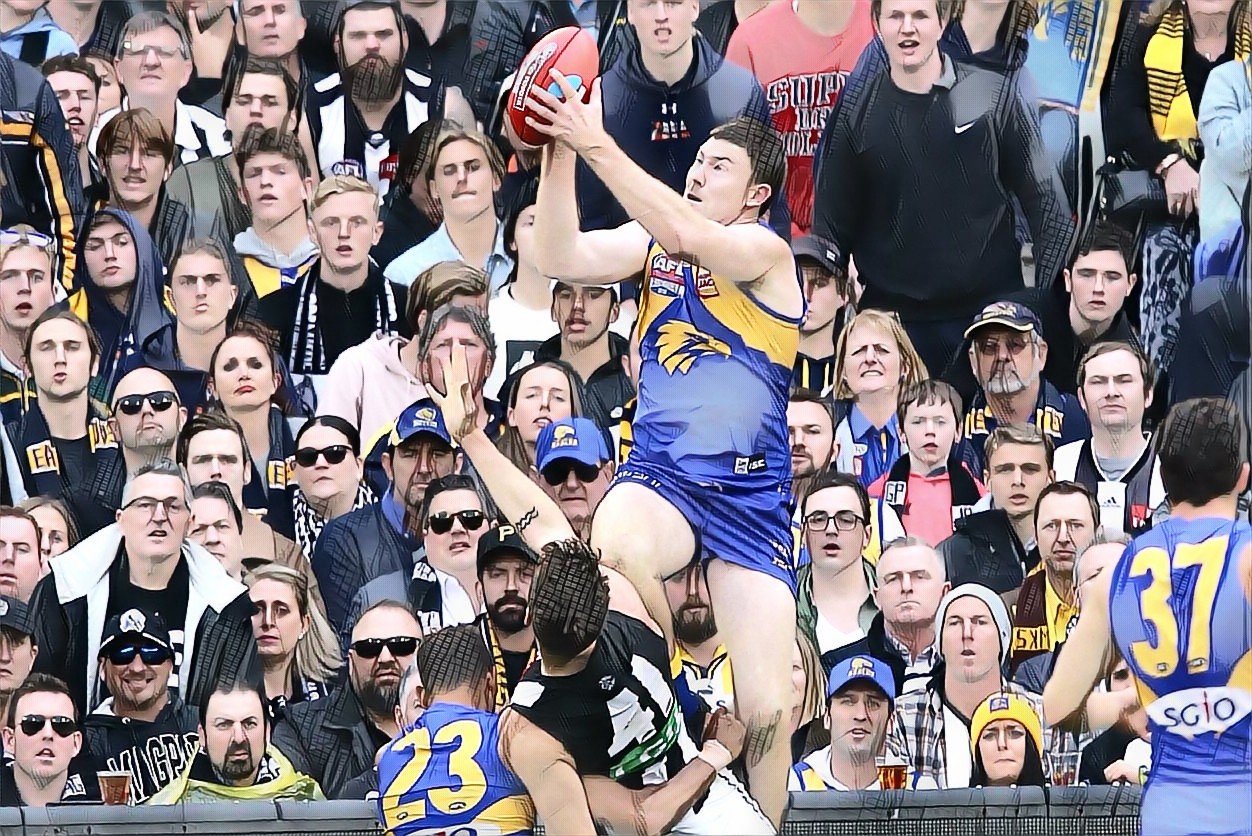 McGovern is currently at the peak of his powers. With three consecutive All-Australian selections, he is the only defender that can, and does rival Alex Rance in terms of respect in the footballing world. Some would argue he already commands more respect.
He reads the ball better than anyone in the game, and on the odd occasion he's been asked to go forward, he's managed to do the little things that make a difference. You know… little things, like kick a goal after the siren to win the game for his team.
Little things like that.
The West Coast Eagles realise that they possess something special in McGovern. Looking at him, you have to wonder if he's ever been 100% fit. He's always looked heavy… bulky, and was actually sent away from the club to get in some semblance of fitness in 2013 when Adam Simpson arrived as head coach.
Returning from holiday, McGovern had "abnormally high skin folds" and was told that he would not be training with the group in the foreseeable future. It was the kick in the backside McGovern needed.
In 2014 he was in much better shape and he debuted with the Eagles after being elevated to the senior list the previous year. In 13 games he averaged 12.3 touches and almost six and a half marks per game. The talent had been apparent from a young age, and slowly, the discipline was coming around as well. Things were finally starting to click.
Whilst McGovern had some solid games over 2014-15, totalling 10+ marks on four occasions, the real consistency started to occur in 2016 when he became the zone-off defender with hands like Stewart Leowe.
The improvement continued into 2017 where he had perhaps his most complete game to date. In the Elimination Final against Port Adelaide, McGovern completely controlled the air across half back, a one-man impenetrable wall, repelling attack and attack from the Port midfielders, and playing a vital role in West Coast's unlikely victory away from home. If 2016 was his coming out party, 2017 was an all-nighter for Gov.
The party continued into this season, with teams starting to actively plan on avoiding him when entering their 50 metre arc. McGovern cast a huge shadow over the defensive end and would never think twice about drifting off his man if a kick hung up in the air just a second or two too long. The standout performance for me came in Round 9 against the Premiers.
With the Eagles on an seven game winning streak, Richmond rolled into town. It was a test for both clubs in terms of where they were at. The Tigers had lost just one game, matching the record of West Coast, and were sporting some impressive defenders of their own. In many respects, this game was an early audition for All-Australian roles, with Rance, McGovern, Hurn and Grimes all able to stake their claim early in the season.
By the end of the first quarter, McGovern's claims were set in stone. Like a force field across half back, he either marked or spoiled everything that came anywhere near him. It was a performance that, had you harboured doubts about McGovern's standing in the AFL landscape at that point, they were laid to rest. He finished with four contested marks amongst his nine grabs for the game and sent a message loud and clear – premiers or not, if you want to beat the Eagles, you'd have to go through him.
The Eagles ran out 47 point winners, handing Richmond their biggest defeat of the season, and setting themselves up for a top two finish in the process.
Looking back now, it's easy to see why West Coast supporters were so confident in their boys – it's because their team was so damn good. Richmond supporters, and the Melbourne media, dismissed the loss as a "schedule loss". The Tigers didn't lose like that on the MCG, and after all, that was where the Grand Final was played. According to them, everyone else was playing for the right to lose to Richmond in the Grand Final. McGovern and the Eagles had other ideas.
McGovern stamped his authority on the game against Richmond and left no doubt as to who the most powerful defender in the competition was. That was in May, and two months later, Gov had re-signed with the Eagles. They knew what they were seeing, and they didn't want to wait any longer. They offered the Godfather deal and McGovern took it.
We don't want to have paid content but without support we will have to. Please support The Mongrel with a purchase of a bumper sticker or stubby holder here.
And so, with five years to run on his new contract, the late bloomer is now in full bloom. McGovern may have taken a while to get started, but at 26 years of age, he won't be slowing down any time soon. There are more intercept marks to take, records to be broken and premierships to win. McGovern was often maligned for being overweight when he started with the club, but as it stands, he is now just hungry for success.
The West Coast Eagles pushed McGovern away with one hand, and drew him closer with the other. Adam Simpson saw the oak tree in the acorn and stuck with the slow starter to get him where he needed to be, and where the club needed him to be. They have now embraced McGovern and he has returned that embrace, and rewarded their patience and commitment with elite performances across the half back line.
With three All-Australian selections to his name, as well as a premiership medal (you have to wonder how far he was off being in the mix for the Norm Smith Medal as well), McGovern is definitely making up for lost time.
The scariest thing is… he's still getting better. Whilst his 2018 numbers might be a slight drop off from some of his 2017 efforts, the eye test tells you that McGovern is having just as much impact when required as he did in 2017. Stints up forward have skewed numbers here and there, but when watching McGovern, he is as commanding a presence on the football field as there is in the game currently.
If Jeremy McGovern walked away from football tomorrow, how would he be remembered? As a powerful defender capable to repelling attacks all by himself? An intercept marking beast who broke records? Or as the guy who spent a couple of days in hospital after the Prelim, bleeding internally who fronted up and played anyway? Perhaps as the guy who took the big, clunking mark to set the Eagles alight in the last quarter and pump it forward to where Dom Sheed kicked the sealer.
Luckily, he is not walking away, but the answer would be all of the above. McGovern is a special player – a generational defender, and by the time all is said and done, he might be rivalling Paul Roos, who was selected seven times as an All-Australian defender.
Some thought the Eagles paid overs for Jeremy McGovern. Those people would be looking at him today, watching him read the play, zone off his man and take that last huge mark. They'd also see the result of his efforts come to fruition at the other end. At that point they may come to realise something.
At over a million dollars per season, West Coast still got an absolute bargain.
If you want to give us a Like on Facebook or a Follow on Twitter, we'd really appreciate it.
And hey… if you'd like to support us, you could head over to our Mongrel Shop and purchase one of our hideously overpriced hoodies or notebooks. ORRRRRR, get one of the more moderately priced stubby holders or bumper stickers. Click the links below. Keep The Mongrel alive in 2019.