The scoreboard may have flattered the Cats a little, with the Demons ending their 2018 campaign with a 29 point win in the Elimination Final in front of over 91,000 at the MCG.
Here's The Mongrel's good, bad and ugly.
THE GOOD
The Hard Nuts
I want to rattle off a few names for you. Brayshaw, Oliver, Viney, Harmes, vandenBerg. Got them five?
Now for the fun part – pick the player most likely to pull out of a contest. Not so easy. Is it?
The Demons have an embarrassment of riches when it comes to players who will willingly put their head over the ball and take whatever punishment is coming their way.
How about we add a few more names to that list? Lewis, Jetta, Jones, Gawn. How often do you see any of those blokes take a backward step? Quite simply, you don't. Melbourne have constructed a list full of men who will throw themselves at the ball and body for the betterment of the team. When the ball was there to be won tonight, they were the ones who got their first and were willing to cop a whack in order to get it.
They took on the much-vaunted holy trinity. They rode out the criticism stemming from their pre-season camp, and now they go into a clash with a team of Hawks with their tail-feathers between their legs.
September momentum
Hmmmm, that sounds a bit like a Harry Potter spell.
"September Momentum," screamed Harry as he pointed his wand at Joel Selwood, and just like that, Selwood foolishly gave away a free kick as his full forward ran in to kick for goal.
Yeah, well, Harry Potter and the Curse of the Reversed Free Kick might be a work that belongs on fanfiction.com, but the Demons have completely reversed the perceptions of them over the last four weeks. Yep, that's how long ago it was when we were saying dumb things like "They haven't beaten anyone in the top eight" and "they're downhill skiers."
Fast forward a little and not only have the despatched their season-nemesis, Geelong in the Eliminaton final, but they've also knocked over West Coast and Greater Western Sydney. All of a sudden, the Dees have kicked it up a notch at the right time of the year.
I'm sure we've all heard the comparisons to the "fairytale" Bulldogs and Tigers of the past two years. Melbourne have a long way to go to make those comparisons seem a little more valid, but they've started September out the way good teams do.
Momentum in September is like gold. And the Dees have struck a rich vein of it.
Angus Brayshaw's third quarter
We covered hard nuts above, but Angus Brayshaw's third quarter was one of two "hard nut" moments that stood out to me. And it wasn't just him cracking in that made me sit up and take notice; it was his clean hands below his knees and his precise delivery to teammates whilst taking on the pressure.
Whilst the Cats fumbled and dropped the ball, Brayshaw showed them a clean set of heels and a clean pair of hands. At one stage the combination of Bews and Kolodjashnij (I hate writing that name) had consecutive fumbles, and it was Brayshaw who swooped in, collected the ball as clean as a whistle and dished it off, allowing Melbourne to go deep inside 50.
Brayshaw had 13 disposals in the third quarter as the Demons put their stamp on the game, and eight of those were of the contested variety. He finished with 26 touches, four clearances, and five inside 50s to be one of the Dees' best.
Viney on Ablett
They played wide of each other after half time, but during the first half, seeing Viney attack Ablett whenever he got the ball was brilliant (sorry… that word even reads like Cameron Ling is saying it when I write it. "Breeyant. So breeyant" Learn to speak, Lingy!).
Viney had nine tackles to half time, and though he faded quite a bit, particularly defensively, that was to be expected after missing so much footy. He finished with 11 tackles for the night, but a couple of them on the Little Master were absolutely ferocious, and he looked absolutely determined to put his stamp on the game with his defensive efforts.I don't want to go so far as to say his tackles were violent, because they were obviously completely in line with the spirit of the game, but there was a benign maliciousness about the way he took Ablett down. And I liked it.
He also collected five clearances and laid three of those 11 tackles inside forward 50 to create more opportunities for his teammates. We published an article earlier in the week about finding the Captain that will mean the most to his club this September. Jack Viney did himself no disservice by way of his game this evening. He played as a captain should.
Sam Weideman
Jesse Who?
On the big stage, Weideman had a coming of age party, so to speak. His contested marking (he took three), his combative nature, and his propensity to bob up at the right time and hit the scoreboard (he kicked three goals) would have to make Melbourne fans wonder… even just a little, whether life without Jesse Hogan may not be so bad?
Weideman would not have got this opportunity had Hogan not gone down injured, and he is making the most of it. He had 10 contested touches and four tackles on a night where the Demons got to throw their weight around a little. He attacked packs and the ball at ground level with intent, and would've made all in that "hard nuts" category above very proud.
Dees' fans, if you get another game or two (or maybe even three… dare to dream!) like this from Weideman, would you start to entertain offers for Hogan from back in his home state? I'm just asking for a friend…
James Harmes
Another scalp for Harmes, and the second time he has claimed Selwood since redefining his role as a run-wth player. He got under the Geelong Captain's skin so much so that it caused errors due to frustration.
Mission accomplished for Harmes. He had 26 touches, 10 tackles, seven inside 50 kicks and took the points again against one of the best midfielders of this generation. He has now found his niche at Melbourne, and has turned himself into an opponent to be feared. Not only is he a stopper; he is a stopper that accumulates his own touches.
Christian Salem
Would it be incorrect to say this has been his best game for the club? Given the circumstances and what was on the line, I don't think there can be too much dispute.
I am used to seeing Salem have very good quarters and then vanish into the pack of 20 others around that 18-24 disposal kind of game. To me, he has been a middling kind of player. Good in patches and then disappears, but tonight… tonight he put it all together.
He was integral in the third quarter that put the distance between the teams, and his run, carry and delivery from defensive 50 was must what the Dees needed. He finished with 25 touches and seven rebound 50s. I was puling for him to run forward and kick a goal late in the piece, but it wasn't to be.
THE BAD
The Big Three
I don't like bashing players unnecessarily, so I don't often do it. That said, I expected more from the combination of Selwood, Dangerfield and Ablett tonight.
Gaz had a very quiet first half, but worked his way into the game nicely. He had only eight touches at half time as he was beaten for pace on several occasions, and was really targeted by Melbourne whenever he got his hands on the ball. He seemed to have very little time to do anything with the ball whenever he got his hands on it.
His second half was better, as he added 19 disposals to look more like the Ablett we know and admire. Truthfully, however, he looked a step slow in the first half. He couldn't find any space, eve on the wide wings of the 'G, and found himself under intense pressure with every disposal. He did have four clearances, and held up his end of working hard without the ball, laying six tackles.
Danger was an interesting case. His ability to split a pack at ground level remains, but so often tonight, he would do this and completely leave the ball behind, or simply give it up.
He had it 25 times, but was only effective with 13 of those touches, and had 10 turnovers attributed to him directly. There's no questioning his endeavour – it was the execution that was lacking tonight. On the defensive end, he contributed his seven tackles, so he definitely gets a pass mark there.
Which brings us to Joel Selwood. He gets his own category.
Joel Selwood
There is a part of me that is despising having to write this section. You see, Selwood is one of my favourite players. Not just currently – I mean ever! I admire the way he has applied himself, bent the rules, manipulated the game and has never, ever shirked the issue in the contest. Tough Trent Cotchin won 'Best captain' this season, and Tex Walker the two years prior, I've always thought of Selwood as the most inspirational leader in the game.
And then tonight, the only place he was leading them seemed to be down the gurgler.
During the week he said he welcomed the attention from James Harmes. He wanted the tagger to go to him so he could have some form of redemption after being beaten earlier in the season. He got his wish, but wanting redemption, and receiving it are two very different things.
What's the old saying? Be careful what you wish for?
Selwood got his wish and was confronted with Harmes. He was on track early to break the free kicks received record, with three in the first ten minutes of the game but his ability to break the tag seemed to end in frustration rather than touches of the footy, and in the third quarter, things bubbled over as the Cats looked set to hit the scoreboard.
THE UGLY
The reversal
It sounds like a crappy title for a rom-com, huh? This was such a pivotal moment in the game. Hawkins with the pending shot at goal as the Demons seemingly couldn't get near slotting it through the big sticks. But for some reason, Joel Selwood decided to grab Jake Melksham by the head as made his way off the ground.
The incident was 100 metres from the play and the emergency umpire awarded the free kick to Melksham as James Harmes celebrated. Gary Ablett looked at Selwood on the bench with the kind of look your dog gives you when you pretend to throw the ball and he doesn't know where it's gone. It was a real "what the hell did you just do?" kind of look and gesture.
The ball was taken from Hawkins and the Dees got the free kick on the wing. It killed the little momentum Geelong was starting to build.
All that said, I hate that something relatively innocuous can have repercussions as severe as those Geelong incurred. I want players to win games… not emergency umpires getting involved. I hate over-umpiring and if there was nothing to actually report Selwood, Melksham or Harmes for… LET THE BOYS PLAY!
why are you impacting a game when the actual action is 100 metres away? Give the warning, watch them disperse and put your damn whistle away. If a Grand Final is decided by a pissy decision like this there'd be a riot.
But wait, Joel isn't finished yet. To start the third quarter, Selwood drew free kick number five when Jack Viney took him high. Then, in the centre, Selwood tried to put the moves on Viney (not as in asking him out and using his sexy dance moves to seal the deal) and fell over.
Viney pounced, laid the tackle and got the free kick for holding the ball. What should've been an inside 50 entry for the Cats instead went inside the Melbourne forward line, where Petracca handed off to Nathan Jones for the first goal of the last quarter, and the first nail in the cats' coffin.
Selwood is a star – readers of this site will know of my love for Selwood, however this game will haunt him. He will get the chance to redeem himself, but the last time he faced Harmes was driving him this time, and that didn't work. Selwood is a warrior, but even warriors bite off a little more than they can chew at times. Against Harmes, Selwood was chewing furiously, but Harmes is tough to get through. He may need some help from teammates to deal with Harmes' attention.
OTHER BITS
Some ripping physical clashes in this one. Neville Jetta's collision with Joel Selwood was bone-jarring in the first quarter, but also gave a clear indication that the Dees were not to be trifled with. Clayton Oliver collected Scott Selwood in another hard body-to-body clash, and Weideman's tackle on Dangerfield in the third quarter was wonderful as well.
Tom McDonald looked to be 'on' early in the piece. He looked every part the dominant forward on the ground as he had 12 of his 17 disposals before the main break.
Geelong's influence on the contest see-sawed with Melbourne's in the first quarter. I thought the Cats matched the Dees blow for blow, but failed to hit a target inside 50 so often that when it happened, I was genuinely surprised that Geelong hadn't turned it over.
Neville Jetta – has he been beaten in defence this season? His one-on-one wins against Patrick Dangerfield had to have had All-Australian selectors shifting uncomfortably in their seats. The defender's job is simply to defender – not to accumulate 30+ touches. Pure defenders aren't sexy enough for the All-Australian team. If it weren't the case, Jetta and Dylan Grimes at Richmond would be two of the first picked.
It's funny how often something little comes back to haunt a team. Something as simple as… talking. Jordan Murdoch could've spoken to Sam Menegola as he ran with the flight of the ball. He could've called his teammate back into the space, allowing him the time and confidence to keep his eye on the ball. Instead, a wary Menegola backed into the marking attempt a little too cautiously and the ball spilled free.
I heard vandenBerg referred to as a "bull" on several occasions. It was as though Geelong were red and white hoops, if that was the case. His attack on the player commenced early in the game, running down Murdoch after the Cat baulked around him at half back. These kinds of second efforts are what coaches love.
No one has proven to me that Brandan Parfitt and Mer-Man from Masters of the Universe are not in face the same person. I don't think they've ever been seen in the same room.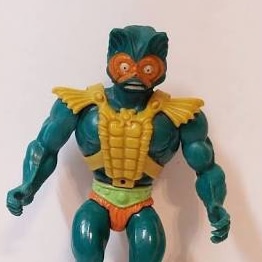 Abbot's clumsy effort to block Weideman out of the the marking contest toward the end of the first quarter was nowhere near subtle enough. Thing sis, I reckon Weideman had run far enough under the ball so as not to be a threat to mark it anyway. Huge mistake in the contest of the game.
I've been a little critical of Christian Petracca in recent weeks, but only because he threatens to tear a game to shreds, but hasn't done it as yet. His clean hands after the huge Gawn thump on the wing allowed multiple efforts from Weideman to be rewarded. It was Weideman who found Jake Melksham at 55 metres out, only to hustle back to the goal square where he out marked Blicavs and goaled after the siren.
There looked to be a little bit of stage fright as the teams locked horns on the big stage, but surprisingly, it stemmed from Geelong, with Tim Kelly collecting only one disposal in the first quarter. He had plenty of mates, though. The Cats were just outworked by a team that came to play. Kelly finished with 18 touches for the game, and actually started to look dangerous in the second quarter. Whilst others got a lot of press going into the game, Kelly looked most likely to make something happen for the Cats once he started getting the ball in hand.
On Ablett again, there were a couple of handballs through the middle that completely set a teammate up in the first half, and not as in set him up in a good way. Joel Selwood was lucky not to be killed as he kept his eyes on the ball despite Clayton Oliver coming hard the other way. Gaz needed to protect his teammates a little more tonight.
Jordan Lewis may have been responsible for the free kick that got the Cats, and Tim Kelly on the board, but his clean hands under pressure from that point on were excellent.
As the Cats kicked their second, the names read like a "who's who" of the past ten years. Selwood started it, Taylor received and dished to Hawkins for the goal.
I counted four clear one-on-one wins for Neville Jetta over Danger on the night. Not sure how many can boast a record like that about the Brownlow Medallist when he drifts forward and plays out of the square. Maybe only Rance had wins against him like that this season.
I'm never a fan of taking the advantage when a teammate has a set shot within 25 metres of goal. I'm guessing Daniel Menzel isn't much of a fan either, after Sam Menegola opted to take the advantage and hit the post from 15 metres out. I wonder if Chris Scott is a fan of it?
You could tell Ablett was desperate to be more involved in the second quarter. He basically demanded the ball at certain points, and whilst I think he was probably one of Geelong's best in the second half, his first half had him looking old, and slow. Take it from me, looking old and slow isn't a great thing. The only thing worse is actually being old and slow.
If there was any question as to whether Dangerfield meant business after half time, his initial tackle on Nathan Jones dispelled them. He absolutely buried the Melbourne co-captain in the middle as the third quarter commenced.
The best centre break of the night didn't come from a perfect Gawn tap to the waiting Brayshaw or Viney. No, no, no – it came as the result of perseverance and hard work. The Cats looked to have pushed it forward but Melbourne refused to allow clean possession. It bobbled around between 6-8 players before Jordan Lewis fired out a handball and Max Gawn grabbed it – the Dees were away. The long ball inside 50 was marked by Jake Melksham after Jed Bews went to turf, and he goaled to answer a Geelong challenge within 30 seconds.
So, whilst we're on Jordan Lewis, is it testament to his diligence that he was able to smother two of Gary Ablett's free kicks or marks on the boundary in the second half? Or was it laziness by Ablett? Orrrrr, was it laziness by Geelong for taking so damn long to provide an option worth kicking to?
Misses to Dangerfield and Menzel really hurt the Cats. Menzel in particular, had a man on over the top and elected to have a shot. It looked like an obvious give, to me. Is there still talk of him leaving Geelong, or did they re-sign him somewhere along the way in the last few weeks. Last I heard, St Kilda were interested. If I were Geelong, I'd let him go, but I'm not, because I am only one man and Geelong is a football club. Maybe if I try really hard, I could be a football club.
…. Nup. I'm just one dude. Damn…
Cats fans – thoughts on Lachie Henderson as your long term key backman? I'm not sold. He goes to ground too easily and gets a little lost at times. Had you won tonight, we could've seen Henderson at one end next week, and James Frawley at the other in a battle of the two blokes who just look as though they don't know what's going on at times.
Right, a personal gripe here. I am so sick of hearing about the MCC and what the Melbourne Footy Club means to the people in the MCC. I heard it on SEN on the way home tonight, and then I heard them talking about it in the pre-game. The MCC is a status symbol that means bugger all to me, other than these are the entitled pricks that drag down the capacity attendance of the ground too often. I went as a guest a few times… give me the outer any time over collared shirts and people trying hard to be perceived as socially elite. It doesn't take much merit to have your daddy put your name on a list when you're a baby. They're not special – don't talk about them like they are.
The commentators really got stuck into Mitch Duncan tonight, huh? I didn't think he was the worst on the ground, but he had some less than sterling moments. Whilst they were talking down about him, Nathan Jones took his legs out from under him and no call was made. It hardly rated a mention as they were still talking about how shit Duncan had been.
Not sure whether I want to credit the defence of Melbourne for shutting the Cats down inside 50, or completely blast the Cats for such terrible delivery. Might be a bit both ways, here.
You know the game is going your way, when as a defender you're running back with the flight and manage to spoil the forward's marking attempt with your back. Oscar McDonald did that tonight. Pretty difficult to do.
Here's my five best for the night
Angus Brayshaw – Put the Dees on his back in the third
Sam Weideman – Best forward on the ground over the course of the night
James Harmes – Shut Selwood down… again
Neville Jetta – A defender doing what a defender should
Aaron vandenBerg – Crash and bash at its finest.
And my five worst
Daniel Menzel – Non factor on the scoreboard
Jordan Murdoch – Often called one of the Cats' bottom six for a reason
Joel Selwood – Pains me to write it… but he cost his team tonight
Mitch Duncan – Plenty of touches. Not a lot of impact
Sam Menegola – Stagnant and uninspiring. Or shallow and pedantic. Take your pick.
And there you have it. the Cats have another early exit from September in a season that promised so much and has delivered so little. Maybe their finish on the ladder really was indicative of how good they are. As for the Dees… ride that wave, boys. Momentum is a wonderful thing. Ride it for all it's worth!
If you want to give us a Like on Facebook or a Follow on Twitter, we'd really appreciate it.
And hey… if you'd like to support us, you could head over to our Mongrel Shop and purchase one of our hideously overpriced hoodies or notebooks. ORRRRRR, you could wait a week or two and get one of the more moderately priced stubbie holders or bumper stickers (which we don't have to pay a huge commission to Redbubble for)