With their backs to the wall again, the Crows showed that they are far from a spent force in 2018. Looking more like the 2017 version, they knocked over the Cats to keep themselves in contention for the finals berth, and put the Geelong season on shaky ground in the process.
Here's The Mongrel's good, bad and ugly.
THE GOOD
Lachie Murphy
He won't be getting any votes – I am sure of it, but what Murphy did provide was the physical presence that Adelaide has been missing most of the season.
In a high pressure game, the Crows' rookie wasn't afraid to throw his weight around a bit, and it was evident late in the first quarter. It was the repeat efforts from Murphy that resulted in a goal on the siren, and sent the Crows into the quarter time huddle with all the momentum. He laid a fair bump on Cam Guthrie to take him out of the play, and followed up with a ripping tackle on Sam Simpson to earn the free kick. His booming goal was just what was needed.
But it wasn't just one instance where Murphy threw his body in. He was involved in a dangerous tackle against Joel Selwood which was hard, but deemed illegal, and put his body on the line again in the last quarter when Tuohy ran into him at half forward. This is a bloke who is busting his backside to be part of a team, and he deserves recognition. When someone has made tgeir way into an AFL team the hard way, you can tell. And you can tell with Murphy.
Some will look at his three goals and love that aspect of his performance – I like the little things he did tonight. They add up to big things for a team.
Physical pressure of the Crows
Oh, where have you been?
We've covered Lachie Murphy above, but he wasn't on an island with his courage tonight. Let's talk about Hugh Greenwood running back with the flight of the ball and launching, not knowing Mark Blicavs was coming the other way. It was so gutsy… and take it from me, I have plenty of guts these days – my missus pointed it out to me just the other day.
Seriously though, the way players backed into dangerous situations – players from both teams, actually, and put themselves in harm's way for the betterment of their team was a privilege to watch. Whether it was Rory Sloane burrowing under packs to release a handball, Bryce Gibbs diving to make a tackle on Jed Bews, or Jack Henry standing under the ball as pressure arrived from all sides, players showed huge intestinal fortitude tonight.
Kyle Cheney
Here's a guy you won't often see in the most celebrated players for the Crows, but he was magnificent tonight.
I think it's fair to say that Kyle Cheney is not a 'best 22' player at Adelaide. He is a depth player, but tonight is a good reminder that even a bit of a journeyman like Cheney can have a big impact. He completely shut down the dangerous Daniel Menzel and made a real impact late in the game.
The way he ran past Menzel to take the intercept mark in the last quarter was wonderful.
He finished with 18 disposals at 89% efficiency as well as ten marks across half back.
The Re-signers
Sloane and Lynch both stood up tonight. What a difference those two playing well make the Adelaide side!
Sloane was desperate at stoppages, and hurled his body at the contest with a reckless abandon. Every touch he collected was met with raucous cheers from the Crow fans. And they would've been hoarse by the end of the night. Sloane had 27 touches, with 17 of those contested, and a team-high eight clearances.
Lynch finished with four goals for the game to co-lead all players. His running power and ability to work up to the wing and back toward goal opened up the forward half for the Crows over and over again.
It was the bailout mark on the wing from Lynch half way through the third quarter that provided the opportunity for the Crows to surge forward. It ended with Josh Jenkins on a great pass from Tex Walker, but without Lynch muscling his way past his opponent to fly for the mark, it's a stoppage or a turnover.
Lynch had his best game of the season. He added 22 touches to his four goals and had 14 contested touches amongst them.
The Laird
Career-high for a man having a career-best season.
I was amazed recently when we put together our Rolling All-Australian Team after Round 15, and someone on our Facebook page messaged me and said that Laird was "nowhere near" All-Australian. Yeah… I couldn't believe it either.
Laird was supreme across half back, and I have no idea how teams do not put a defensive forward on him to curtail him. He had 43 touches tonight and ran at 86% efficiency. He had 12 intercept possessions and six rebounds out of defensive 50.
Laird continues what is an amazing season, with only injury able to slow him down… temporarily.
Tom Doedee
I am an unabashed fan, and before people jump up and down and cry favouritism, I'm also an unabashed fan of Joel Selwood, but he isn't in here tonight. If we mentioned anything about him, it'd be the ZERO tackles…
Doedee is running neck and neck with Jaidyn Stephenson in the race for the Rising Star award, and tonight would not have damaged his chances at all.
He collected 20 touches and took five marks as he patrolled the backline. He was completely ripped off late in the third when he caught Wylie Buzza in a great tackle, saw the ball spill out and a goal result from the spill, when it was evident that the disposal was incorrect. It should have been a holding the ball free kick. Doedee does everything well, and he has been a shining light during some dark times for the Crows this season.
Now he has the chance to be a part of some brighter times as Adelaide roll towards September.
Danger up forward
There has been a few games this season where Patrick Dangerfield has floated forward and it simply hasn't worked. Well, it came together tonight, and he slotted three goals to add to his 33 disposals and ten tackles- that's a pretty bloody decent night.
He had 19 contested possessions, eight clearances and pumped the Cats inside 50 six times. It was probably Danger's best performance of the season thus far.
Wayne Milera
He was showing so much early on this season, and looked to be the person to fill the role of Brodie Smith, but he was derailed by injury and hasn't quite lived up to expectations.
Until tonight, that is.
Milera's run and carry, as well as his relentless attack on the ball provided a spark for the Crows off half back. He delivered the ball at 91% efficiency and looked composed under pressure. With Smith due back in a few weeks, Milera needed a game like this – he will be important over the last six weeks of the season.
Rory Atkins
Last one.
Atkins was under a bit of scrutiny this week. He'd been out of the team, and for good reason. His form and decision-making had been poor, and time in the SANFL, though good in theory, surely can't have the best effect on confidence of all who are sent back.
Well, he could not have had a better first quarter than he had tonight. Ten touches and a goal had a few people nodding and swallowing the criticism I am sure they had ready to fire his way. He continued his good work, finishing with 28 disposals and 10 contested touches.
He holds his spot now – they're a better side with his run.
THE BAD
Daniel Menzel
It's a bit harsh to whack him in his first game back after a long layoff, but Menzel did not look like it after the first ten minutes tonight.
He was blitzed by Kyle Cheney, and made to look slow, lazy and completely out of s
orts. I say "lazy" because it is not in his nature to chase and lay tackles. It looks like it actually pains him to do so. It's amazing how he looks like a real plodder without the ball in hand.
After his first quarter goal, he was hardly sighted, though he did lay one tackle, which takes his season average to 0.66 tackles per game. In an age where forward pressure is king, Menzel is the antithesis of the modern forward. There'll be days when it works beautifully and he kicks a bag, and there'll be nights like these.
Bad nights.
Two wrongs don't make a right
So, can you please explain to me why Sam Jacobs was not paid the mark in the last quarter, and if it wasn't a mark, why he wasn't pinged for holding the ball?
Really, you can't have this both ways. You either pay the mark, or you pay holding the ball when he claims the mark you do not intend to pay. You can't just let both go and figure you're evening up for your previous stupid mistake.
For mine, it was a clear mark to Jacobs. He thought it was, his opponents thought it was… seems the only person who thought it wasn't was the umpire who then allowed him to drop the ball in the ensuing tackle. It was ten seconds the umpire would like to have back, I reckon.
THE UGLY
The softest free kick of the season.
Are you allowed to touch Gary Ablett?
Apparently not. Gaz had a really good game. He looked damaging at times, and did a lot of his work in the middle and around half forward, which made him a dangerous element of the Cats' structure, however the free kick he received against Riley Knight in the third quarter was almost Terry Wallace "I'll spew up" kind of stuff.
Umpire… you don't pay a free kick for the tiniest bit of by-play between a player of Ablett's level and a bloke trying to curtail his influence. It was a fairy tap to the arm. That's all it was. What was the umpire's description? Prohibited contact?
Get off the grass – don't pay free kicks for that. It makes our game look bloody soft.
Tex collects Tuohy.
I want to preface this by saying I understand that it was contact to the head and that Walker will most likely miss a week or so…
… but I loved the aggression. Loved it! This is what Tex needed to do in last year's Grand Final – be a physical presence and make an impact. He can't have that time over again, but he showed he meant business tonight.
Sadly, it will cost him time on the sidelines despite Tuohy returning to action. He had no eyes for the ball and his shoulder looked to get him in the chin. If you're looking at the action itself, he's in trouble, but the fact Tuohy played on works in his favour… but that's the AFL for you – they punish the result and not the intent.
Did I mention I loved the aggression?
OTHER BITS
Quinton Narkle knows how to find a bit of space when he gets his hands on it. Very elusive. That said, he was paid a mark in the first quarter that he clearly did not hold onto. The umpire jumped the gun on the whistle.
Eddie Betts' soccer with the outside of his foot was beautiful. It was a classic Eddie moment, making the ordinary extraordinary.
I'm not sure what else Tom Doedee could've done in the first quarter to prevent being called for deliberate. I prefer that they're harsher on the rule… but not that harsh. He had no other option.
This may be the best, and most consistent I've seen Tom Hawkins. He looked likely every time he went near it, tonight. His first goal was his best tonight. He perhaps could've taken the contested mark, but his recovery and snap were first class.
Kyle Hartigan started very shakily, dropping two uncontested marks. About this time, I am sure Crows fans were wishing Daniel Talia had got up for the game.
Gibbs playing out the goal square in the first quarter… not too sure about that. What do you think, Adelaide supporters?
Speaking of Gibbs, surely he won't be cited for hitting Joel Selwood? There looked to be nothing in that, but here's a loaded question – if there was nothing in it, why did Selwood stay down so long?
If Josh Jenkins doesn't drop a chest mark, Tex Walker doesn't clean up Zach Tuohy.
Gaz was pretty vocal with the umpires this game. Very lippy.
If you're Geelong, you live and die by Cam Guthrie's skill and decision-making. If he is on… wow, but if he can't hit targets, you get punished on the rebound, and the Cats got punished a couple of times tonight.
The little tap ons from Sloane and Tex Walker were fantastic in the second quarter to set up Tom Lynch's goal, but it was Lachie Murphy's mark on the wing that set the wheels in motion.
Massive second quarter from Tim Kelly again tonight. He had a huge fourth quarter a couple of weeks ago (might have even been last week) and whilst this one wasn't on that level, he was extremely influential in dragging Geelong back into the game.
A few rookie errors from Wylie Buzza tonight. That 50 metre penalty (complete with more Gaz complaining) could've really cost his team. He got caught holding the ball late, and also sold teammates into trouble a couple of times. Any danger of Esava Ratugolea being back this season? The Cats need him.
I may be in the minority, but I don't think Greenwood deserved a free kick for the collision with Blicavs. I think the umpires pay free kicks for contact of any sort too readily, and this was two guys with eyes on the footy, contesting in the air. It was spectacular, it was hard-hitting, and it was magnificent. One of the great aspects of our game is clashes like this. I was so glad there was no whistle.
Bryce Gibbs missed tackle on Tuohy could've really been costly late in the second. Luckily, Tuohy was off the mark as he snapped at goal. Gibbs seemed to just fall away in the tackle attempt.
I thought Jordan Gallucci's second half was really promising. He just seemed to bob up at the right time in the right spot.
I loved the way Tim Kelly accelerated away and snapped a goal after Alex Keath's great spoil running with the flight. Kelly's agility was really on display as he worked onto his right foot to snap a goal.
Not sure if you can see the resemblance, but Brandan Parfitt looks a little bit like Mer-Man from Masters of the Universe.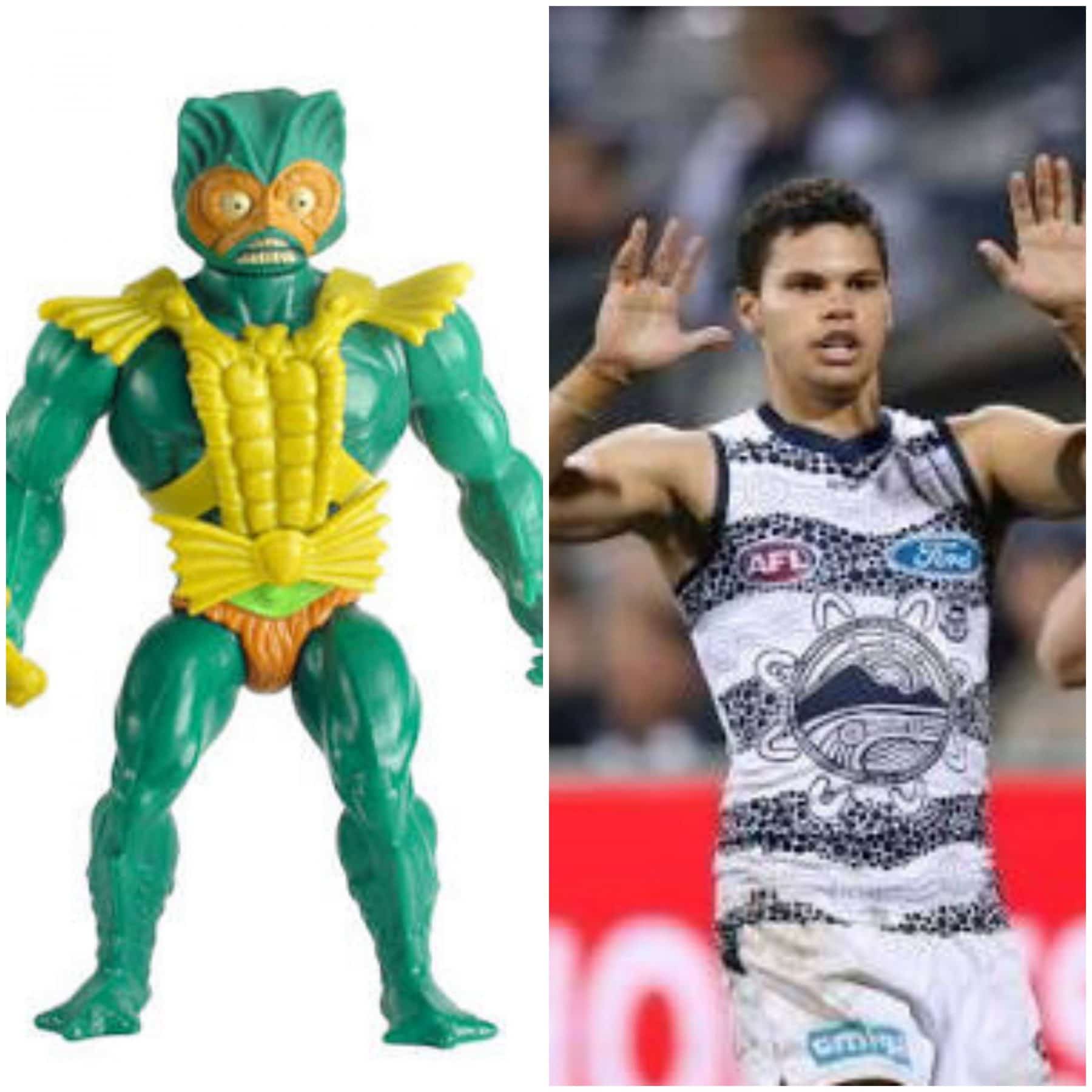 Speaking of Parfitt, his fifteen metre kick straight out of bounds on the full off half back is right up there with Jarryn Geary's torpedo attempt as one of the worst kicks of the year.
Good to see Tex Walker work himself into the game with defensive pressure. When you're not getting your hands on it, you have to do the little things that make a difference.
Who was that minding the mark when Mitch Duncan just waltzed around and goaled from 50 in the last quarter? Whoever you are… have fun at the video review when the team sees that footage.
The spilled mark from Menzel really summed up his night. Wide open, with the Cats surging forward, he just spilled it and allowed Adelaide in. They went the other way, Sloane gave a brilliant handball to Murphy who ran in and kicked the goal.
And that's that. Great win by the Crows. I would NOT want to face this team in week one of the finals. Plenty of teams will be barracking against them over the next few weeks. As for the Cats… you have three elite mids, a stingy defence, and a key forward in career best form. What the hell is wrong?
Like what you're getting from The Mongrel? Well, you can give us some support by giving us a Like on Facebook or a Follow on Twitter. Of course, you can throw copious amounts of cash at us as well… we won't knock it back.