There are a few drums beating at the moment about Lance Franklin.
No, no – not the Grant Thomas-like drums that seem to follow Buddy wherever he is and whatever he's doing. Not the drums that intimate salacious rumours about anything off-field, or any supposed issues he may be experiencing. The beating of these particular drums revolve around his play on the field, and where it stands him in the game as an individual. And where he will rank all-time when he finishes his career.
Lance Franklin has been the best forward in the game for the past ten years. Other than a brief hiccup in 2015, where he "only" kicked 47 goals, Buddy has not dipped under the 60 goals in a season-mark since 2006 – his second year in the game. He has four Coleman Medals to his name, with the genuine possibility of a fifth in 2018. That would put him level with Coleman himself, and in front of names such as Lockett and Hudson. Already, he sits above Dunstall and Ablett.
He has dominated forward-play like no other of his generation, and you have to go back to the 90's to find a player who had this sort of influence on the competition.
Wayne Carey took games by the scruff of the neck and shook the life out of them. Running with the flight of the ball, he imposed his will on contests and was the major factor in North Melbourne's emergence as a powerhouse in the mid to late 90's. In the last 25 years, only Carey has commanded the kind of consistent attention Franklin now receives.
So good was Carey, that his coach would empty the entire forward 50 to allow the man who would become known as 'The King' the opportunity to run back into the wide open spaces and beat his man. It was called Pagan's Paddock, but in reality, it was Carey's Paddock. Without The King patrolling the forward line, there was no paddock. The AFL at the time was also his domain – it was Carey's Paddock, too.
The paddock in the modern game is now shared, but Lance Franklin has staked out a sizeable portion of it to claim as his own. Others may own a patch, but a wide expanse has the signage reading 'Property of L. Franklin'.
As Franklin continues to power through his 14th year, his output is not wavering. He is averaging more goals per game than he has since 2014 and looks as powerful as he ever has. Over the last few years, he has corrected the one glaring error in his game – overhead marking, and continues to be a threat anywhere within 70 metres of goal.
In contrast, by his fourteenth season, Carey was languishing in Adelaide, trying desperately to revive a career he all but ruined in his North Melbourne exit. Buddy's longevity at such a high level is quite amazing. It was just last year he kicked a trademark goal, running down the wing that brought back memories of his pair of goals against Essendon in 2010. The athleticism involved in that run is hard to fathom. Have you ever sprinted 100 metres? Have you ever tried to kick a footy accurately at the end of that sprint? If it were easy, a lot more players would do it. At 30, Buddy was still doing things men ten years his junior couldn't.
Given Franklin's current status in the game, and with no signs of him slowing down, you have to ask the question – has he gone past Carey as the best forward in the past 25 years? And if not, will he go past him in the near future?
I can hear the arguments against it already, and by no means am I saying I am completely on the Buddy over Carey bandwagon.
Well, not yet, anyway.
I remember watching Carey tear my team to shreds all through the 90's. I recall witnessing him turn on a five minute burst of power, taking three or four contested marks and kicking the same amount of goals. They were bursts that turned a game on its head. I remember the swagger, the power, and I remember him taking an opponent and making him look like a child as he manhandled him, took the chops of the arms and marked the ball anyway.
But Franklin is no slouch. Since stats for marks inside 50 have been counted, Franklin trails only Nick Riewoldt and Barry Hall. This, from a man whose marking was one of the suspect areas in his game for many years. As we head into Round 13, Franklin is just 164 marks inside 50 away from being ranked the number one player of all time in that category. It's a shame that this statistic was not kept during the entirety of Carey's career as he would surely be somewhere near the top as well. In a one-one-one contest, none were better than Carey in the air. But Franklin has gone from being an afterthought in those aerial contests to a threat.
The game may be different, but some of the basic skills remain the same. Looking at the two side by side is probably the only way to dispel any arguments that Buddy doesn't stack up when compared to the King.
Carey possessed a great many strengths, but chief amongst them was his marking. His career stats are an outstanding 1830 marks at 6.73 per game. Franklin can't compete here. He has 1547 marks at 5.53 per game.
Whilst Carey delivered the impressive career stats of 727 goals at an average of 2.67 goals per game, Buddy has 889 goals at an average of 3.17 goals per game. Buddy may not mark as well as The King, but when the ball is on the turf, Franklin is a weapon.
And in terms of disposals, Carey accumulated 16.50 touches per game for his career, as compared with Franklin's 15.68.
But Carey played half forward and not as close to goal as Franklin, right? Really? You remember Franklin running through the middle and jumping over some poor, unfortunate Collingwood player to bang a goal from 70 metres out? He wasn't playing close to home then. Or those two amazing runs down the wing against Essendon? He wasn't exactly camped in the square there, either. In line with the modern game, Franklin has been able to push back to half back and push back forward harder than Carey ever did. Carey was a powerful beast. Franklin is an aerobic animal with power as his secondary weapon.  In a game that demands more of its forwards than the 90's ever did, Franklin has adapted.
The intangibles are the area where Carey stands out. He was a match winner in every sense of the word. He was a dominant figure in a dominant team. His record during the North Melbourne glory years reeks of success.
A good way to compare the two is to look at their peak years. For a key forward, a five to eight year peak is usually a decent sample size. There are a few exceptions, but the five to eight year span Is usually enough to capture their best both after the teething problems and before the inevitable decline. Given the beating both have taken, their durability has been exceptional. Franklin has been unbelievably durable. But if we restrict it to the eight year period when both players were at their best, a picture begins to take shape.
Carey v Buddy Peak Years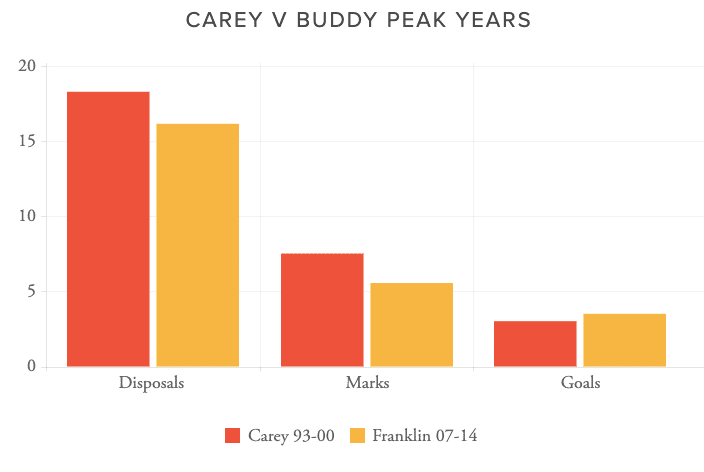 Both players have 170 games to their name during their peak years
It's fair to argue that we are seeing a post-prime version of Franklin right now, but the drop off hasn't been that significant. His seven year stretch from 2008-14 was exceptionally good. His 2015-18 has been only marginally worse. He is as consistent a forward as we've had in the league for a long time. His post prime stats see him sitting right around the mark for his prime years. He is averaging.
Carey's peak from 1993-2000 had the hiccup of an injury-plagued 1997 right in the middle. It is testament to his determination that he was able to bounce back from that. The fact he played the second half of his career unable to take an overhead mark is quite amazing. Two bung shoulders put paid to the sight of Carey towering over packs.
His post-prime career marks a significant drop off. After sitting out 2002, he suited up for Adelaide. His returns of 28 games, 10.64 disposals, 4.25 marks and 2.0 goals per game indicate a player who obviously in decline. His fall from grace, both personally and professionally, were sudden.
The Post-Prime Comparison
In terms of awards, Carey has two Leigh Matthews trophies and seven All-Australian berths (four as captain). Franklin has four Coleman medals, seven All-Australian guernseys of his own. Both have two flags to their name and a couple of losses. Would another premiership be enough to sway you to the side of Buddy?
It's not out of the question in 2018.
So we've given you the facts. Where do you sit on it? Had s Buddy gone past The King? Is he well on the way, or will he never surpass him in your eyes?
Franklin's current contract expires in 2022. If he is able to maintain anywhere near his current form, we'll be looking at a 300+ game, 1000+ goal career when all is said and done. If he gets to that point, there won't be many who dispute Buddy's greatness. He has essentially had two careers; one at Hawthorn and another at Sydney. Either one would probably see him in contention for Hall of Fame admission, but combined, they shape a special collection of moments, accomplishments, and even disappointments.
There are those who have such fond memories of Wayne Carey taking over games and punishing teams. If you have a look at the current AFL, there's a bloke that did similar things from 2007 to 2014… and continues to do it to this day.
Buddy over Carey? Carey over Buddy? It's a hard one to call, but if you were forced to choose, who do you take?
Like what you're getting from The Mongrel? Give us a Like on Facebook or a Follow on Twitter to be bombarded by our ineptitude, but once in a while, we might surprise you.
*All statistics correct as at end of Round 12, 2018 as per AFL Tables – great resource