It's the off-season, the trade period started like a snail, morphed into a rather lethargic caterpillar, went into a cocoon of non-activity, only to burst forth like a hyperactive butterfly over the last two days to leave us with a draft order that may, or may not be final.
You see, teams can still trade draft selections up until the draft itself, and it may leave a few teams wrestling with the idea of moving up, or down depending on their preferred targets. Wrestling, you say? Quality segue, there…
I grew up a wrestling fan. I would sit in front of the TV on a Saturday afternoon waiting for the one classic match to appear on the Wide World of Sports program. Was it just me, or were they always saying "Up soon… the grunt and groaners from Madison Square Garden"? I didn't have a VCR at that point… I had to sit and wait for it.
They showed Sgt Slaughter v The Iron Sheik, they showed the Sheik beating Bob Backlund for the WWF title, and they showed a great six man tag match featuring the Wild Samoans v Tony Atlas, SD Jones and Rocky Johnson (The Rock's dad!) which had one of the best low blows of all time in it. I still can't find that match anywhere!
Anyway, I was hooked as kid, and would while away the hours watching the fake violence and relishing it. I broke the arm of our lounge room chair dropping an elbow onto the bean bags. I also popped one of the bean bags after not learning my lesson and spent hours picking up all those little white balls from out of the carpet.
Like most, I drifted away from wrestling, but the memories are still strong. I'll watch the occasional show here and there and may even pay for WWE Network about one month per year to see Wrestlemania and catch up on old shows I used to watch as a kid (they have all the Saturday Night Main Events on there!)
But onto this article… imagine a world where you could pluck a character from wrestling's past or present and plant them in a current AFL team. What would they bring to the table, and which club would benefit most from their presence?
With the national draft still over a month away, restless footy fans will be itching for something to fill the void. The NBA is starting soon, and we can watch LeBron and company play to appease their Chinese masters. Cricket will occupy the minds of people who like that sort of stuff, and soon enough, AFLW will roll round and there will be footy on the TV again.
However, given there is a dearth of footy for the next month, The Mongrel has been sparked into action.
Please join me as we undertake (hehe) the first ever AFL/Wrestling fantasy draft.
Away we go…
PICK ONE – GOLD COAST
STONE COLD STEVE AUSTIN
The Suns once had a bald-headed star. He won a Brownlow there, controlled the style of play with a ball-dominant style that, for a brief time, threatened to take the Suns to the finals.
But threaten was all he ever did. The Suns need someone who doesn't threaten. They need someone who acts. Enter Stone Cold Steve Austin.
The Texas Rattlesnake may have knee issues, but his take-no-prisoners style is exactly what the struggling club needs in the middle of the ground. A reputed contested-ball beast, Austin does not tolerate fools or those who shy away from contests as part of his team, and will not be happy watching young players not put their heads over the ball.
Jack Lukosius… you thinking of leaving? Bang – stunner!
Jack Martin, you don't have a contract? Bang… stunner!
Stone Cold will not be taking sides. He takes his own side, and if history is any indication, he'll drag the Suns along with him.
INSIDE THE WAR ROOM
Stuart Dew – I think we take Hogan. He already has the right colours. We can save on his outfits.
Craig Cameron – And spend the money on what?
Stuart Dew – … donuts?
Craig Cameron – We're drafting Austin.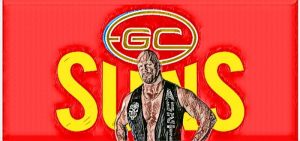 DID YOU KNOW – Austin was let go from WCW in 1995 because the company did not believe he was a marketable wrestler. Oops.
PICK TWO – GOLD COAST
THE ROCK
There were a couple of names thrown around here. Hulk Hogan was mentioned as he already had the orange and yellow colour-scheme ready, however rumours of a possible switch to black and white, or even black and red at some point scared the Suns off. Instead, they went with the yang, to Stone Cold's yin.
The Rock is possibly the only man in the draft that can match the number one pick for intensity and results, but can both The Rock and Stone Cold Steve Austin pull in the same direction to take Gold Coast to the Promised Land? Or will we see two headstrong bulls pulling in different directions and tearing the team apart as a result?
The Rock adds some glitz and glamour to the Gold Coast, which has the reputation of having just that, but in reality has none. At the moment, that area of the world is all sizzle and no steak, and the Rock, along with Austin, need to put some meat on those bones pretty quickly.
Can The Rock pick up the Suns, take a walk to Jabroni Drive and check their opponents into the Smackdown Motel? Or are there forces later in the draft that will conspire against him, and work to create a rift between pick one and pick two?
Tony Cochrane and Stuart Dew… you've got your work cut out for you.
INSIDE THE WAR ROOM
Stuart Dew – About those donuts…
Craig Cameron – Mate, enough already.
Stuart Dew – … when it comes to donuts, it's never enough.
Craig Cameron – We're taking The Rock.
Stuart Dew – Is there a Maccas here?
DID YOU KNOW – Rock was the highest paid actor of 2016, earning a lazy US$64.5 million for the year
PICK THREE – MELBOURNE
FINN BALOR
A controversial pick, so high in the draft, the Dees have recruited a demon of their own to give a kick to their failing list.
My missus is attempting to start a rumour that Max Gawn likes playing with Lego, so that she can justify this move beyond the regular 'Demon' connection. You see, Finn Balor, away from the wrestling ring is an avid Lego fan, and she seems to think that he and Max Gawn would while away the hours, constructing the latest Star Wars Millennium Falcon set together and form a nice bond.
I'm going to let her have this one.
Balor has a presence about him and has the skills to back it up. An Irishman, he has the tools to become the second greatest Irish recruit the Demons have ever had. Or maybe, the best?
A member of the infamous Bullet Club, Balor may start at the Demons alone, but it will not be long until he has back up.
INSIDE THE WAR ROOM
Simon Goodwin – What I really think we need is…
Jason Taylor – I'll be doing the thinking here, Simon.
Simon Goodwin – But I'm the head coach.
Jason Taylor – The head coach that took a high quality list to second last. Haven't you done enough already?
Simon Goodwin – We should take The Demon…Kane!
Jason Taylor – We are taking The Demon… Finn Balor.
DID YOU KNOW – Balor became the first wrestler in WWE history to win the world title on his pay-per view debut.
PICK FOUR – ADELAIDE
THE UNDERTAKER
Replete with vulture on his shoulder, 'Taker stalks into the Adelaide Football Club to pick the bones of what was once a powerhouse club. In complete disarray, and looking for a solution, the Crows have turned to the 'Dead Man' to breathe life into their once mighty organisation.
Line up the bodies. Measure up the caskets, and allow the 'Taker to go to work. Josh Jenkins… Hugh Greenwood, Eddie Betts, Alex Keath, Cam Ellis-Yolmen – they're all dead to the Crows now. The Undertaker needs to take care of them.
First game v Carlton sees 'Taker catch Eddie Betts by the throat and slam him to the ground with a choke slam. It may be termed a dangerous tackle, but the Crows will happily pay the fine and see 'Taker line up against Brisbane. A wrestle for the ball becomes a fight for life as the dead man lifts CEY up and deposits him onto his back with a 'Last Ride' powerbomb. Josh Jenkins' blue Geelong shorts end up brown, as Taker starts eyeing off JJ, and Hugh Greenwood could enlist the entire Suns roster to go against 'Taker and come out on the losing end.
Taker is an inspired pick for a club who has lost its soul. The Undertaker has quite a collection of them to distribute.
INSIDE THE WAR ROOM
Justin Reid – Do we have anyone left?
Matthew Nicks – Fucked if I know. I just got here.
Justin Reid – Well, who do you want to rebuild around?
Matthew Nicks – Someone who can clear out the stale stench in this place.
Justin Reid – I know just the guy…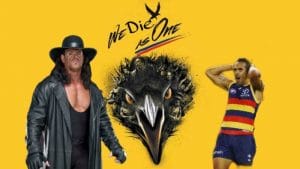 DID YOU KNOW – Undertaker once made the classic mistake of getting a woman's name tattooed on his body. Yep… right on his throat. It's since been removed, as has she.
PICK FIVE – SYDNEY
DIAMOND DALLAS PAGE
This pick almost went to the Bombers, but the Swans could not work a deal to bring Joe Daniher on board. However in what might look like another high pick wasted on a talent that would usually be much further down the pecking order, you cannot doubt that DDP gets great results for himself in life, and the Swans need some positivity.
Now I am not expecting him to pull on the red and white and play the role of superstar for the Swans… not at all. You see, Sydney already have their superstar – Lance Franklin. And now they have the man who can nurse his broken body back to health, via his DDP Yoga program.
Oh, you haven't heard about DDP Yoga? Do you live under a rock? Do you not have a missus who is trying to convince you to get in shape and figures incorporating a program designed by a former wrestler is a great way to get you interested?
Imagine DDP working one-on-one with Buddy Franklin in the lead up to 2020. Bud drops five kilograms, is more flexible than he's ever been and has that burst of speed again without his hamstrings popping when he sprints.
DDP may not have the star power of some of the others on this list, but what he does have is a solid rehab program for stars that were starting to look like they were a little bit past it. Ask Scott Hall and Jake Roberts if DDP can help. If he can do it for them, he could work wonders for Buddy.
INSIDE THE WAR ROOM
Tom Harley – Can we draft Joe Daniher?
John Longmire – No Tom.
Tom Harley – But I told him we would.
Kinnear Beatson – Tom, what are you doing in here?
Tom Harley – I'm here for Joe Daniher.
John Longmire – Actually, you're not.
Kinnear Beatson – We're taking DDP
Tom Harley – Joe Daniher.
John Longmire – Shut up, Tom!
DID YOU KNOW – DDP is one of wrestling's real success stories. He did not start as an in-ring performer until he was in his 40s and now has a net worth of over US$10m.
PICK SIX – GWS GIANTS
ANDRE… THE GIANT!
A bold move from the Giants to move up the draft order, and it was all for one reason.
Put it this way, it would have been a travesty if he'd been called Andre the Saint, or Andre the Docker. There was only one name that fit the eighth wonder of the world. Andre THE GIANT.
Andre provides a solution to the recent ruck woes that GWS have endured, however mobility could be a concern. Substantially bigger than… everyone, he could play either in the middle, or deep forward and create huge match-up problems in the air.
If the Giants can isolate Andre in the square and use the mobility of Jeremy Cameron and Jeremy Finlayson to draw opponents away from him, the Giant could revolutionise the forward structure of the team.
Downside is the huge increase in the catering budget and the addition of alcohol to both warm up and recovery sessions.
INSIDE THE WAR ROOM
Leon Cameron – Shawn Michaels is still on the board
Adrian Caruso – We need a big guy
Leon Cameron – Shawn is pretty big. Great skills. He's like…
Adrian Caruso – A Ferrari?
Leon Cameron – Vroom vroom!
DID YOU KNOW – Unofficially, Andre once drank 156 beers in one sitting, totalling over 73 litres.
PICK SEVEN – FREMANTLE
THE NEW DAY
The Dockers get three for the price of one because I am pretty free and easy with how this draft plays out.
It's a new day! It's a new start under a new coach! Break out the trumpets and the booty-o's and get ready to party as Big E slots in up forward, Kofi Kingston hits the wing running to replace Brad Hill, and Xavier Woods jumps into the middle to help the Purple Haze in the clinches.
Already clad in the Freo colours, the New Day add depth, fun and excitement to a team that is in dire need of it. Outside Nat Fyfe, who is already in the mood to party down with the boys, the Dockers add some legitimate flair to their team.
Could Kingston pull down a mark of the year contender each week? He's got the wheels to do it. Could Big E break the ribs of Andrew Gaff in a belly-to-belly suplex/tackle during a home Derby to immediately become the most-loved Docker since… well, Nat Fyfe, I suppose. Could Xavier Woods replace the wanker who plays guitar on top of the grandstand with himself, being a wanker, playing a trumpet?
The possibilities are endless, and though it may not lead to immediate success, the ability to add such depth in one hit is too much to pass up.
INSIDE THE WAR ROOM
Justin Longmuir – We need replacements for Brad Hill and Ed Langdon.
Peter Bell – How about one guy who can run… a lot.
Justin Longmuir – Need more than that.
Peter Bell – How about three guys who can run a bit?
Justin Longmuir – Is that legal?
Peter Bell – It's a made up draft. Of course it is.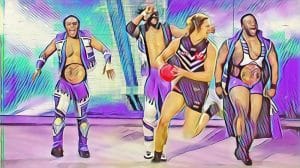 DID YOU KNOW – Kofi Kingston once avoided elimination from the annual Royal Rumble event by walking on his hands back into the ring to avoid his feet touching the floor, which would have signified his elimination.
PICK EIGHT –MELBOURNE
JOHN CENA
Did you know that John Cena has granted more 'Make a wish' requests than any other celebrity in the world? And that is a great thing, because if ever a club needed to make a wish in order for something special to happen, it's the team that fell in a humongous hole in 2019 – Melbourne.
They've been making wishes left, right and centre recently – bringing in Steven May and Jake Lever to bolster their defence, but in drafting Cena, they have finally hit the right note. They're getting a seasoned performer who puts his work for the organisation first, and can occupy himself in the off-season by making shitty movies and perhaps dating someone from the Dees' AFLW affiliate, or her twin sister.
Cena is not the answer to all the Dees' wishes, but he offers them a marketable star that is willing to bust out some shitty raps at the expense of the Dees' upcoming opponents to drum up interest.
INSIDE THE WAR ROOM
Simon Goodwin – The Demon… Kane.
Jason Taylor – We already got a demon.
Simon Goodwin – We could have two. Our nickname is the Demons, not the Demon.
Jason Taylor – I'm taking Cena
Simon Goodwin – … I hate you.
DID YOU KNOW – Storyline enemies for two years, Cena and The Rock had a pretty intense personal dislike for each other, and would often step "over the line" during interviews in a spiteful game of one-upmanship. The rivalry has now cooled, with Rock supportive of Cena's foray into acting.
PICK NINE – CARLTON
VINCE MCMAHON
Remember the days when Carlton had a president you could be proud of? Remember the days when Carlton were a force in the AFL and didn't have to use crappy slogans like "Do you smell what the Blues are cooking?" or "They know we're coming"?
Pepperidge Farm remembers, and so do we.
The Blues have exited the Trade Period without their top two targets – Jack Martin and Tom Papley. It is a major disappointment for a team looking to build on the momentum they built in the second half of the 2019 season.
Many are mocking Carlton – after years of pain, things had started looking up, but the trade period setback has only strengthened their resolve, and they are now on the lookout for strong leadership and someone who is decisive. The Blues need a figurehead that can go head-to-head with the Eddie McGuires and Jeff Kennetts of the industry. They're building, but it's time to introduce a heavy hitter into the mix at the top. Vince McMahon is the right man for the job.
A shameless self-promoter, Vince's metamorphosis from over-the-top play by play commentator to evil owner of the WWE is one of the greatest transformations wrestling has ever seen. And now he has turned his attention onto the AFL. Not one to tolerate failure, there will be some heads rolling at Ikon Park early in the piece as Vince looks to establish a stable of talent that can take down his most hated rival… Stone Cold Steve Austin and those damn Gold Coast Suns.
A rivalry is born…
INSIDE THE WAR ROOM
Steve Silvagni – So if we just wait a little longer, both Gold Coast and Sydney will cave, and we'll get both our players.
David Teague – We missed them, Steve.
Steve Silvagni – Nah… we just have to wait them out. I'm the wizard of Ikon Park. I'm giving a trading masterclass. Sit tight.
David Teague – *Sigh* We need someone who can make a decision.
Mark LoGiudice – I'm hungry.
DID YOU KNOW – Vince's Dad used to only operate his wrestling business in a certain parts of the country, upholding territorial promotional boundaries. Vince Junior blew all that out of the water and as a result almost all regional promotions of the time ceased to exist.
PICK TEN – FREMANTLE
SHAWN MICHAELS
Ah yes… the Showstopper, the headliner, the main event. A steal at this point in the draft.
Michaels may start slowly with the Dockers, but their patience will be rewarded as he blossoms into a gifted performer with a long list of achievements.
Michaels is made to be great, and whilst being Mr Wrestlemania might be a thing of the past for him in the AFL, the Heartbreak Kid might be eyeing another moniker to fill that void – Mr September.
Arrogant, and with a chip on his shoulder, Michaels will eventually become the figurehead of the new generation of Dockers, leading them into a new era of highlight-material games against some of the top teams in the game, and culminating in huge wins when it matters. Unafraid to put noses out of joint, Michaels may threaten to move to another team at some point, may feud with Nat Fyfe and even find himself in a physical confrontation with the Dockers' captain, but will remain a Fremantle loyalist for the remainder of his career as he finds a renewed faith in god… though some find his adoration of Gary Ablett Senior somewhat off-putting.
Do the Dockers have the leadership to contain the growing ego of HBK? And who will play the role of sacrificial lamb as Michaels morphs into a star? Who'll take the superkick to the head and be thrown through a window to accommodate Michaels' need to be a star? What a shame Ed Langdon isn't around to play the Marty Jannetty role…
With no flags in their existence, the Dockers need a main event player, and in HBK, they've found one. Maybe with Michaels on board, the Dockers will no longer be the Heartbreak Kids of the AFL.
INSIDE THE WAR ROOM
Peter Bell – I'm pretty smart.
Justin Longmuir – Yes sir.
Peter Bell – I'm taking Shawn Michaels
Justin Longmuir – Yes sir.
Peter Bell – You're great at this, Justin. I'm glad I hired you.
Justin Longmuir – Yes sir.
DID YOU KNOW – Shawn married former Nitro Girl, Whisper in 1999. They are still married and have two kids.
PICK 11 – HAWTHORN
RANDY SAVAGE
The Hawks have been shrewd here, taking one of the greatest high flyers in history and placing him in brown and gold stripes because… well, if anyone could make brown and gold stripes look semi-appealing, it's the Macho Man.
Savage brings an intensity that harks back to the unsociable Hawthorn teams of Hodge/Mitchell/Lewis and both his aggression and penchant for stepping over the line where required give the Hawks an edge they have been missing recently.
Current sticking point for the club revolves around the change of their theme song from the current popular version to the instrumental 'Pomp and Circumstance' by Edward Elgar but we expect that to be negotiated in the next few days, along with special privileges to allow Savage to be accompanied onto the ground by Miss Elizabeth, and to lock her in a cupboard while he plays so no one looks at her.
Word out of Hawthorn is that Savage has already been nominated by his teammates to handle any and all post-game interview requests from Roaming Brian and that Alastair Clarkson has encourages the use of violence, even when unnecessary.
INSIDE THE WAR ROOM
Graham Wright – Oooooh yeah
Alastair Clarkson (on the phone) – Is it snowing?
Graham Wright – Nope, it's raining.
Alastair Clarkson – Raining men?
Graham Wright – Raining Macho Men.
Alastair Clarkson – Hallelujah!
DID YOU KNOW – Randy Savage never cleanly beat Hulk Hogan. He never scored a pin or submission over Hogan. And it pisses me off.
PICK 12 – PORT ADELAIDE
HULK HOGAN
Picture this.
"I…. I was standing…
… you were there.
… two worlds collided… and they could never… ever… tear us apart"
And at that point Hulk Hogan bursts through the banner and shreds his t-shirt with his bare hands, whipping the Port Adelaide faithful into a frenzy. Yes, I know the song says NEVER tear us apart and Hogan is actually tearing something apart, but far out… you're not really going to call me on not making sense in this article, are you?
Port need a genuine star. Robbie Gray has been their man for years now, but at this point the fans need someone to get behind, and a big power forward like Hogan could bring the crowds in. Picture him, with his hand to his ear, prompting a cheer from the crowd as another goal sails through the big sticks. Hulk would flex and posture, nod his approval if the noise was loud enough and go back for more.
The only question mark around Hogan's inclusion, and willingness to sign on with the Power surrounds both the weather in Adelaide (Hogan's preferred destination was the Gold Coast) and the lack of good bandana stores in South Australia. Can someone please get him an Ebay account so we can get him on board?
INSIDE THE WAR ROOM
Jason Cripps – Can we give people away in this draft?
Ken Hinkley – I hope not.
Jason Cripps – Damn… I'm pretty good at it. I reckon we're taking Hogan.
Ken Hinkley – What's his preferred position?
Jason Cripps – Centre Half Back.
Ken Hinkley – Okay… Full Forward, it is.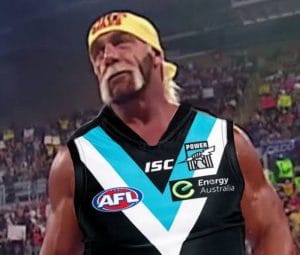 DID YOU KNOW – Hulk Hogan's ex missus, upon their split, hooked up with their son's former classmate. She also got 70% of the couple's assets and 40% ownership of the companies they owned together. Well played, Linda.
PICK 13 – WESTERN BULLDOGS
THE BRITISH BULLDOGS
Sure, they're both dead, and the Dogs have enough players that are just skin and bones, but we are talking about peak Bulldogs here.
Dynamite Kid and Davey Boy Smith add an element of teamwork and cohesion rarely seen, and with Dynamite's devil-may-care attitude in regard to his own wellbeing, do you think he would have sat idly by as the GWS Giants beat the shit out of his teammates in the Elimination Final?
Hell no – he would've been dropping flying head-butts and snap suplexing Giants like nobody's business! And Davey Boy… well, he would have blown up after 30 seconds and tagged Dynamite back in, but at least he would have looked good in the process.
The Bulldogs are a marketing dream for the Dogs. They bring their own mascot, Matilda which could provide some wonderful interactions with Dogs' mascot Caesar, and may even result in a bit of a romantic storyline that will win the hearts of Footscray fans, and provide some great cut-aways for the TV audience. I really hope those two make a good fist of it.
Some may cry foul that the Dogs are receiving two players with one pick, and to that I say… you may have a point.
INSIDE THE WAR ROOM
Sam Power – I've been speaking to marketing…
Luke Beveridge – Uh oh…
Sam Power – They think the British Bulldogs would be perfect for us. We can market around them.
Luke Beveridge – The Bulldogs playing for the Bulldogs?
Sam Power – That's why they get paid the big bucks.
Luke Beveridge – We seriously could hire a bunch on nine-year olds for this shit.
DID YOU KNOW – The Bulldogs ended up hating each other, with Dynamite particularly venomous when speaking about Davey Boy.
PICK 14 – GEELONG
BRAY WYATT
In between Aireys Inlet and Lorne there is a little community called Moggs Creek. Its claim to fame, until recently, has been as the home of Cats superstar, Patrick Dangerfield, but the emergence of this youngster from a family just outside Moggs is redefining how people see the area.
Bray Wyatt is a bit of a hick, and as such, it is a given that he will fit in perfectly at Geelong. As close as the AFL gets to a backwater hovel, Sleepy Hollow can accommodate the eccentric and somewhat concerning behaviour of Bray Wyatt, who seems to have some sort of mysterious psychological pull on those around him.
A born leader, Wyatt has already got Gryan Miers following him around due to others not accepting him for having such a shit name, and is creating a bit of a movement around Kardinia Park. Also, he refuses to call it by its corporately-mandated name, which I kind of like about him.
Will Wyatt's magnetic pull drive a wedge between the leadership at Cattery? Can Joel Selwood and whichever Scott brother coaches them keep this team together with the unparalleled, yet divisive leadership presence of Bray Wyatt on the team?
The upside is that Wyatt has promised to bring his family along with him, and also has an entrance theme cool enough that my missus went out and downloaded it. She's weird, too.
IN THE WAR ROOM
Stephen Wells – I feel that Bray could be a little bit divisive within the group
Chris Scott – Nah, he'll be fine. Him and Danger… they're country boys.
Stephen Wells – He's already having a negative effect on Gryan.
Chris Scott – I'm sure he'll fit in just fine.
Stephen Wells – OK Brad… you're the boss.
Chris Scott – Cheers.
Stephen Wells – Get out of here, Brad.
Chris (Brad) Scott – Damn…
DID YOU KNOW – Bray Wyatt is actually the son of Mike Rotunda, one half of the US Express tag team that wrestled (and lost) at the first ever Wrestlemania.
PICK 15 – GOLD COAST
DUDE LOVE
Well, as the Suns have taken a gamble on two alpha-males with the top two picks, their next one needs to be more measured. As has been the case for Gold Coast in their short tenure, keeping stars on the team has been the issue, and they're running the risk of their team not being big enough for both The Rock and Austin, so they need someone committed to the cause, long term.
And they've found it in Dude Love.
Dude loves to party. He is all about love, joy and a little bit of rumpy pumpy, and what better place for a lovechild to find his place than at the home of schoolies?
Dude Love is possibly the weakest of Mick Foley's characters, but in gaining one character, you get them all. He can morph into Mankind when there is some very dirty work to be done, then into Cactus Jack when things get a little too rough, and finally into Mick Foley when a human connection with the crowd is necessary.
Four for the price of one with this draft pick is a wise move by the Suns, and he only takes up one spot on the list as well.
IN THE WAR ROOM
Stuart Dew – We need someone more inclusive on our team.
Craig Cameron – What?
Stuart Dew – Look at our players. All supremely fit. All muscular. Where's the diversity?
Craig Cameron – You want a fat bloke on the team?
Stuart Dew – Well… kind of.
Craig Cameron – Why Stewie?
Stuart Dew – To make me look thinner.
Craig Cameron – You're gonna need more than Dude Love, mate.
Stuart Dew – Could we draft Bundy?
DID YOU KNOW – Dude Love was the character Mick Foley envisioned himself playing when he was a teenager. It looked as though his looks and physique would prevent him from ever fulfilling that fantasy… until 1998.
PICK 16 – BRISBANE
RAVISHING RICK RUDE
The Brisbane Lions almost had it all in 2019, but were missing some swagger. Now they have it.
Rick Rude is abrasive, obnoxious and often overly confident. He is enamoured with himself and has no problem letting people know how good he thinks he is, be it in the ring, or in the bedroom. He is the cockiness that all good teams possess, ramped up x100.
Picture Rick Rude fronting up for a game against the Tigers at the MCG in the September of 2020. The "Yellow and Black" anthem rings around the coliseum as Richmond takes the field, and the Tiger fans are roaring their approval.
Rude grabs the mic.
He rips into his spiel about the fat, out of shape, Richmond Reprobates, then removes his robe to display a picture of Trent Cotchin's wife splashed across the front of his footy shorts.
Let the fireworks begin.
IN THE WAR ROOM
Chris Fagan – I really hate Trent Cotchin
David Noble – Me too. Let's fuck with him.
Chris Fagan – Will Rick Rude hit on his wife?
David Noble – Rude will hit on everyone's wife.
Chris Fagan – Can I hide in the cupboard and watch?
David Noble – And people think you're a nice guy…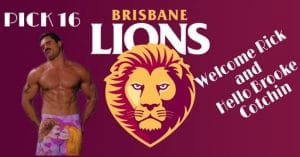 DID YOU KNOW – Rick Rude finished sixth in the world arm wrestling championships before excelling a wrestler.
PICK 17 – GEELONG
HILLBILLY JIM
What, you thought I'd settle down on this bumpkin kind of angle? You don't know me at all, do ya, you damn yokels? This is what you get for being located in the sticks.
Nestled in the foothills of the You Yangs, Jim packed up all his belongings in a sack, said goodbye to his wife and sister… who happened to be the same person, and made his way down to Kardinia Park to ask the club for a tryout. His broad shoulders and masculine… 'musk' have won over Chris Scott to the point where he sees a genuine replacement in the ruck for Rhys Stanley.
Where does this leave Esava Ratugolea and new recruit, Josh Jenkins? Maybe they could find some solace in the company of Bray Wyatt. I smell a coup in the air.
Hillbilly Jim isn't the smartest guy, so he'll fit right in at Geelong. Just the way they like them.
Y'all come back now, y'hear?
IN THE WAR ROOM
Brad Scott – Ummmm, Stephen Wells can't be here at the moment. I'm making the picks in his absence.
*Muffled cries*
Brad Scott – Ignore that… it's…uhhhhh, my dog. We'll take another Hillbilly, please.
DID YOU KNOW – After moderate success in the WWF, Jim moved into the front office where he climbed the ranks. He now produces his own line of jerky. Mmmmmm jerky.
PICK 18 – PORT ADELAIDE
RIC FLAIR
After bringing one legend on board, the Power have decided to stick with the strategy, bringing the Nature Boy into the fold.
Flair's eye gouging, low-blowing and cowardly tactics will be torn apart by the over-the-top AFL media, but it is the sort of reputation that Flair takes pride in, and he will not hesitate to jam a thumb into the eye of an opponent if it paves the way for a Power win.
A master of subterfuge, Flair's ability to smuggle foreign objects into the field of play will become an integral part of Ken Hinkley's plan moving forward, and in the season's biggest moments I expect Flair to stand up and not only talk the talk, but walk the walk as well.
Where Flair and Hogan go, success usually follows. They have dozens of world titles between them and Port are looking at instilling their winning attitudes into a new crop of Port players. Could Connor Rozee learn from Flair and become the modern version of the "Dirtiest Player in the Game"?
To be the man, you've got to beat the man, and Ric Flair is looking at making Port the AFL's version of 'The Man'.
IN THE WAR ROOM
Jason Cripps – So Flair has been known to put matches on his back and carry them by himself.
Ken Hinkley – Good, because with our list, he's going to need to.
DID YOU KNOW – Flair is credited as a 16x world champion but used to routinely lose the title on tour in the eighties and win it back before leaving, with some claiming he has 25 individual title reigns as a result.
PICK 19 – RICHMOND
THE IRON SHEIK
The Tigers take the last pick of the first round in an unexpected direction.
The reigning premiers are in the enviable position of having their stars in their prime right now, possessing the best player in the game, as well as bringing back the most decorated defender in recent memory for 2020.
They're also bringing back Jack Higgins, which links right in with this strange pick.
Word out of Punt Road is that many cannot understand half the things Jack Higgins says. Whether his "heart is pumping a thousand minutes a second" or he's celebrating a couple of snags, the Tigers have become as frustrated as they have been amused with Higgins' inability to master English as a first language, and have opted to bring in someone to help him connect with the rest of the group.
Political allegiances aside, The Iron Sheik has quite a history of being misunderstood. Sure he is anti-American… who isn't? Sure, he has failed to assimilate. Who wouldn't? And sure, he has been known to be underhanded – he is joining the same team that allowed Trent Cotchin to take Dylan Shiel out of the 2017 Prelim – I think the Tigers will be fine with him.
Jack Higgins has found his Tiger soul mate in the form of pick 19. Welcome to Punt Road, Sheiky baby.
"Australia number one, Tigers number one, AFL… huck-tu!"
IN THE WAR ROOM
Neil Balme – You'll like this bloke, Dimma. Really respectful Middle-Eastern fella, just like Bachar.
Damien Hardwick – I'm in. He's even got a nice moustache in homage to Ivan Soldo.
Neil Balme – What'd Higgo have to say about him.
Damien Hardwick – Plenty!
Neil Balme – Aaaand?
Damien Hardwick – Well, I don't know – I didn't have an interpreter with me.
DID YOU KNOW – The Iron Sheik decided to leave Iran after his idol, Olympic Gold Medallist Gholamreza Takhti was found dead in his hotel room and it was ruled a suicide. Many believe he was "taken care of" after speaking out against the regime in power at the time. The Sheik knew if it could happen to his idol, it was only a matter of time until it happened to him. Smart move getting out of there.
And that is Round One of the draft complete. There is plenty of talent left on the table. Bret Hart, Chris Jericho, The Road Warriors, Ricky Steamboat, CM Punk, Roman Reigns, Brock Lesnar… who would you want to pick up for your team, and what would they bring to the table?
And shall I do a Round Two? That took a bloody long while. If you like this sort of stuff, please consider becoming a patron of the site – I'll be producing a whole lot more inane garbage like this over the off-season. We'd sincerely appreciate any and all support you are willing to give. Thanks